Uzbekistan: Living standards, gas outages, and forced child labor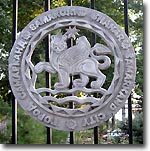 Samarkand administration fence with city emblem on it
(excerpts from a letter from Samarkand, the second largest city in Uzbekistan)
«...That Uzbekistan is selling natural gas to foreign countries is common knowledge. How come the government regularly cuts off gas to its own population in the winter but has enough for neighbors?
(...)
I enrolled in the Alisher Navoi Samarkand State University in 1997. The whole student body was transported to cotton fields on September 19. I returned home on November 12 to discover pressure in our gas mains were down. My mother was compelled to wake up at 4 to 5 a.m. to put the kettle on the gas stove so that it would boil by 8 a.m.
The gas stove barely worked and the fire regularly was going out. How could people cook? Either on electric stoves (provided electric power was available at the moment) or on outdoor fires.
Whenever the fire on the gas stove went out, it had to be immediately lit again for fear of a gas concentration that could lead to an explosion.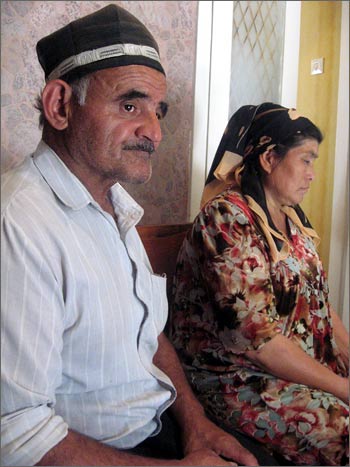 Pressure in the gas main depended on the weather. Whenever the weather was fine, so was pressure. It inevitably went down at the same time as a drop in the outdoor temperature.
Cold interfered with normal sleep. My mother eventually invented a means of keeping the family more or less warm in the nighttime. She heated bricks on the gas stove, put them in specially made pouches, and passed them around. We warmed our beds with the bricks. Needless to say, the bricks cooled down long before the morning, but it was better than nothing.
Fortunately, my father once brought electrically heated mattresses during one of his trips to China. If luck was with us, meaning if no power outages occurred at night, we did sleep.
(...)
Low gas pressure became chronic. Problems with electric power began eventually. Power networks couldn't cope with the strain put on them by the universal use of all sorts of heaters. Power outages lasted days on end. In a word, life in Samarkand became an everyday struggle for survival.
An ancient city, Samarkand could be a major tourist attraction and earn money for the state budget. Instead of selling natural gas for a pittance, the government should have invested in making Samarkand a tourist spot.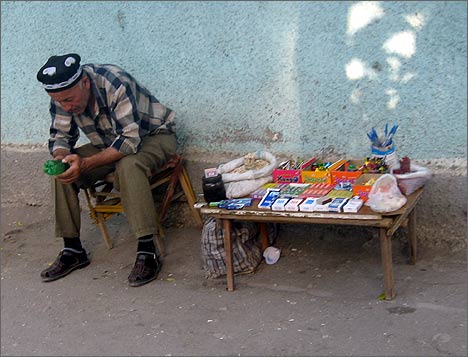 (...)
Back to my cotton picking duty. I discovered only recently that I could have refused to work the plantations. As it happened, I was not even 16 yet, meaning that my stint constituted child labor which was against the law. I wish I knew my rights then.
Anyways, all students were ordered to turn up at the university with bedrolls and whatever else was necessary. We were then ferried to the kishlak of Guzalkent.
(As a matter of fact, they began enlisting services of school pupils, as well, the following year. Even my brother worked the cotton fields and he was barely 13. I'm convinced that nothing has changed and that Samarkand children are still working plantations every autumn.)
Living and labor conditions were appalling. We were brought to a commonplace village school and ordered to settle right there.
Daily meals came down to the lunch that was brought to us right in the fields. Even calling it "lunch" is actually an exaggeration: it was just water with tiny carrot pieces in it.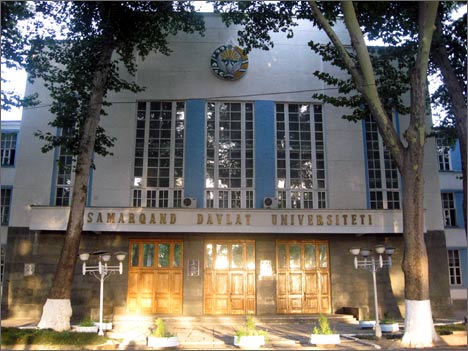 Even that came to an end after a month so that we had to beg food from the locals.
The fields we were assigned to had already been picked nearly clean. Working dawn to dusk without breaks, a student could only collect 7-8 kilograms, though the individual daily quota was set at 50 kg! Moreover, they had the temerity to chalk the rest down as our debts. In short, by the time we went home each student had a debt amounting to a scholarship for several months. That we never even saw the scholarships, goes without saying.
(...)
No drinking water was available in the fields. We quenched our thirst by drinking from all sorts of muddy creaks. A student was hospitalized with jaundice afterwards.
I was permitted only one day off in my two months in the fields. Taking a bath was the first thing I did.
I finagled a sick certificate the following year and missed the cotton picking duty.
Signed: Zarik.»