Uzbekistan: Aral region population encounters shortage of water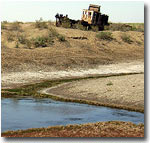 All photos by Ferghana.Ru news agency
In the Aral region, water will be at high premium this summer. What water is available will be used to irrigate cotton fields, causing shortages in rice plantations. Grazing, also, is at a premium. Recalling the drought of 2001-2002, the population is preparing itself for the worst. Khorezm city dwellers are traditionally focused on survival in this ecological crisis that has been the bane of the Aral region for some years.
The availability of rice or lack thereof in the population's diet, is an indicator of food supplies. As in the past, pilau is nourishing and cheap any time of the year. This nuance is of paramount importance for a population which lives on limited incomes.
Local vendors increase the price of rice on a seasonal basis. This year, the crop still is subject to future market developments, and observers ask, why not increase the price since it is always in high demand? When the price of a kilogram of rice jumps from 1,300 to 2,600 sums over a six-month period, however, the public's optimism and tranquility evaporates. Today, rice sells for 1,800 sums in Khorezm and between 2,500 and 4,000 sums in Tashkent, depending on the quality.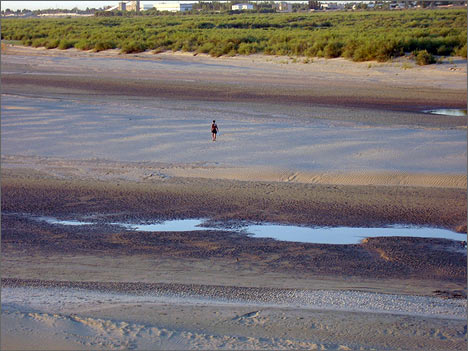 The Amudarja in May

The specter of famine does not visibly bother Khorezm yet, but what may happen in the near future is beyond the forecasts of even the best-informed state officials. Unsolved water distribution problems have neatly cornered Uzbekistan. Kyrgyzstan and Tajikistan drive a hard bargain in water price talks and payment terms. As in the past, it is Khorezm and Karakalpakia that are always the first to be affected.
"That's something unspeakable! Another month without water and all future crops will certainly wilt. There is no water even for privately owned gardens and orchards," a Khorezm farmer told Ferghana.Ru. "It is already possible to cross the canal in the Shavat district without wetting one's feet. What am I supposed to do about cotton? And what will they do to me for the failure to meet the annual quota the state expects? As for rice, I haven't planted it for years."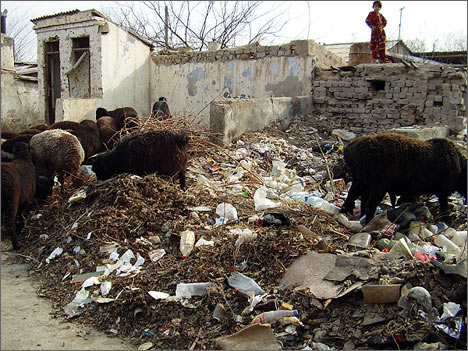 Sheep on heaps of garbage. Urgench city

Another distressing piece of news came from the Shavat and Koshkupyr districts where hand pipes no longer produce water from deep under the surface.
Even that is not all. Pollution found in Amudarja's water has turned the main water arteries in Central Asia into a regional cesspool of sewage with a shockingly broad assortment of chemicals. The Amudarja River boils with fertilizers, pesticides, phenols, and oil products of every description. This is the only water available to the dehkans, or peasants, in the Aral region of Uzbekistan. With annual population growth at nearly half a million, rice yields in Uzbekistan last autumn dropped to 197,700 tons, compared to 224,200 tons in 2006.
The threat of impending famine may materialize and become a grim possibility closer to the end of the year. Some rice will be planted in Khorezm, of course, by farmers with relatives working in the power structures, police, and secret services. Practically all irrigation water, however, will be used to water other cultures and cotton, which are Uzbek's principal export item.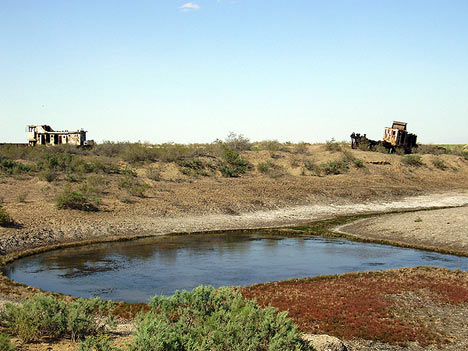 On the bedrock of what used to be the Aral Sea

The prospect of revolts resulting from mass hunger, quite predictably upsets the government of Uzbekistan. The cabinet resolution, "On rational use of the resources", was published last year. Khorezm authorities promptly reported discovery of 1,000 hectares of land unsuitable for fruits, vine crops, and grapes. In a word, the dehkans are only permitted to cultivate land on thin strips of fields found sandwiched between cotton plantations, right along irrigation ditches. Farmers, meanwhile, only want to be left alone long enough to do their jobs. Further, they would rather work without permits or bans.
There are, practically, no pastures around Khorezm and combined fodder is expensive. In summer time, cattle would graze on those thin strips of land set aside for fruits and vegetables. However, the local residents do not complain. They are smart enough to come up with something or other, since they are better off than their counterparts in Urgench where dumps are used for grazing.
The state, in the meantime, continues passing resolutions. President Islam Karimov's April order, "On additional stimuli to increase livestock", emphasizes the following: irrigated lands set aside for livestock and poultry farms are only to be used for grazing, and not for the cultivation of cotton. The same document specifies that peels resulting in cotton seed processing are only to be sold domestically.
Official Tashkent even promised to invest 40 billion sums (about $31 million) to stop the deterioration of Khorezm farming lands. This sum is to be spent on improvement of irrigation through 2012.
A Ferghana.Ru correspondent approached a pensioner holding a job with one of the organizations earmarked to carry out the irrigation improvement campaign. Once an engineer with Khorezmvodstroi, he is stone cold confident that the sum is not enough, even to restore the Soviet irrigation system, the one that millions of sound Soviet rubles have been invested in.
"What with the inflation and corruption, it stands to reason that the funds will be pilfered so that someone will build themselves posh mansions," the man said. "Embezzlement from the budget is a lucrative undertaking in Uzbekistan these days. It was lucrative even under the Communists, but the scope of it has reached something unprecedented, indeed."
It is believed that the allocated money will run out long before everything has been accomplished, even with rational use. A permanent representative of the International Foundation to Save the Aral indirectly agreed with this forecast during the XVI session of the UN Commission for Stable Development this month. "Economic and social problems of the region interfere with finding the money necessary for restoration of the water infrastructure, which is the main source of existence and food for so many," he said.