Deafness by 15%. Russian soldiers' calls remain unheeded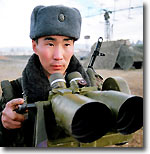 Forget allowances! Photo by the author
There are currently two foreign military contingents in the Republic of Tajikistan- the 201st Russian Military Base and a French Air Force base. As for the French, they seemingly have few problems. Their Mirage jetfighters make infrequent forays into Afghanistan, while their pilots are paid about $5,000 a month. Whoever leads a healthy life, quits smoking, and jogs to the base in the morning, instead of driving at their leisure, is entitled to a monthly bonus amounting to 800 euros.
The Russian base is different. Its servicemen jog and sprint all day, but not for health or financial gain. It's just that they are so busy that the French would cringe... And still, the powers-that-be even deprive Russian servicemen of allowances for stressful conditions of service.
Russian media outlets first began reporting, eighteen months ago, on the encroachment on the rights of Russian servicemen assigned to contingents abroad. Indiscreet amendments to some of the newly adopted laws hurt the military badly - or rather, the military's wallets. First and foremost, the matter concerns personnel of the 201st Military Base in Tajikistan.
The law on the status of servicemen plainly states that only servicemen on the territory of Russia (say, in the Arctic region), and nowhere else, are entitled to a 15% bonus for additional difficulties of military service. The privilege of additional pay, in other words, does not apply to service on military bases in foreign countries. Hence, an advantage of servicemen in Russia over servicemen abroad. Also a gap. Further, a government resolution abolishing compensation for tax collection from individuals widened this gap to approximately 28% (!).
Journalists have been knocking at every door to try and restore justice for soldiers for over a year. At long last, the information reached the president. A journalist asked him at his February 15 press conference why Russian servicemen in Tajikistan were no longer entitled to bonuses and allowances. "What's the difference?" Putin was clearly surprised. "In the country or abroad, the man serves the Russian state which is the only thing that counts. If specialists and experts confirm that conditions of service are difficult indeed, then the allowances should be restored." Putin even summoned Defense Minister Anatoly Serdyukov and instructed him to have the regulations amended and see to it that servicemen abroad were paid what was due them. Unfortunately, neither the president's nor the minister's order were carried out.
The 201st Military Base will be celebrating its 65th jubilee on June 1. A great number of senior state officials will come to Dushanbe to mouth phrases about the part played by the Russian soldier and the base in maintaining regional security... Along with the high-flown speeches, Russian servicemen would dearly like some answers to the questions they have. The government, meanwhile, keeps playing mum's the word.
Valery Guk, Krasnaya Zvezda correspondent in Tajikistan - exclusive for Ferghana.Ru