Kyrgyzstan: What enemies will the brother protect the president from?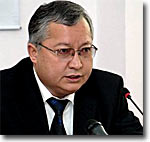 Janybek Bakiyev. Photo from Gazeta.Kg web-site
Kurmanbek Bakiyev, President of Kyrgyzstan, has promoted his brother, Janybek Bakiyev, to become the next head of the State Protection Service. Unassuming at first sight, the post of chief of the presidential bodyguard is one of the central positions in the security structures framework. With Janybek in place, the brothers will control all state executives, including the prime minister, chairman of the parliament, and senior judges.
Experts advance different opinions on the latest developments. Miroslav Niyazov, formerly Security Council chairman, is of the opinion that Janybek's promotion to this position collides with state power ethics and will cost it a loss of respect in the eyes of society. "Aware of how discontented the population is, the president fears that he may be dethroned. Hence his campaign for centralization of power, hence his reliance on the people he has absolute trust in. State governance systems, including security structures, need a serious reorganization, but Bakiyev's choice of key personnel is dragging the country back into the Medieval ages," Niyazov said.
Muratbek Imanaliyev, ex-interior minister who became Director of the Social Politics Institute, views Janybek Bakiyev's promotion as proof of a compromise in the clannish system formed around the president. "This promotion will have no effect on the domestic political state of affairs," Imanaliyev said. "Accustomed as it is to the authorities' inadequate actions, the Kyrgyz electorate takes them with equanimity bordering on indifference. The people who care, who could have comprised the protest electorate, vote with their feet, i.e. leave the country."
* * *
When the presidential press secretary announced Janybek Bakiyev, President Kurmanbek Bakiyev's brother, being named the new Director of the State Protection Service, Ferghana.Ru approached Kyrgyz and Russian experts, politicians, and political scientists for comments. Here is a brief account from these blitz-interviews:
Dinara Oshirakhunova of the Coalition For Democracy and Civil Society (Kyrgyzstan): There is the law on civil service and there are norms that regulate matters of relatives serving in positions of power. The head of state inevitably takes offense whenever his political adversaries speak of the clannish rule in Kyrgyzstan, but this latest development is irrefutable evidence that this is an exact description. Guarantor of the Constitution as he is, the president must be impeccable, he must set examples of decency. Regrettably, this is not what we have been seeing. We want to be able to take pride in the head of state, but we cannot. Promotion to commanding heights in civil service should involve certain standards, contests, alternatives, and comparison of professional traits. What we see, however, is wholly different. What we see is that personal loyalty is all that really counts. Of course, positions in civil service should be open for the president's brother, but only on the basis of competition.
Political scientist Orozbek Moldaliyev (Kyrgyzstan): Janybek Bakiyev's slate was smeared by the so-called Matryoshka-gate scandal involving opposition leader Omurbek Tekebayev having heroin planted in his luggage while he was in Poland The parliamentary commission set up to investigate decided that Janybek Bakiyev could be involved. Sure, the matter was dropped so there is no saying whether the president's brother was involved, indeed, or whether the heroin belonged to Tekebayev indeed. Either official documents clearing Kurmanbek Bakiyev should be published, or the opposition leader should confess.
Political scientist Toktogul Kakchakeyev (Kyrgyzstan): Congratulations to the Bakiyevs. That's all I have to say.
Bakytbek Beshimov, leader of the Social Democratic Party faction in the parliament of Kyrgyzstan: I'm not surprised. This promotion shows that Bakiyev the president is luxuriating in the power he wields, that he cares nothing for all or any rules. It is proof of the authoritarian clannish regime established in Kyrgyzstan. We are governed by dim people who only look backwards and drag all of the country backwards. Here is a gross violation of the law on civil service that does not allow relatives to serve in the positions where one is the other's direct superior.
Sanobar Shermatova, Ferghana.Ru expert and RIA-Novosti Expert Council member: It is a rare post-Soviet country where personal security of the head of state is in the hands of his relative. There was Chechnya, of course, where current President, Ramzan Kadyrov, once served as a bodyguard to his father, the president. But that was not a typical example. A war was under way, Akhmad Kadyrov had already survived several assassination attempts where his nephews and other relatives perished... It is clear that life in extreme situations is only to be trusted to the family.
Kazakhstan is a different example. Nursultan Nazarbayev's son-in-law, Rakhat Aliyev, was put in charge of the presidential security detail for different reasons. He had had a run-in with local business tycoons and needed a hole to get into and wait for the scandal to blow over. The security detail was where the president could keep an eye on him.
There are no wars under way in Kyrgyzstan these days, and neither is there a need to isolate the president's brother from his opponents. Headed by Janybek Bakiyev, the State Protection Service will inevitably strengthen its positions in all spheres of life and, first and foremost, among other security structures. It will be what Boris Yeltsin's detail once was, and Janybek Bakiyev will be like Alexander Korzhakov with the immense clout he once wielded. This promotion is clearly political. It is part of the process of strengthening of the Bakiyevs with an eye on the next presidential election.
Arkady Dubnov, expert in Central Asia and Vremya Novostei international observer: Appraisal of Janybek Bakiyev's promotion may be made from different angles and on the basis of different considerations. First, however, I'd like to ask State Advisor Tokon Mamytov to explain part of his speech when he was introducing Bakiyev to his new subordinates. To be more exact, Mamytov said that, "making relatives responsible for physical security of the heads of states is practiced in many countries." I'd like to know where it is practiced and where it is taken in stride as he implied.
I'd say that it is practiced in the Persian Gulf, i.e. in the countries like Saudi Arabia, Bahrain, Kuwait, and so on where all key positions are reserved for representatives of the ruling family numbering princes by the dozen. Some princes who guard monarchs there are their relatives, indeed. As for Kyrgyzstan, I've always viewed it as a state aspiring to the status of a transit country, one determined to evolve into a democracy. In countries like this, these promotions are always questioned regardless of the protege's professionalism and adequacy.
Second, I'd like to say that promotion of his brother is the second episode in the space of several days when Bakiyev, the president, demonstrates his strength as the only decision-maker and arbiter in the clannish battles mostly centered around his own family. The first episode occurred when the president insisted on making an absolutely obscure lawmaker, who did not belong to any of the major clans, chairman of the national parliament.
As a matter of fact, it is rumored that one of these clans is led by Janybek himself and another by president's son, Maxim. Janybek's promotion may indicate the existence of some sort of truce between them. The president would have never permitted one of these clans to strengthen its positions otherwise. On the other hand - and I know how paradoxical it sounds - Janybek's promotion to the head of a secret service may even aim to curb his political aspirations. To a certain degree, it may be viewed as a kind of accomplishment because the clans in question wield immense clout in Kyrgyzstan and the wars between them affect the situation all over the country.
Third, arrangement of forces in the presidential inner circle at this point leads to the conclusion that the president could promote his brother in order to diminish the supposedly colossal influence his Presidential Administration Director, Medet Sadyrkulov is reputed, truthfully or not, to wield. It is common knowledge, after all, that relations between Bakiyev and Sadyrkulov have been less than cordial until recently. So, the president may be seeking to restore some sort of parity.
In any event, not even this promotion of the president's brother is going to hurt the image of Kyrgyzstan in the eyes of the international community because nobody abroad cares about the arrangement of forces within the Kyrgyz regime. Whoever cares may offer castigating comments, but that will be all.
Kommersant, No 95, June 4, 2008, p. 9. Ferghana.Ru