Uzbekistan: President's daughter gives interview to Moscow glamour magazine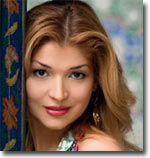 She could have become a successful designer, pop star or poet – but these are just her hobbies. "Her destiny and character have become as large a range of colors as Uzbek's ornament has." "She has enormous plans - conferences, meetinsg with foreign colleagues, contests, festivals, the launch of a new collection of jewelry and clothes…"
That is how the interview begins with the President's daughter, Gulnara Karimova, which was published in the last issue of the glossy Moscow magazine, Hello!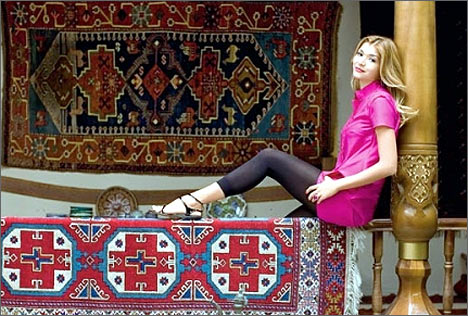 Gulnara Karimova. «Hello!» magazine

"Uzbek princess" – that is what the Russian and foreign mass media has labeled her – yet, she is not a public person at all. Despite this, she is currently the Deputy Minister of Foreign Affairs of Uzbekistan, though you will not be able to read her political opinions in local or foreign newspapers.
She never gives unplanned interviews. Her "revelations" mostly appear in entertaining, glamorous publications.
The first time readers saw such an "autoportrait" of Gulnara was in Moscow Faces magazine in 2003. Karimova appeared before readers as a professionally qualified Harvard alumni, loving daughter, beginning poet and singer, as well as a talented designer of jewelry. At that time, she told about different kinds of sports she had participated in, including athletics, taekwondo, stretch-yoga and Swiss gymnastics on balloons.
Only three years later, the first detailed story about Karimova in the Uzbek press appeared. It was a 2006 interview in the Tashkent Bella Terra magazine which occupied twenty pages and where, instead of text, there were thirty-six sometimes-altered photos of Gulnara posed in different interior settings.
Later on, the Bella Terra interview was republished by Russian Profile and Eurasia without any visible changes. Each article shows Gulnara Karimova as an educated woman, enthusiastic about taking on plenty of responsibilities and having many uncommon hobbies.
The Hello! interview is very complimentary, as are previous samples of courtier genre. But there is also something new in that story.
For example, henceforth Gulnara Karimova is, firstly, a woman, but then – a designer, pop star, and President's daughter. She tries to completely avoid such a definition as "politician". It turned out that being a politician, she says, is "very dull and rough" and mostly not about her.
"It is ambiguous or even a deceitful point of view that a woman at a post who has ambitions must be an iron-lady….There is no need to cultivate male strains, it won't result in a better state because women have got their own "Me"; the only thing to be able to do is to handle it," she says.
For the first time in many years, Gulnara Karimova allows herself to answer questions about her ex-husband, the American businessman of Afghan origin, Mansour Maksudi (without mentioning his name, though).
"It is a sad story which divided my life into a "before" and "after". Unfortunately, the horrors of the past life disturb my current "world". The point is that one is dispersing, keeping a human's face for each other, for children, but the other, as it was with my husband, crave for revenge. His family, and now I understand that I was married to his entire family, are coming from a deep-rooted Afghan environment. For the past seven years they have been trying to destroy me, morally, first of all. They spoke of me in the press, repeatedly, and are still doing that in order to undermine my image..…I have never tried to justify or to prove the opposite. You wanna know why? Because tanks are not used for crushing bugs."
It is not clear enough who are considered "bugs". Maybe they are the judges of the U.S. Supreme Court who agreed with her ex-husband's legal position?
Talking about hobbies, nowadays the daughter of the Uzbek leader is interested in Ayurveda, an ancient Hindu system of health care. According to this doctrine, Gulnara thinks she is a "dreamer". "Even though I am a very pragmatic person and ardent realist, somewhere in my soul this dreamer lives; but only people close to me knows about his existence," Gulnara Karimova confesses.
What the daughter of Islam Karimov, who has ruled the state for eighteen years, dreams about is still a question. Maybe, about her father's post?...