Tashkent: Nomadic cattle breeding in the capital of Uzbekistan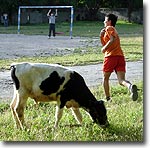 These days, cattle are grazing in the streets of the Uzbek capital. Like Kyrgyz cattle breeders who drive their stock to the jailoo or mountainous pastures, their Tashkent colleagues have cattle outdoors – virtually everywhere except in some central areas of Tashkent. Cows and sheep methodically devour whatever grass they can find, leaving dung behind.
This picture is not only typical of the area where this Ferghana.Ru correspondent resides. In fact, cattle are everywhere, and school stadiums given to weeds are not an exception.
Yes, there is more to Uzbekistan these days than cotton, gold, gas, an authoritarian regime, human rights activists, Islamic extremists, Gastarbeiters, UzDaewooAuto, Andijan, ancient Bukhara, Khivy, and Samarkand, Bundeswehr's military base, the drying Aral Sea, watermelons, and pilau – though, these are the subjects media outlets typically report on. There is also a certain background that is ever present but never gets reported, for some reason. Grazing cattle are an element of this background. Should one decide to make a truthful movie, with the plot unfolding in the capital of Uzbekistan, it must include a cow of two (or sheep) grazing in the background. Unless, that is, the film's plot unfolds in the very center of Tashkent.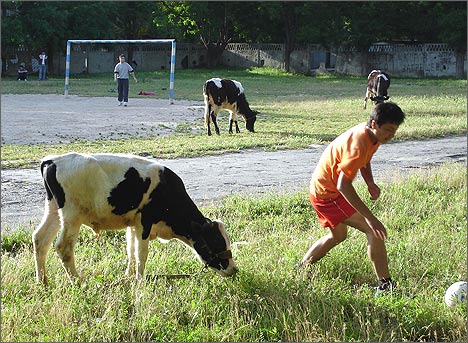 School 240 stadium in Yunus-Abad, Tashkent. Notice on the fence in the right upper corner warns that "Grazing is prohibited". Photo by the author (2008)

Paradoxical as it is, cattle grazing in the streets of the capital of Uzbekistan, whose population stands at 2.5 million these days, is viewed as something absolutely normal in this first decade of the 21st century. What's more, a cattle breeding is rapidly expanding into Tashkent. Cattle are owned by nearly everyone and every stretch of greenery is regarded as a pasture for one's cows, sheep, or donkeys. That goes for parks and playgrounds, and even for tiny, privately cultivated pieces of land under the very windows of four and five-story tenements. Whenever enraged owners start screaming, shepherds never argue, but simply move their cattle elsewhere. On the other hand, they inevitably turn up, again, the following day. There is only one way of dealing with shepherds - get the camera and begin taking photos. Seeing the camera, shepherds round up their placidly chewing charges and get out. Pretend that you want another couple of photos and the retreat becomes a panicky stampede, with cattle rushing across the street regardless of oncoming traffic.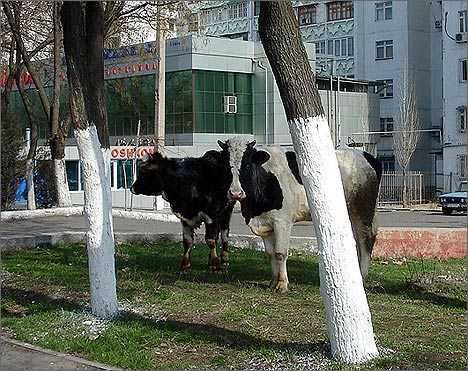 Amir Temur Street (formerly Engels Street), Tashkent. Photo by the author (2008)

In the central areas of Tashkent, amidst landscaped communities once regarded as better neighborhoods, there are now pastures where cattle come to graze after dark or shortly before dawn. Residents of the nearby mahalljas let their cattle feed on the lawns and flowerbeds without compunctions. Nobody cares that all these flowers and greenery were planted for purposes other than becoming fodder. In fact, the impression is that this idea never even occurs to these people.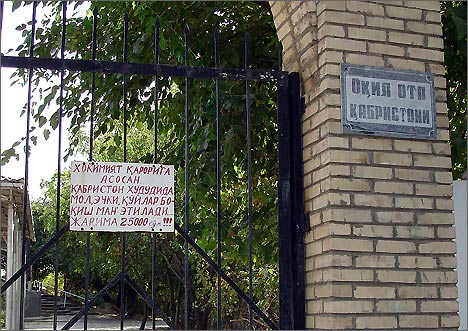 Gates of the Moslem cemetery Okil Ota near Municipal Hospital 17 in Tashkent. Notice states that "Grazing on the territory is prohibited by the khokimijat. Violators to be sentenced to a fine of 25,000 sums". Photo by the author (2008)

Complete impunity encourages cattle breeding. Also important, raising cattle has become a lucrative business and not something impoverished urban dwellers resort to. Follow any flock or herd, and you will eventually see its destination - usually a respectable home, with sturdy gates and a large enclosure behind the fence. The family living there has a car, dish antenna, and all other attributes of the not particularly ascetic way of life.
So, behold a typical view of Tashkent in 2008: multistory buildings with sheep, horses, cows, and rams grazing nearby, Matiz and Nexia autos driving by, small stores and Internet-cafes everywhere... This is Karimov's era, and this is how it will probably be remembered.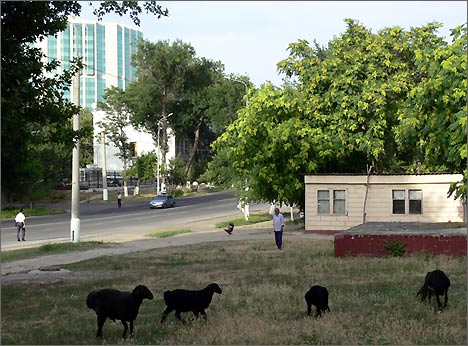 Istikol (Independence) Street with the Markazy Hotel (ex-Sheraton) in the background. Photo by the author (2008)