New chairman of the Kyrgyz parliament: defector, smuggler, or "terrorist"?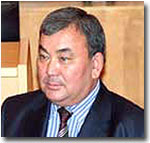 Aitibai Tagayev, until recently a wholly obscure lawmaker, succeeded Adakhan Madumarov as chairman of the Jogorku Kenesh, the national parliament of Kyrgyzstan, when the latter resigned in what was considered a thoroughly scandalous manner. Quite a bit of interest in the new Jogorku Kenesh chairman raised many questions. Some media outlets even accused Tagayev of being unscrupulous and branded him, based upon past behavior, a "smuggler" and "terrorist".
Once President Kurmanbek Bakiyev had the parliament adopt the now-infamous constitution in December 2007, he found himself in the position of being able to hire and fire Jogorku Kenesh chairmen practically on a whim. In theory, the procedure has the appearance of electing whoever was nominated by the head of state from the parliamentary majority which now belongs to pro-Bakiyev Ak Jol.
Elected chairman, Tagayev, on his own behalf and that "of his family", thanked the Jogorku Kenesh for their "trust". This alerted observers. Somewhat later, a local news agency quoted Tagayev as saying he intended to take into account "the mistakes" made by his predecessor and avoid making them again.
Local newspapers, meanwhile, are unanimous in explaining those mistakes made by Madumarov. In the end, notes observers, these mistakes were, exclusively, ignoring the president's "advice" and insisting on an expensive reconstruction of the parliament building. That's what probably explains the assumption made by Bakiyev's adversaries that "the president is like a collective farm chairman who got himself an obedient foreman" (seen as references to the president's unseemly behavior and reckless declarations and to the new chairman of the parliament).
A week after Tagayev's election, De Fakto (a newspaper whose bank accounts and assets are now frozen) featured an interview with Abdulla Kaparov, a maverick known for his one-man crusade against ex-president Askar Akayev. (Kaparov roamed all of Kyrgyzstan once, mounted and carrying a hand-painted poster demanding Akayev's resignation.) Kaparov called the new Jogorku Kenesh chairman the "number one terrorist who calls the tune in the Cabinet."
"I called him the number one terrorist in front of TV cameras once, and I'm calling him a terrorist now," Kaparov told De Fakto. "In fact, after this first episode, I was strongly advised to apologize to Tagayev because (that's what I was told, mind you) he could have me terminated with a single phone call since he controlled all of the Cabinet and its ministers. But how will I look people in the face if I apologize to this thief?"
"Tagayev was a founder of Alga Kyrgyzstan [Akayev's political party - Ferghana.Ru] and its treasurer. His sponsor would be a better term, actually. It was Tagayev who had a residence built for Akayev in Moscow. It was Tagayev who promised to pick up all Alga Kyrgyzstan's tabs and who admitted, in public, that part of his dividends were going directly to Aidar himself [Akayev's son - Ferghana.Ru]," Kaparov told De Fakto.
According to Kaparov, Tagayev has 10-15 strip mines in southern Kyrgyzstan and three demolition teams. "All of that enables him to regularly send whole truckloads to Uzbekistan," Kaparov said. "What he has been doing is a terrorist act against the Kyrgyz economy... Sure, nobody is saying it out loud. In fact, Tagayev had me imprisoned for refusing to remain silent."
Aalam [Universe], another Kyrgyz newspaper, ran its own investigation of Tagayev's history. According to this newspaper, Tagayev is involved in some illicit activities using the Nur-KM factory as a cover. The Nur-KM factory is located in the mining town of Kyzylkia in the southern part of the country. This factory employed prisoners during the Soviet past. Tagayev later bought the factory with its hostels.
"Formally, it is a construction materials factory. Actually, however, KamAZ, KrAZ, and BelAZ trucks, by the dozen, ferry raw materials to Uzbekistan," Aalam wrote. "Nobody knows how many strip mines produce the raw materials or of what nature." The newspaper assumed that the ore ferried to Uzbekistan contains mercury and stibium (actually, nearby factories once provided mercury and stibium for the entire Soviet economy).
A shovel operator, Tolkun Maksudov, told Aalam that he had never known what he was getting into while seeking a job at one of the strip mines there. These days, Maksudov alone loads nearly 200 tons of ore onto trucks every day. He is paid $16 per hour. Maksudov suspects that the "limestone" he works with actually costs much more, almost $1,800 a ton. According to Aalam, trucks each ferry 600 tons a day, earning their owner $4 million per year. Moreover, Tagayev's business ventures pay taxes to the local budget of only 600,000 soms, or just over $1,700 in taxes.
"All senior customs officials, all generals of the Border Guards Service, take orders from Tagayev," Aalam wrote. "Trucks are waved through the border without so much as a cursory glance at the cargo or documents."
Aalam has promised a sequel to this first publication. The sequel will deal with how Tagayev "treats his employees and damages the environment", how he financed Alga Kyrgyzstan "prior to becoming Ak Jol master." The newspaper promised a story of Tagayev's friendship with Bakiyev and an account of what awaited whoever crossed him.
Back to De Fakto. As soon as its latest issue appeared in newspaper stalls throughout Bishkek, whispers started in Jogorku Kenesh corridors. Roza Otunbayeva, of the Social Democratic Party and an ex-foreign minister, suggested the establishment of a parliamentary panel to investigate Tagayev's background and decide whether or not he was worthy of so high a position.
"What do you think?" Otunbayeva asked Tagayev directly. "Do you think you have the moral right to be the chairman?" A representative of the President, Kambarly Kongantiyev, an ex-prosecutor general, stepped in and answered Otunbayeva's question with a question of his own. "Are you questioning the decision of the parliament that voted to elect Tagayev the torag [chairman]?" he asked.
The incident never deteriorated into a political scandal, but only because the parliament was scheduled for a vacation.
Politicians and experts anticipate a hot political season come autumn. Prominent opposition leader Temir Sariyev is reactivating the relatively radical Ak Shumkar party that lost the 2007 parliamentary election despite its merger with Ata Meken. In the meantime, the former leader of Soviet Kyrgyzstan, Turdakun Usubaliyev, Akayev's state secretary, Osmonakul Ibraimov, and ex-premier Amangeldy Muraliyev founded a movement of their own. Animosity towards the new chairman of parliament may become one of the trump cards of the Kyrgyz opposition as it emerges from oblivion.