Uzbekistan: Prison Employee Set Herself on Fire to Protest Prison's Despotism
A former employee of the capital's Tashkent prison administration, known in Russian as GUIN, has lost almost everything – her house, her health and, recently, her job – all due to her appalling mistreatment by the prison administration, she claims.
Now, she is appealing to human rights activists in Uzbekistan as her last hope for receiving help.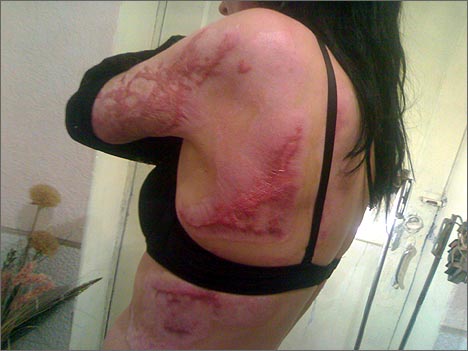 Capitan Nina Shestopalova, 43. Photo by Ferghana.Ru

Capitan Nina Shestopalova, 43, a 25-year teaching instructor for special inmates and a mother of three children, set herself on fire in December 2007, as she told human rights defenders on July 2, as she was unable to bear the abuses and injustices committed by the head of the Tashkent prison administration, Erkin Komilov.
Shestopalova says Komilov has been harassing her over the past several years, forcing her to work extra hours with no days off on the prison's construction sites. Shestopalova further said her demands to receive increased payment for the risk of working with special patients with various illnesses, such as tuberculosis, cholera, measles and hepatitis, were repeatedly ignored. But it was not until Komilov evicted Nina's family from their two rooms in the prison's barracks that she resorted to self-immolation.
Those two rooms were given to Kamilov's chairman and another newly employed serviceman in exchange for a bribe, Shestopalova believes.
"All these injustices pushed me towards suicide," Shestopalova explained in her appeal to the Human Rights Defenders Alliance of Uzbekistan.
After she was saved by her colleagues in Tashkent prison and received a prolonged and expensive treatment, Shestopalova started fighting for her rights in court. However, the case against Kamilov was ended when the court ruled there was insufficient evidence to proceed.
Prosecutor's Office investigator Ibragimov claims Shestopalova was drunk the day she set herself on fire, an accusation that Nina denies.
Nina has not received moral or financial compensation for her treatment and now lives with three children in the hall of residence without a job.
"I have never thought that being an educated person, being an officer and a patriot I would one day be deprived of my human and civil rights," Shestopalova said.
Nina's is a rare case of a prison employee with grievances who receives media attention. The prison system in Uzbekistan, acknowledged as one of the most repressive among Central Asian states, is completely closed to the public. Despite that, human rights activists, including internationally acknowledged Human Rights Watch (HRW), have been continuously reporting about torture and deaths that occur within Uzbek prisons.
Following seven month of beating down the doors of high officials without results, Shestopalova decided to join human rights activists to protest the system and reveal information about injustices in the Uzbek prison system.
"From now on I will be a member of the Human Rights Defenders Alliance and will stand up for the rights of my countrymen and my own," Shestopalova added.