Human Rights Watch Continues to Seek Accreditation in Uzbekistan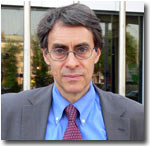 Last week, Kenneth Roth, the executive director of the international human rights organization Human Rights Watch, visited Tashkent. The purpose of the HRW head's visit was to conduct talks with Uzbek authorities about the possibility of accreditation for the organization's new representative in Uzbekistan, Igor Vorontsov.
The Uzbekistan office of Human Rights Watch has been inactive since June 2007, when Tashkent office director Andrea Berg was stripped of her accreditation for implausible reasons. Her replacement Igor Vorontsov was forced to wait several months while Uzbek authorities considered the question of his accreditation. Eventually, he was denied accreditation on the grounds that he was unfamiliar with the mentality of the Uzbek people and therefore unqualified to evaluate the reforms being implemented by the country's leadership. HRW head Kenneth Roth discussed the current situation, as well as the question of whether any HRW representation at all would remain in Uzbekistan, with a correspondent from the Ferghana.ru information agency.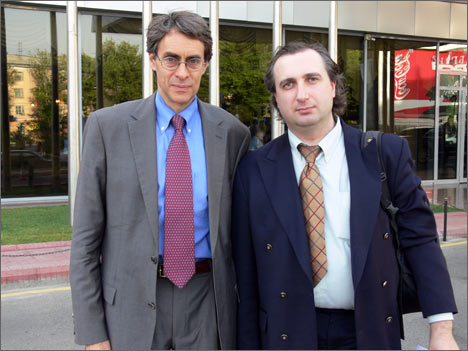 Kenneth Roth, Executive Director of the Human Rights Watch, and Igor Vorontsov, head of mission in Uzbekistan

Kenneth Roth: I flew to Tashkent from New York to resolve the question of the accreditation of Human Rights Watch's representative in Central Asia. The authorities haven't yet made a final decision, but they have asked us to suggest a new representative, as they found the previous one unsuitable. The government has stated that it would like to see a person in that post who is well acquainted with Uzbek culture and traditions. However, we reminded the authorities that many of the previous HRW representatives had broad knowledge of Uzbekistan's culture and traditions, but fell out of favor once they criticized Uzbek authorities. Therefore the question here is one of fairness and objectivity.
I came here in order to personally assure the authorities that Human Rights Watch's coverage of the situation in Uzbekistan will be fair and objective. I explained to the authorities that we are interested in a dialogue with the government, and that we would like to inform the government of the results of our observations and investigations prior to their publication so that the government's point of view could also be presented in our reports.
We believe that carrying out such a dialogue would be easier if our representative Igor Vorontsov could be based in Tashkent, and not in Almaty. If the Uzbek authorities impede Mr. Vorontsov's work in Uzbekistan, then it will be necessary for us to move our regional office to Almaty. We would still continue to work in Uzbekistan, but that work would be carried out by means of trips from Kazakhstan.
It seems to us that Tashkent is a perfectly natural location for our Central Asia regional office. We would prefer not to move it to Kazakhstan. Therefore, it is up to the Uzbek authorities to decide what they would prefer – for Mr. Vorontsov to cover the situation in Uzbekistan from Tashkent or from Almaty. We believe that allowing Mr. Vorontsov to cover the situation in Uzbekistan from Uzbekistan itself and not from Kazakhstan would be a sign of the authorities' commitment to the observance of human rights.
I hope that the government of Uzbekistan treats seriously both my visit and my assurance of our sincere intentions and belief in objectivity, and takes this opportunity to reconsider its position on Mr. Vorontsov's accreditation.
Fergana.ru: Have the authorities tried proposing to you their own candidate for this position? This is how it goes for foreign information agencies, whose correspondents receive accreditation to work only if they are absolutely loyal to the Uzbek authorities.
Kenneth Roth: No.
Ferghana.ru: And what's the situation now? How well known is it that the Human Rights Watch office in Uzbekistan hasn't been active since June 2007 when Andrea Berg was stripped of her accreditation?
Kenneth Roth: We are continuing to cover the situation in Uzbekistan, although Mr. Vorontsov has no access to regional authorities and is unable to carry out with them the dialogue we would like to be having.
Ferghana.ru: With whom exactly did you meet at the talks? What are your impressions from your discussions with them?
Kenneth Roth: We met with the Minister of Justice, the Minister of Foreign Affairs, representatives from the Ministry of Internal Affairs, and with the ombudsman Sayera Rashidova. It is my impression that they are interested in maintaining a dialogue with us. We are of course hoping that they will reconsider their decision on accreditation.
Ferghana.ru: Has there been any progress in the matter? Any signs or promises?
Kenneth Roth: Opinions continue to be exchanged, and the final decision regarding Vorontsov's accreditation has not yet been reached.
Ferghana.ru: Do you think that the constant denials of accreditation are intended to make sure that a Human Rights Watch office officially remains present in the country, while in reality it is inactive and doesn't report on human rights violations in Uzbekistan.
Kenneth Roth: Well, first of all, we still haven't been definitely denied accreditation. The process of making a final decision still hasn't been completed. However, if the Uzbek government forces Mr. Vorontsov to relocate to Almaty, it would in effect lead to a closed office.
Ferghana.ru: Why, in your opinion, are the Uzbek authorities impeding the HRW office's work? What are they worried about?
Kenneth Roth: The authorities must understand that Human Rights Watch covers the human rights situation publicly and openly in every country in the world. This openness is a fundamental principle of our work. We are committed to the idea of impartiality and objectivity in our reports and publications. If the authorities believe that on any occasion we have been less than objective, it is essential that they discuss this incident with us. If they force Mr. Vorontsov to relocate to Almaty, it will make dialogue more difficult and will not improve the objectivity of our work.
Ferghana.ru: In that case the question arises: if the office is closed, will it impact the amount of material produced on Uzbekistan?
Kenneth Roth: No. It is very important for us to continue to cover the situation in Uzbekistan, whether we do so from Tashkent or from Almaty.
Ferghana.ru: That is to say, the closure of the office won't lead to a decrease in the flow of information from Uzbekistan?
Kenneth Roth: No, it absolutely will not lead to a decrease in the flow of information. We will make sure that that flow remains the same. There are states where Human Rights watch is not allowed to have its own office, for example, North Korea. Nevertheless, we do a good job handling the challenge of covering the situation there from abroad.
Ferghana.ru: Do you draw a connection between the denial of accreditation and the fact that Uzbekistan has obtained from the European Union a temporary suspension of sanctions, which could become permanent?
Kenneth Roth: The Uzbek authorities are very unsatisfied with the European Union's decision, since the sanctions were not totally withdrawn but were merely frozen. And the European Union expressed quite clearly that one of the conditions for a total withdrawal is the granting of accreditation to Mr. Vorontsov.
Ferghana.ru: How would you evaluate the general human rights situation in Uzbekistan?
Kenneth Roth: My visit on this occasion was too short for me to speak about the general situation. During this trip most of my attention was focused on the accreditation issue.
Ferghana.ru: Has an improvement in the area of human rights actually occurred in Uzbekistan since the beginning of 2008, as has been reported by the media and government officials in Europe and America?
Kenneth Roth: Two decisions have been made that went into effect on January 1: the decision on habeas corpus and the decision abolishing the death penalty. Officials from the Ministry of Internal Affairs have told us about measures being taking to combat the serious problem of torture. We know that death sentences are no longer being given. Officials from the Ministry of Internal Affairs reported to us that the prevalence of torture has not yet decreased as a result of the reforms that have been carried out. Concerning the implementation of habeas corpus norms, it is still unclear clear whether it has had any tangible effect.
Ferghana.ru: Is this your first time coming here?
Kenneth Roth: This is my third visit to Uzbekistan. It's lasted two days.
Ferghana.ru: What will a closed office in Uzbekistan signify for Human Rights Watch?
Kenneth Roth: We're going to consider that a very important indicator of the attitude of Uzbekistan's authorities toward the observance of human rights.
Ferghana.ru: And for Uzbekistan itself?
Kenneth Roth: I think that Uzbekistan's public may get the impression that its leadership is sliding backward on the issue of observance of human rights in its attempts to subject independent observers to censorship.
Ferghana.ru: Could the office's closure have an effect on the Uzbekistan's relations with Europe and with the West in general?
Kenneth Roth: Judging by the statements of officials from Europe and the United States, yes, it would have consequences.
© Translated by HRW