Uzbekistan: Blast Victims Out of Danger
Most of the patients injured in a series of blasts at a military base in Kagan, Bukhara region, are in satisfactory condition, one of the doctors working in the Bukhara first aid medical clinic told Ferghana.ru. on Friday. Earlier reports claiming 100 patients were receiving first aid treatment in Bukhara have not been confirmed.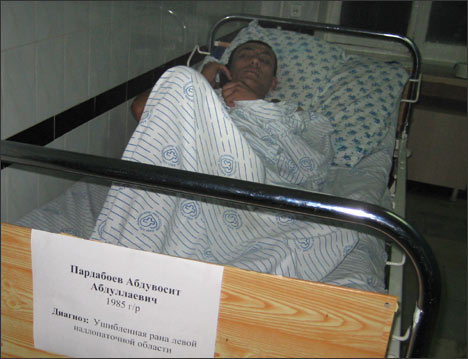 One of the Kagan victims, Pardaboyev, in the Bukhara hospital

"We had 27 patients with minor injuries from Kagan and other patients were being treated for high blood pressure," doctor Alisher Ibragimov told Ferghana.ru.
He said 21 of the patients received medical care and are now in one of the evacuation centers in Bukhara.
"Health conditions of the other six patients are satisfactory," Ibragimov continues. "Some of them have varied head injuries and bone fractures. However, their lives are out of danger."
In hospitals in Bukhara, a Ferghana.ru correspondent also saw soldiers being treated who had assisted in extinguishing fires at the arms depot in Kagan.
According to Uzbek officials, fire broke out on July 10 at the missile and artillery depot, resulting in a series of blasts at the Kagan military base of the Uzbek Ministry of Defence.
The Ministry said three people were killed and 21 wounded due to the explosions.
An unverified source close to high-ranking Uzbek military officials told Uzmetronom that some military depots in the Bukhara region had out-of-date missiles that could not be used in military actions, but had to be destroyed by being ignited.
There is much 30 and 50-year-old ammunition stored in the region, which is a legacy of the Soviet Union's military past.
A lack of information from officials and local media allowed for the spreading of rumors about the number of dead, injured and buildings damaged in Kagan.
Earlier information claiming massive deaths among civilians has not been confirmed, as well as information about looting in damaged houses.
A possible large-scale disaster claiming many lives, destroying dozens of homes and leading to the evacuation of an entire city has been a top story throughout the world, but not in the local media.
Yesterday, there was only one message released by the national information agency, UzA. However, just one television station and three newspapers reported UzA's message. Others did not risk, or were not allowed, to report about Kagan.
The information vacuum came as no surprise to many, including Uzbek citizens who opted for finding news about the explosions on the Internet, knowing officials usually remain silent or have been misleading during past emergencies.
Officials ruled out a strike by a terrorist group based in Tashkent in 2004, as authorities said all twenty of these terrorists committed suicide after being caught.
During a peaceful protest in Andijan in 2005, hundreds were killed by military troops, according to international watchdogs. However, the Uzbek government insisted that only several dozen terrorists were killed.
Rumors about the high probability of more devastating blasts occurring have not yet been verified.
Today, eyewitnesses said that railway stations and hospitals have not been completely demolished, as was reported yesterday, but only "partially damaged."
As Kagan remains sealed off, Ferghana.ru was unable to confirm this information.