Kyrgyzstan: People to Pay for Energy Crisis
As a severe energy crisis is looming in the near future, it appears Kyrgyzstan's impoverished population face the brunt of its effects.
The most common themes heard in official speeches recently are that there is an approaching energy crisis in the country, that the country faces a cold winter, and the population should prepare as best it can.
Only recently, the Kyrgyz Ministry of Industry, Energy and Fuel Resources announced household electric heaters would be switched off by August 1 to save electricity. The population was warned to begin preparing for autumn and winter electricity cuts by purchasing coal and mazut.
Energy cuts will be felt in all residential areas, including schools and hospitals, according to officials. However, Ferghana.ru informants say houses of high-ranking officials are never switched off.
The Ministry explained that power cuts are due to low river levels, resulting in the inability to replenish the country's largest reservoir, the Toktogul, where hydroelectric stations generate more than 40% of the nation's electricity.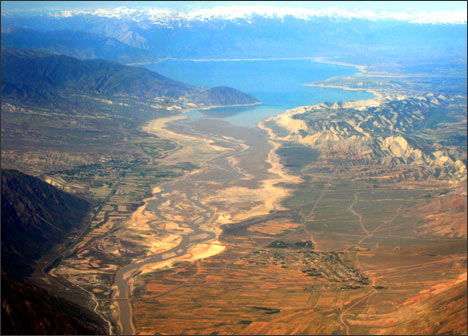 East bank of the Toktogul reservoir. Photo by Ferghana.ru

Water in the Toktogul reservoir is said to have dropped to a critically low level due to extremely large discharges of water to produce electricity during this year's unusually cold winter.
Currently, water in the Toktogul reservoir is at the 9,03 billion cubic meter level. However, Akylbek Japarov, Minister for Economic Development, says the Toktogul now has no more than 8 billion cubic meters in reserve. According to estimates, the Toktogul reservoir has to contain, at least, 12 billion cubic meters in July to assure adequate electricity production in autumn and winter.
The situation is seen by observers as proof that Kyrgyzstan is highly unreliable in providing for its own energy security. Only a year ago, the country was energy sufficient, yet today it is on the brick of an energy collapse amidst the growing need for electricity for economic development. The country is using more power than it can produce as, in almost one week, Kyrgyzstan has used its monthly electricity quota of 125 million kilowatt hours.
The government has been unable to resolve problems that impede the energy sector, such as old equipment, commercial energy losses, the widespread theft of electricity, estimated in the millions of dollars, and unsolved water disputes with neighbouring states.
Event the hasty adoption of energy privatisation legislation to attract investors to the sector has, so far, been ineffective.