Uzbek Authorities Toughen Censure, Remain Silent about Blasts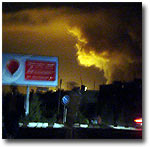 The worrisome information vacuum created in the aftermath of the series of explosions last week at the Soviet-era arms depot in Kagan, resulting in the evacuation of nearly the entire town, has been exacerbated by the actions of Uzbek authorities to stop any information flowing from the region and seeming to confirm the worst fears and rumours.
Five days after the emergency in Kagan, located in the Bukhara region in southeast Uzbekistan, officials have neither announced the cause of the blasts at the heavily protected artillery depot, nor reported the exact number of dead and injured due to the explosions. The only official statement released claimed the incident was caused by fire, resulting in three deaths and 21 injured.
Unable to protect the population from the disaster, Uzbek authorities now seem anxious to prevent any information from being released from the region. Central Asian analysts suggest that by keeping silent during and after emergency situations, the Uzbek leadership is trying to preserve its image as a strong state and inviolable regime.
According to Ferghana.ru sources, President Islam Karimov was extremely dissatisfied that information on the blasts were reported by the international media. He reproached the head of the Uzbek Security Service, Rustam Innoyatov, and the security services in Bukhara region for an inability to work properly and prevent information leaks.
Innoyatov reportedly ordered the heads of the regional security departments to seek out and punish those responsible for information leaks, as well as those who collaborated with the media and shot video footage of the damage from the explosions.
Each member of the various security services are now, allegedly, involved in monitoring the population's reactions to the events and report the names of those responsible for spreading rumours.
Further, the Institute for Strategic Studies was ordered to conduct media monitoring and identify the outlets that were reporting, in a "destructive manner", about the emergency in Kagan.
Analysts believe the government is preparing to blame the media for spreading false information and panic.
However, others believe that panic was caused by the lack of official information during the crisis, rather than media reports.
Among rumours that have not been confirmed is that nearly 300 soldiers were killed, a hospital close to the depot was completely demolished and all patients in it died, and that firemen still cannot reach the underground artillery depot which might catch fire and cause still more explosions.
Sources also told Ferghana.ru that there is speculation that the blasts might have been due to Iranian missiles accidentally striking the depot and that the Russian Ministry for Emergency Situations was involved in extinguishing the fire.
There are also numerous conspiracy theories and suggestions of a possible terrorist attack causing the explosions that are circulating among the population and Internet readers.