Central Asia: Water Shortage Due to Lack of Regional Agreements, Prompt Decision-Making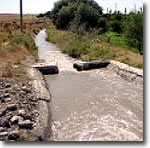 Lack of coordination over shared water usage between Central Asian states has led to significant shortages of water for irrigation at the height of the growing season, Vadim Sokolov, Deputy Director of Scientific and Information Centre at the Interstate Committee for Water Management in Central Asia, has told Ferghana.ru.
Sokolov said the problem is also caused, in part, to low water levels that are seen every five years. However, Sokolov believes the water crisis could have been avoided had the region's governments agreed upon water management procedures beforehand.
The key stumbling block remains the conflicting interests of those states located up and down the streams of the main trans-border rivers. Uzbekistan and Kazakhstan need water in the summer for irrigation, while energy poor Kyrgyzstan and Tajikistan have competing interests, as they use water in winter for electricity production.
Uzbekistan, a large consumer of summer water, uses nearly 50 percent of the water flowing in the Syrdarya river. Kyrgyzstan uses 14 percent of this same water, however, both countries plan to expand lands devoted to agriculture, which will inevitably lead to more complex issues of water management. This increasing demand for water happens while water supplies in the Syrdarya remains at the same level of 37-40 cubic kilometres per year.
Further aggravating the water shortages are the ineffective irrigation systems used in the region. For instance, just in Uzbekistan, annual water losses stand at 20-30 percent, or more than 3 billion cubic meters of water.
Sokolov says there once had existed an agreement under which Uzbekistan and Kazakhstan would deliver coal and oil in winter to upstream states to ensure water is preserved for the irrigation season. However, as area countries have converted to purchasing energy and water at international market prices, they find it difficult to make prompt decisions and agreements due to fluctuating international markets.
Protracted negotiations this year led to discharges of water by Kyrgyzstan beyond accepted limits due to an unusually cold winter that left the main Toktogul reservoir nearly empty and unable to aid with irrigation or further electricity production. Due to this, Kyrgyzstan is now preparing for countrywide power cuts of electricity.
"This winter, Uzbek and Kyrgyz authorities failed to agree on prices and the amount of energy to exchange. Prolonged negotiations led to the discharge of all water [that Uzbekistan now needs for irrigation] by Kyrgyzstan," Sokolov said in the interview with Ferghana.ru.
Sokolov further said that completely closing the river to replenish the reservoir could fatally damage the ecosystems of the region.
"Kyrgyzstan has violated all principles of cooperation over water resources," Sokolov continues. "There were times when the Syrdarya river was completely dry because of dams, which killed life and damaged the ecosystem of the river. We have never seen such a situation before."
The total amount of the Central Asian annual surface flow is 130 cubic kilometres of water, 40 percent of which is formed in Tajikistan, 30 percent in Kyrgyzstan and only five percent in Uzbekistan.
Almost all small rivers belong to the Amudarya and Syrdarya water basins. The annual flow of Amudarya is nearly 80 cubic kilometres of water.
Additionally, irrigation is using nearly 90 percent of all available water resources each year.
In the past, there were two attempts to draft strategy for the regional integration of water management. One was created from 1995-97 with the help of the World Bank, another was drawn up in 1998-2001 by the Global Ecological Fund. Research used while creating the last program showed demand for water exceeds the natural supply by 1,5 times.
There was an attempt to reach a compromise by creating a new regional strategy on agriculture and energy, however, it was ineffective as Uzbekistan did not participate on a state level and Turkmenistan did not participate at all.
"As a result, we do not have a working regional strategy for water management," Sokolov points out. "What we have are only bilateral treaties."