Kazakhstan: Tougher Laws Needed To Prevent Labour Abuse, Slavery
As more foreign labourers in Kazakhstan are subject to abuse and virtual slavery, tougher laws are needed for employers using foreign labour, human rights groups in South Kazakhstan say.
Nearly one-third of foreign labourers in Kazakhstan face inadequate payments or are not paid at all, human rights organisations estimate. Some employers pay minuscule salaries, justifying it by the allegedly low quality of unskilled labour, others withhold workers' passports and return them as the only payment after the work has been completed.
Most of the foreign labourers in South Kazakhstan arrive from neighbouring Uzbekistan. Although the number of migrants dropped from the officially registered 46,000 last year to 38,000 this year because of a presidential decree to temporarily halt construction, Uzbek labour migrants continue arriving.
As an example, Bakhodyr (the name is changed for security reasons) from Uzbekistan left Tashkent for a better legal job in Kazakhstan and now can feed his family.
"Our family are hereditary bakers, we've always made bread," Bakhodyr says. "In Kashkardarya, where I live, there are no jobs and baking bread brings us only 100 US dollars per month, which is not enough for living. Here, I earn twice as much."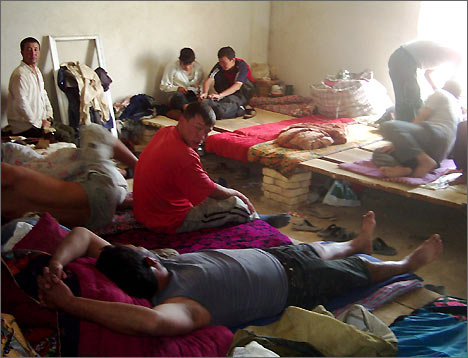 Uzbek Labour Migrants in Kazakhstan. Photo by Yuri Eliseev

Uzbek migrants are in high demand on private construction sites as they agree to work for payments two to three times lower than average construction worker salaries.
Hadichya Abysheva, head of the Sana Sezim Centre which deals with labour migration in Kazakhstan, says many people contact the centre asking for help to rescue relatives and friends from Kazakhstani employers. Sometimes whole groups are illegally detained and forced to work. Abisheva gave an example of when the centre tried to free a 14-year-old from Uzbekistan who was illegally kept at a construction site, along with many other workers.
"Even when we arrived, the employer said he is not giving back their documents until they finish the work. The labourers were beaten, forced to work 12 to14 hour days and lived in dreadful conditions," Abysheva said.
There are cases of human trafficking over the Kazakh-Uzbek border, when young girls are swindled and taken to the South Kazakhstan region to work as sex slaves.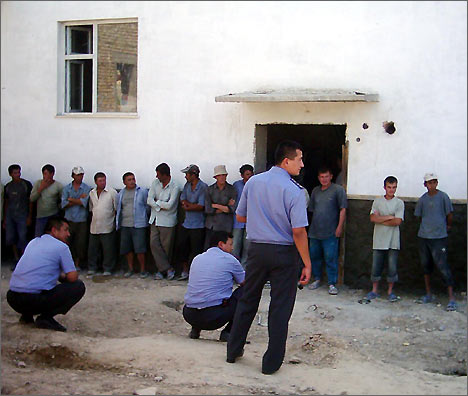 Photo by Yuri Eliseev

Vera Zakutnaya, a psychologist with Sana Sezim, told Ferghana.ru about several cases when young women were deceived, smuggled illegally through the border and sold, some for as much as 300 US dollars. Sezim often helps police in rescue operations of people who are being sexually exploited.
Representatives of the Centre say stricter laws should apply to employers who violate legislation, as more cases of abuse have been springing up. Also, better regulations and easier registration is needed for labour migrants from neighbouring countries as the flow of workers will keep growing given the dire economic situation in these states.