Uzbekistan: President Blames Soviet Government, Defence Ministry for Blasts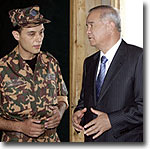 Photo by UzA
In the first public appearance a week after a series of blasts at a Soviet arms depot in Kagan President Islam Karimov underlined that Soviet military architects and Ministry of Defence could be blamed for the incident.
July 10 blasts of artillery shells, presumably caused by fire, claimed 3 lives and injured 21, officials say. However, Ferghana.ru sources have been reporting about many more injured and warning about higher death toll rate.
Almost the entire population of Kagan was evacuated to the nearby ancient Silk Road city of Bukhara, which also felt blasts as far as almost 8 miles away.
Authorities have been continuously denying any extensive damages to the city after the blasts.
However, official video report from Kagan failed to provide evidence of little damage and remained silent about the current number of dead, injured and evacuated showing only President Karimov and his aides.
President openly blamed Soviet-era architects who constructed the depot without following basic security rules and Ministry of Defence for negligence.
"If all the artillery stored there exploded at once it would be hard to estimate the scale of damage," Karimov said confirming fears of a higher death toll in Kagan.
The city has been completely sealed off since July 10, official coverage of the incident has been sketchy and many of the circulating rumours remain unconfirmed.
Observers say that authorities are deliberately discounting the scale of the incident by limiting reports and suppressing any outflow of information.