Uzbek Capital Pompous Renovations are Costly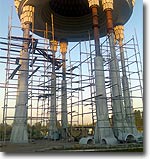 Photo by Ferghana.ru
While almost every district of the Uzbek capital Tashkent undergoing lavish renovations ahead of 2200 anniversary celebrations, some officials exploit this opportunity to suck up money from the state budget for pompous and often unnecessary constructions. At the same time, many residential areas get demolished to improve the look of the capital often at the expense of residents themselves.
As President Islam Karimov endorsed a start-off to renovations ahead of the Independence Day and 2200 Tashkent anniversary celebrations, local officials prepared their own plans which may largely benefit themselves. Some Ferghana.ru observers say that hokims, or local governors, exploiting available state funds to hire construction companies from their close circle and make money through this scheme.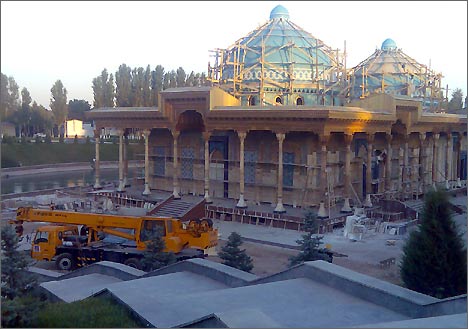 Photo by Ferghana.ru

For instance, the World War II memorial that gets repaired every year before President Karimov's visit on May 9 Victory Celebration, is now renovated again by numerous working brigades as the state has channelled substantial funds for its renovation.
Tram lines on the central Amir Timur Avenue that could be used for at least another seven years are being dismantled. New buildings along the Avenue are hastily erected, others recently built get "rejuvenated."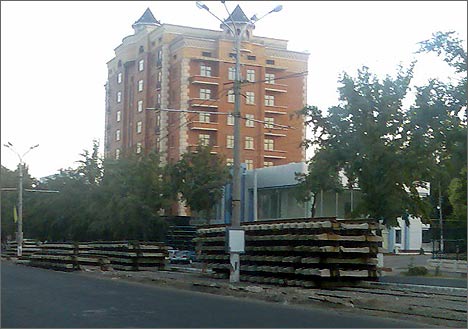 Photo by Ferghana.ru

However, not everyone is happy with renovation of the capital. As Ferghana.ru has reported earlier, residents of the Yakkasaray district frustrated with their homes razed to the ground because of their alleged unpleasant look.
"Your peasant huts are spoiling Tashkent's appearance, especially the road often driven by President Karimov. This place will be taken by a beautiful multi-storey building," said Alexander Useinov, head of the "Gabus" construction company.