Uzbekistan: HRW Representative Banned with No Right of Return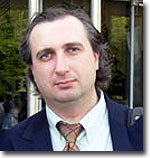 For the first time in history, the internationally acclaimed Human Rights Watch is having its representative banned in Uzbekistan. This, in spite of EU regulations to cancel sanctions on Uzbekistan only if HRW is accredited.
Igor Vorontsov, the representative of HRW in Uzbekistan, had been awaiting his accreditation when he received a note that he has no right for future return to the country.
HRW had to temporarily halt its operations in Uzbekistan in June 2007, when Tashkent office director, Andrea Berg, was stripped of her accreditation for reasons considered implausible. Her replacement, Igor Vorontsov, was forced to wait several months while Uzbek authorities considered the question of his accreditation. Eventually, he was denied accreditation on the grounds that he was unfamiliar with the mentality of the Uzbek people and, therefore, unqualified to evaluate reforms being implemented by the country's leadership.
Kenneth Roth, HRW director, visited Tashkent in early July and met with a number of Uzbek officials in an attempt to convince them that accreditation is needed for HRW to conduct thorough monitoring and fair reporting on the country.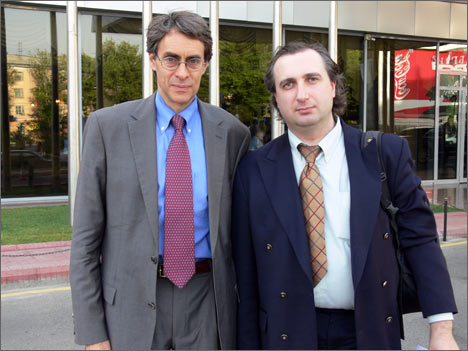 HRW Director Kenneth Roth and Igor Vorontsov who was to be accredited as HRW representative in Uzbekistan. Photo by Ferghana.ru

In a statement released on July 25, HRW notes that Tashkent has not only failed to make meaningful progress toward meeting the EU's calls for rights improvements, it has actually backtracked in a number of areas. Among the requirements for Uzbekistan to end EU sanctions imposed following the 2005 Andijan massacre, was the release from prison of human rights advocates and accreditation of the HRW representative.
"The Uzbek government is mocking the EU, and Brussels should respond forcefully to make clear it won't accept this kind of behavior," said Veronika Szente Goldston, Europe and Central Asia advocate at Human Rights Watch. "This is a real test of the Uzbek government's commitment to human rights and of the EU's resolve to insist on real reform."
In an open letter, HRW also said the organization is outraged by the earlier response of Uzbek authorities that the candidate "should not be Russian" in order to be considered for accreditation. "Human Rights Watch considers such a position not only discriminatory, but also wholly inappropriate state interference in the staffing decisions of an independent nongovernmental organization," the letter said.
Human Rights Watch added that it would continue monitoring and reporting on Uzbekistan despite its representative being banned.