Uzbek Officials Did Not Confirm Ban of HRW Representative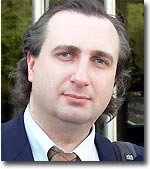 Representative of the internationally acclaimed Human Rights Watch, Igor Vorontsov who had been awaiting his accreditation received a notification in late July that he was banned in Uzbekistan with no right for future return to the country.
Earlier, he was denied accreditation on the grounds that he was unfamiliar with the mentality of the Uzbek people and, therefore, unqualified to evaluate reforms being implemented by the country's leadership.
In a statement released on July 25, HRW notes that Tashkent has not only failed to make meaningful progress toward meeting the EU's calls for rights improvements, it has actually backtracked in a number of areas. Among the requirements for Uzbekistan to end EU sanctions imposed following the 2005 Andijan massacre, was the release from prison of human rights advocates and accreditation of the HRW representative.
"The Uzbek government is mocking the EU, and Brussels should respond forcefully to make clear it won't accept this kind of behavior," said Veronika Szente Goldston, Europe and Central Asia advocate at Human Rights Watch. "This is a real test of the Uzbek government's commitment to human rights and of the EU's resolve to insist on real reform."
In an open letter, HRW also said the organization is outraged by the earlier response of Uzbek authorities that the candidate "should not be Russian" in order to be considered for accreditation.
In the interview with Ferghana.ru Igor Vorontsov gives his accounts on why he was denied accreditation and shared information about the HRW work on Uzbekistan.
Ferghana.ru: When did you receive a final statement that you are banned in Uzbekistan?
Igor Vorontsov: I received a call on July 19, Saturday, from one the representatives in the Uzbek Ministry of Internal Affairs (MIA) who refused to reveal his identity. He asked whether I plan to visit Uzbekistan and received a positive response. Then he said that a recently issued 408 decree prohibits me from visiting Uzbekistan.
It is very hard to say whether this was a final denial of accreditation. We have asked for an official statement from the MIA with clarifications, however have not yet received any response. We also have not received any disproof of the information, which means that the call was not simply someone's bad joke. In any case, HRW is not going to consider an anonymous call as a final official decision.
Ferghana.ru: How did the person motivate the ban to visit Uzbekistan?
Igor Vorontsov: I received no explanations whatsoever. The person only referred to the unknown 408 decree.
Ferghana.ru: How exactly did the Uzbek authorities denied you accreditation the first time? How the issue of your nationality was brought up?
Igor Vorontsov: Uzbek Embassy in Washington informed representatives of the HRW in the New York office that accreditation was denied with no further reconsideration. Uzbek Ministry of Foreign Affairs then suggested the HRW to have another candidate for accreditation noting that "the next candidate should not be Russian." It was not immediately clear whether the candidate should not be ethnically Russian or hold the Russian citizenship. However, in either case the statement is absolutely unacceptable and offensive to both HRW and to me as a Russian citizen.
Ferghana.ru: What is exactly wrong with Russians?
Igor Vorontsov: It would be interesting to ask this question the Uzbek MFA. However, I think the problem is not in my nationality, or in my alleged incompetence in mentality of local people and inability to understand state reforms, as officials put it, but in apparent unwillingness to have HRW in Uzbekistan. The rest is just excuses to deny registration.
Ferghana.ru: Have you ever thought that you might be indeed under qualified for this position and might not understand mentality of local people and President Karimov's reforms?
Igor Vorontsov: Having lived in the former USSR allows me to understand the mentality [in most post-Soviet republics]. I've traveled extensively in the region, I have university degree in human rights and monitor situation with human rights regularly. I prefer not to debate about who is better in understanding Uzbek mentality, this is a rather philosophical question.
Ferghana.ru: HRW virtually halted its operations when the former representative Andrea Berg was denied accreditation in 2007. Would you agree with suggestion that this might be a tactic used to formally keep organization in the country without allowing it to work on full scale?
Igor Vorontsov: Sure, I would agree with that. The only reason why Uzbek Ministry of Justice denies us registration is to prevent the HRW from working in Uzbekistan. There are no other meaningful reasons for denial of registration.
Ferghana.ru: What does the HRW plan to do next? Will the regional office be moved from Uzbekistan to Kazakhstan?
Igor Vorontsov: No one has officially closed the HRW office in Uzbekistan. Of course we will have to think seriously about future of our regional office, however only after we receive official documents from the Uzbek authorities.