UNESCO World Heritage: Samarkand Needs Reinforced Monitoring
The World Heritage Committee asked the UNESCO headquarters to apply "reinforced monitoring" to the ancient Silk Road city of Samarkand. The Committee is concerned with preservation of several historical sites in Samarkand.
"Samarkand – Crossroads of Cultures (Uzbekistan), on the World Heritage List since 2001, is threatened by new roads and buildings which affect the integrity of its traditional urban fabric, in the absence of an adequate regulatory framework," the statement released by the World Heritage Committee on July 10, said.
UNESCO monitoring mission will be set up to work and get guarantees from the Uzbek government that nowadays city's development does not negatively affect historical sites of Samarkand, one of the oldest cities in the world.
Presumably the monitoring committee will assess the impact of construction activities on the medieval XIV-XV centuries Bibi-Khanum Mosque adjacent to Siab bazaar that is undergoing renovations. It will also examine how house demolition and road building affects site of ancient settlement Afrosiab.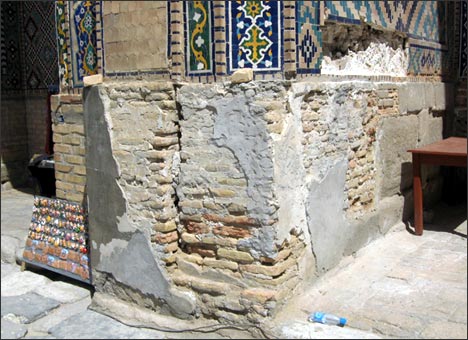 Samarkand. Fragments of the wall in the Sher Dor Madrasah are falling apart. Photo by Ferghana.ru

According to unverified information the monitoring mission already visited Uzbekistan in late July, however the results of the work have not yet been published.
The government on the one hand initiates restoration of historical sites, but on the other hand, pays little attention to how it is done, observers say. For instance, renovations at the Shah-i-Zinda mausoleum complex, Bibi-Khonim Mosque and Aq Saray Mausoleum of the Timurid period have been widely criticized for sloppy work.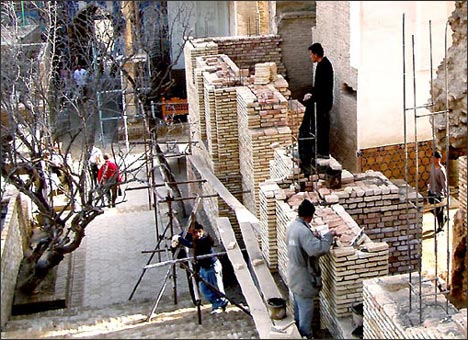 Samarkand. Restoration of the Shah-i-Zinda Complex in 2005. Photo by Ferghana.ru

Local residents were watching sorrowfully how their old houses in the historical part of the city were demolished while international community kept silent. Today UNESCO has voiced reasonable concern over protection of world heritage in Samarkand.
Unfortunately, there is no guarantee the government will follow the UNESCO recommendations on the heritage preservation as they are not mandatory. The only leverage at the UNESCO's hands is striking some of the sites in Uzbekistan off the World Heritage list.