Questions Remain Despite Clarifications on Arms Seizure from US Diplomats House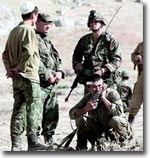 American special military services are training Kyrgyz counterparts. Photo by
Agentura.ru
Despite officially released confirmation that arms
seized earlier
from the US officials were brought for a military training, many questions remain regarding the incident.
A day after dozens of firearms were seized in the house rented by the US officials, Kyrgyz government released a statement confirming the weapons were brought for anti-terrorist military training to be led by the US military servicemen. However some of the requirements regarding preparations to the training were not met, the statement says.
Kyrgyz Ministry of International Affairs together with other state agencies is conducting negotiations with the US Embassy in Bishkek to resolve the incident and continue joint military trainings, the press release adds.
The incident coincided with the US Senate delegation visit to Kyrgyzstan. President Kurmanbek Bakiev met on August 4 with the head of the delegation, US Senate Majority leader Harry Reid, to discuss bilateral political, economic cooperation and American military base at the Manas airport in capital Bishkek.
Despite official clarifications many questions remain unanswered. One of the former Kyrgyz security servicemen who asked for anonymity questioned actions of both the Prosecutor's office and US officials in Kyrgyzstan. He suggested that the incident might indicate that the government was either unaware of some secret joint operations between the US military and Kyrgyz Security Services, or does not control possible conflicts within law enforcement and security services.
He noted that lack of coordination between the Kyrgyz security and defense services cannot explain why Prosecutor's Office filed up a criminal case upon the arms seizure.
"Prosecutor's office could not file up a criminal case without conducting preliminary investigation. It means, had the Prosecutor's office known about the purpose of those weapons or had it been informed, it would never file up the case," former security serviceman explained to Ferghana.ru.
He emphasized that Ministry of Internal Affairs announced about the seizure of arms only a day after the operation. It means investigation was conducted beforehand and the purpose of the arms in the US diplomats' house had not been clarified by the other Kyrgyz agencies.
"Also, if the US Embassy claims the arms were registered with the Kyrgyz authorities for a military training, why the weapons were not stored in the respective department that was to be trained, but in the US officials' house," Ferghana.ru informant continues.
The reason why none of the Kyrgyz security, defense and law enforcement agencies confirmed the US Embassy's information on the planned anti-terrorist trainings, also remains a mystery.