Director of Cement Plant Pursues Libel Charges, Denies Wrongdoing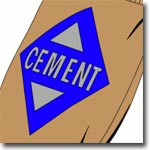 One of the major recent libel cases against the Kyrgyz Justice for All monthly legal bulletin will be heard on August 7 in Jalalabad city court in southern Kyrgyzstan.
As Ferghana.ru reported earlier Jan Fischer, Director General of the South Kyrgyz Cement plant in Kyzyl-Kiya, filed a criminal and a civil suit against the Justice for All bulletin, demanding one million som (or nearly 28,000 US dollars) in compensation, closure of the outlet and punishment under criminal defamation laws for the editor-in-chief and a journalist who published an article that alleged possible corruption in hiring practices at the plant.
Abdumomun Mamaraimov, the bulletin's editor-in-chief, emphasized that the article simply discussed the origin of persistent rumours, but did not directly blame anyone. He also said when the article was prepared the company's administration refused to speak to either confirm or deny the rumours.
However, Jan Fischer, in the interview to Fefghana.ru, said no one addressed him personally for clarifications prior to the publication.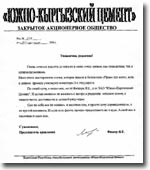 Jan Fischer, Director General of the South Kyrgyz Cement plant in Kyzyl-Kiya sent a letter on August 5 suggesting to Ferghana.ru to publish Fischer accounts on the liable case that have not been heard
Ferghana.ru: Maybe journalists spoke to your assistants?
Jan Fischer: My assistants would have told me. Besides that, I neither got any questions via fax or phone nor received phone calls from the author of the article.
Recently I received a letter from a deputy who was also alleging that corruption is penetrating our company. After I invited him to come and see what is going on, to talk to our employees, he apologized for unsubstantiated judgment.
Feghana.ru: Who do you think might be interested in discrediting you and your work?
Jan Fischer: You have to understand that we are on the way of some businesses that are selling raw cement abroad.
Ferghana.ru: Why do you think an article that was not directly blaming anyone should face defamation charges and pay one million soms in compensation?
Jan Fischer: Actually, initially I wanted my suit to be worth only one som because I simply cannot leave it like that. I have been working in different industries for ages and have never been blamed for taking bribes. I'll tell you more, we are really short of laborers, there is simply no enough work force supply on the market. What kind of bribes are we talking about in such circumstances when I'm ready to pay ten thousand soms to those employees who manage to attract one hundred workers to the industry! No one was able to do that so far.
Ferghana.ru: Have you tried to publish disproof after the article was released?
Jan Fischer: We asked editors of the bulletin why they did not contact us before the article was published. Why do they listen to the rumours and do not want to listen to us prior to running any publication?
Ferghana.ru: The hearing was delayed two times because plaintiff did not show up. Why did not your side attend the court trial?
Jan Fischer: As far as I was informed the trial was delayed once. We were simply not informed about the date of the hearing.Tomorrow I will make sure my representative attends it.
Ferghana.ru: Was the article in the Justice for All bulletin the first media piece that criticized you as a manager and the industry you are working in?
Jan Fischer: Yes, it was the first article. I am tired of these rumours. They are coined to set us off the track. However, we are going to continue building the plant so that people have cheap cement. We could be criticized for anything, but corruption.