Kyrgyz Prime-Minister: "My Premiership in Hands of Ak Jol Party"
Kyrgyz Prime-Minister Igor Chudinov may face dismissal after his cabinet was reprimanded by the President in late July for allegedly poor performance, inability to curb inflation, rising food prices and energy crisis. In the interview with the Reporter-Bishkek newspaper Chudinov said that ruling party Ak Jol would determine the fate of his premiership.
In Kyrgyzstan parliamentary majority approves candidacies for Prime-Minister's position suggested by the President. Since the current President Kurmanbek Bakiev took the office in March 2005 Kyrgyzstan has seen four different Prime-Ministers. Chudinov has been in the office for the past six months.
Ferghana.ru is publishing a shorter version of the interview with Prime-Minister in the Reporter-Bishkek newspaper.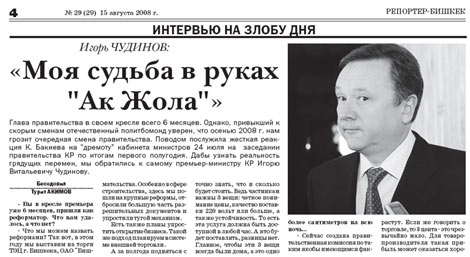 Interview with Prime-Minister Igor Chudinov in the Reporter Bishkek newspaper

Reporter Bishkek: You came into Kyrgyz politics six months ago as a reformer. What has your team achieved so far?
Igor Chudinov: We have prepared to privatize Bishkek thermal power plant, Bishkekteploset and Severelectro electricity and heat distribution networks. These objects are very hard to sell as investors have to allocate enormous amount of funds and wait for the payback for 10 years.
Our cabinet has also proposed a new Tax Code. Although we received 146 remarks and suggestions by the parliament I think very soon we can improve the Code and present it again.
These two steps will have dramatic effect on the Kyrgyz economy in the future.
Also we have worked hard to improve our score in Doing Business rating, which rates countries according to business environment. Before Kyrgyzstan scored poorly and was only number 97 in the list. Now we have significantly reduced red-tape and carried out some reforms, which, hopefully, will help us to be number 50 this year. I think this could be one of our biggest achievements this year.
Reporter Bishkek: The cabinet you are heading has become famous for its privatization programme. Despite the failure of three previous stages of energy privatization, selling out the sector is presented as an essential step to boost economy. Could you, please, explain how selling of strategic sector will help the economy?
Igor Chudinov: I am not for privatization of the entire sector, in fact, I'm against privatization of energy producers, but only for privatization of distribution networks.
Privatization will contribute to distribution networks' development and increase of their capacities. Right now demand of electricity in capital Bishkek exceeds the supply. Energy is a dynamically developing sector and I hope we will be able to attract serious investments. Only Bishkek heating system needs 90 million US dollars in investments. This is because for every giga calorie produced we spend 1700 soms and sell it to consumers for only 500 soms.
Also the energy tariffs policy has become clearer. For instance, now we know energy tariffs five years ahead which is very important for privatization.
Reporter Bishkek: Another serious issue is external debt [of more than 2 billion US dollars]. Have your cabinet developed a matrix of debt return?
Igor Chudinov: We are paying regularly 165 billion soms to our external debt. The main part of the debt will be paid in 2008 and 2010, and we expect these years to be particularly hard for the country. Right now the country is paying 47 percent of its GDP to the external debt.
Reporter Bishkek: What has been the hardest task for you as a Prime-Minister?
Igor Chudinov: The hardest task is social stability because even small factors can influence it dramatically. The 2009 budget is going to be socially oriented so that 27 percent of the GDP will be channeled for social development and costs. It would be better if we developed the real sector because we are building market economy. However now we have to focus on a socially oriented budget.
Reporter Bishkek: What can you tell our readers about the ministers in your team? Are they very proactive?
Igor Chudinov: We have a lot of dynamic ministers. However, I would like to see more initiatives from the Ministry of Agriculture, Energy and Department of State Assets.
We have serious problems with shadow economy, especially in trade and services. Nearly 80 percent of these sectors is in shadow. And I would like to hear some suggestions regarding this problem from the Minister of Economic Development Akylbek Japarov. I also want to see agricultural production growth of 4 percent, not of 2 percent.
Reporter Bishkek: Since you have not aspired the presidential post, you satisfied the top political elites. Has anyone prevented you from conducting your reforms?
Igor Chudinov: No, no one has tried to hamper my reforms. However, there have been some disagreements, which is normal in any working environment.
Reporter Bishkek: After President Bakiev expressed his deep dissatisfaction with the past six months of work performed by your cabinet some observers suggested you might be dismissed from your post. What would be your forecast for forthcoming political season?
Igor Chudinov: My premiership is in the hands of Ak Jol party, which appointed me in the first place. I do not pay attention to the rumours. Many do not like to see me as a Prime-Minister, so what? As for political forecast, I think everything will be fine. The only worry is problems with heating and electricity supply for the winter, but we are working on it.