Ancient Minguruk Settlement to be Temporarily Closed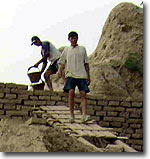 As capital Tashkent is getting prepared for 2200 anniversary celebrations next year, one of its historical sites, an ancient settlement of Minguruk, from which Tashkent developed several centuries ago, is now being temporarily closed. However, Tashkent residents are worried about the way operations at the site are being frozen.
In order to preserve Minguruk for further archeological explorations, authorities ordered to build a wall around the site. However, the bricks for the wall are produced out of clay from the site. Moreover, the area of Minguruk has shrunk significantly and now constitutes only 23,680 square feet, compared to almost 4 million square feet in the 19th century.
Specialist from the Archeology Department of the Uzbek Academy of Science, Gennady Bogomolov and Saida Ilyasova, reassured in the interview with Ferghana.ru that workers use only clay from the so-called "debris" layer, not from the cultural layer.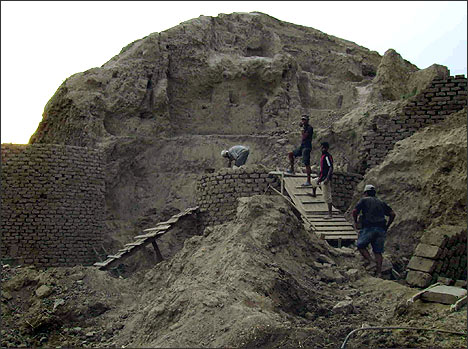 Ancient Settlement of Minguruk in Tashkent, Photo by Ferghana.ru

"There is nothing in the clay the workers are using," they say. "Usually archeologists find it difficult to get rid of debris soil, but in our case this soil is used productively."
The specialists added that the wall around Minguruk should not worry people, but the residential areas that are built next to the historical site.
"Normally such sites should be encircled with 100 or 150 meters of carefully guarded territory. However, for unknown reasons, such Minguruk is not guarded in a proper way."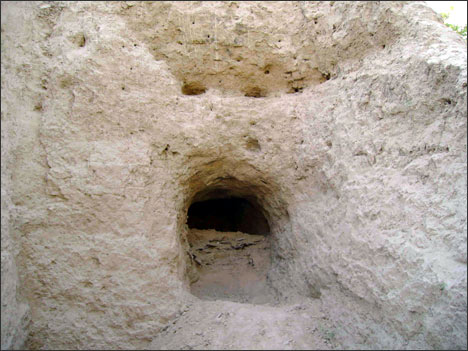 Ancient Settlement of Minguruk in Tashkent, Photo by Ferghana.ru ©

The most ancient cultural layer discovered by scientists at Minguruk dates back to II-III centuries AD. The city with a military stronghold started to develop in early first century AD. It was long time believed that Miguruk is the first and the only place from which Tashkent had developed. However 2000-2002 state archeological expedition found out that Shashtepa, an older settlement, is an "ancestor" of Tashkent. Shashtepa is 200 years older than Minguruk. However, Shashtepa was a small settlement, while Minguruk – strategically and economically important city.
In VI-VIII centuries Minguruk reached its climax and was the most flourishing city in the Chach oasis, one of the major early state-type formations within the Turkic Kaganate before Arabic conquest.