Uzbekistan: Chemical Poisoning Likely in Blast Torn City of Kagan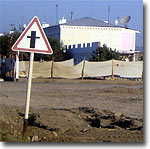 Health condition of Kagan residents, who witnessed series of powerful blasts at the artillery depot on July 10, has been deteriorating, according to unverified reports.
One of the Kagan residents, who preferred to stay anonymous, told Ferghana.ru that many in the city feel dizziness, sickness, fits of weakness, shedding of hair and other symptoms similar to massive radioactive or chemical poisoning.
Ferghana.ru correspondents have visited Kagan and said the city is slowly rehabilitated, new roads and houses are being built, however people still live in fear of future blasts as police seem to remain on alert and officials conceal information about the causes and consequences of explosions.
The only official information released after the blasts stated that 3 persons died and two dozens got injured. Eyewitnesses, however, report about many more victims. Some say big lorries were sent to Kagan to take away copses.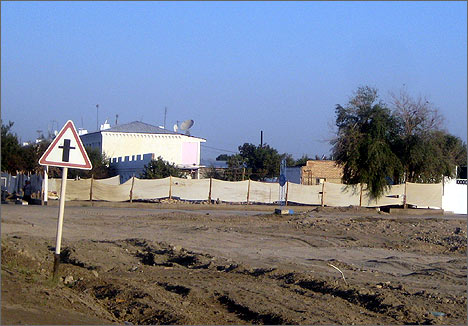 Some of the sites in Kagan have not been fully demined.

Local officials in Kagan were not immediately available for comments.
"The city is relatively calm, however the residents are constantly on alert because policemen give contradictory information. Some say everything is fine, other say it is not safe to stay here. Today in the morning we heard minor explosions. Although we were warned this could happen, we do not know how bad they are for our health," said Natasha, student at the Bukhara Pedagogical University.
"It seems that Kagan has become a police center. Policemen from Samarqand and Tashkent regions are patrolling the streets," she added.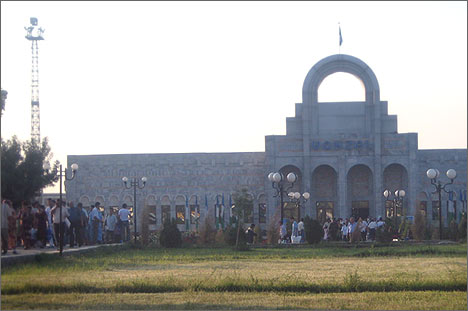 Railway station in Kagan

Natasha confirmed that rumors about chemical poisoning are circulating in Kagan, however Ferghana.ru was unable to verify this information.
Meanwhile, local administration provides free medical services to all those in need.
Some residents told Ferghana.ru correspondents that city administration was also helpful in rebuilding damaged houses. However, after President Islam Karimov's visit city administration confiscated small gardens and dachas saying "the city should not look like a farm."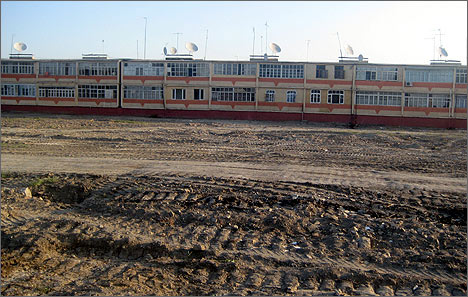 Unauthorized constructions and gardens have been demolished

Some residents suspect that the land is seized because nothing can be grown on it after alleged chemical poisoning after blasts.
Lack of official information brews rumors and keeps Kagan residents in panic.