Uzbekistan Open for Dialogue over Child Labour in Cotton Fields – Officials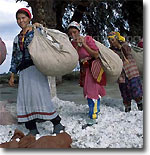 Photo by Focuspictures.ru
As more international companies from Europe, US and Canada refuse to buy Uzbek cotton in boycott to forced child labour in cotton fields, Uzbek authorities, who have been fiercely denying children are being sent to the fields, seem now ready for dialogue over the issue.
On August 18, four biggest groups representing the US retail and clothing industry called on Uzbekistan to end the widespread use of child labour in the harvesting of the country's cotton crop.
The coalition urged President Islam Karimov to take "decisive and immediate actions to end the use of forced child labour in the cotton fields" in the world's second-largest cotton exporter.
Retailers and clothing companies in the US and the UK – including Tesco, Marks & Spencer, Target and Gap – have already taken measures to exclude Uzbek cotton from their merchandise following repeated reports of Uzbek children picking cotton for minimal payments.
A letter delivered to the Uzbek ambassador in Washington, the National Retail Federation, the Retail Industry Leaders Association, the American Apparel and Footwear Association and the Association of Importers of Textiles and Apparel, said that use of child labour is "totally unacceptable", and noted that retailers had told their suppliers to avoid Uzbek cotton.
Uzbek officials have been long denying the information about forceful child labour in the fields is true. Elyer Ganiev, Minister for Foreign Economic Relations, said in May 2008 that "all children who work in agricultural sector work have legal and safe jobs … and national legislation prohibits any use of forced child labour."
However, human rights groups say thousands of school children are sent to the fields as in the Soviet times to "help farmers."
Forced labour also makes children and students skip classes as harvesting season starts in the beginning of September. According to some reports, children spend 10-11 hours working on the fields and get around 2500 sums, or 1,7 US dollars, per day.
Uzbek authorities, nevertheless, seem to have given up implacable position and shown willingness to work on the problem.
Representatives in the Uzbek Ministry of Foreign Affairs told Ferghana.ru that statement by American and European companies would be delivered to President Islam Karimov. The Ministry, however, refused to comment on the statement.
Officials emphasized that Ministry of Foreign Economic Relations held a meeting in July together with representatives of international organizations and NGOs to discuss a plan on implementation of provisions of the International Labour Organization's Convention on working age limit and elimination of the worst forms of labour.
The program has been already approved by the Uzbek Ministry of Justice. However, the implementation has been slow, as well as of many other documents, such as a 2003 national program on prevention of torture.
Uzbekistan produces more than 800,000 tonnes of cotton annually, worth more than 930 million US dollars. About a third is used in Europe, after being processed elsewhere in Asia.
Written by Musafirbek Ozod, Kurban Nordonov, Feruza Djani