Uzbekistan: Shock at journalist's ten year prison sentence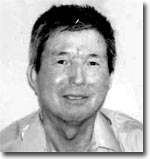 Reporters Without Borders expressed outrage at a ten-year prison sentence handed down today by a court in Nukus, in the west of the country, to Solidzhon Abdurakhmanov, correspondent for several independent websites.
The journalist has been held since his arrest on 7 June 2008, initially accused of drug "use" and then of "drug-dealing", which he denied.
"This sentence is disproportionate and unfair. Coming a week after the EU/Uzbekistan forum on liberalising the media and ahead of the EU's decision about sanctions against Uzbekistan, it looks like provocation," the worldwide press freedom organisation said.
"The authorities have used this as a pretext for silencing an independent journalist and human rights activist," it said.
Lawyer and brother of the journalist, Bakhrom Abdurakhmanov, said that he would be appealing. "This conviction is unfair. It was not proved at any point in the trial that the drug belonged to Solidzhon", he said.
Abdurakhmanov was arrested in Karakalpakstan, an autonomous region in western Uzbekistan, and placed in temporary custody for "drug use" under Article 276.2 after police officers found a substance in his car. The journalist has always denied this and is convinced that the drug was planted by police without his knowledge.
Tests carried out on the journalist showed that he had not taken drugs, after which the charge was altered to "possession of a drug with intent to sell it".
Reporters Without Borders questioned foreign minister, Vladimir Norov about the case and press freedom in the country at a press conference in Paris on 18 September 2008, at the end of a EU/Central Asia summit on security. The minister stressed the urgency of the fight against drugs in Central Asia and refused to consider that the case could amount to a press freedom violation.
The sentence on the journalist comes a week after a forum on "media liberalisation" in the Uzbek capital Tashkent in the framework of dialogue between the European Union and Uzbekistan.
Only representatives of the official media were allowed to cover the forum. Representatives of non-governmental organisations that took part made the point, in a joint statement, that the holding of the dialogue could not in itself been seen as marking progress in press freedom in Uzbekistan.
The situation in Uzbekistan is on the agenda for the EU General Affairs Council meeting in Luxemburg on 13 October when the council is due to extend its suspension of sanctions against Uzbekistan. Sanctions can only be resumed if there is a unanimous vote and Germany is due to speak against this step.