Antonietta Gobbis: I can do things in Tashkent that I cannot do in my hometown of Florence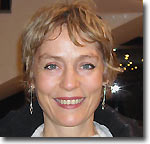 Antonietta Gobbis is a professor at Uzbek State University of Foreign Languages in Tashkent. She has gained a respect with her students and colleagues since she arrived to Tashkent in January 2008 for her professional activity and friendliness. How the inhabitant of Florence - the city that is often considered as the motherland of the Italian Renaissance – is feeling herself in Tashkent, what she has already liked and what she hasn't – Antonietta shared in the interview for Ferghana.ru.
Fergahana.ru: - What was your first impression on Tashkent?
Antonietta Gobbis: - For the first time I was disoriented because I could not communicate with people and it was terribly cold in here for me, naturally Florentine. Everything around was new. But some people, especially my students helped me: they who translated from Russian and helped me with other stuff in my daily life (house, visa etc.).
Fergahana.ru: - Did you like this place from "first sight" or you have to get used to… the climate, the city and people, the food, the style of life?
Antonietta Gobbis: - I had to get used to a different way of life at first, but after some time, when it was not very cold any more, I felt very well here and could appreciate the positive aspects of this city, for example, food is much better than in Italy, and a big variety of international restaurants, in particular sushi. Life here is much cheaper than in Italy. The way of life is not as stressed and chaotic as in Italy.
Fergahana.ru: - What was absolutely unusual for you? What you did not like and why?
Antonietta Gobbis: - The only big problem I had and still have is related with my computer. It was very difficult for me to get an ADSL internet Connection and Skype, because they are very important for me because I am attending on-line Master Courses at the University in Rome and also communicate with my family in Italy. Sometimes I have problems with electricity and water at home, but I live very comfortable in my completely very nice new apartments.
Talking about dislikes I can say that I don't like to wait for appointments; sometimes here it happens to me. Local people sometimes are not very punctual in doing things.
Fergahana.ru: - What could you say about Tashkent, architecture, atmosphere?
Antonietta Gobbis: - Tashkent is a nice and calm city. I like the centre (Broadway and the Alisher Navoi square) very much although I did not get used to too big buildings, I prefer old small towns. In my opinion, squares in the centre of Tashkent are nice but empty; I miss a little bit the confusion of my beautiful hometown in Italy. Most of all in Tashkent I like parks.
Fergahana.ru: - What do you think about Uzbek women, their dress-style, make-up, etc.?
Antonietta Gobbis: - I think women here are very beautiful, more beautiful than in Italy, and now I can understand why Italian men like them very much. In my opinion women give too much importance to their dress-style and make-up and I don't like to see students during my classes with a mirror and make-up in their hands.
Fergahana.ru: - What about Uzbek men? Are they polite, importunate, and "macho" or what?
Antonietta Gobbis: - None of local men importunate me; perhaps I am too old. They are generally very kind to me. The only men with whom I have sometimes to debate are taxi drivers...
Fergahana.ru: - That is very interesting. Our taxi drivers are very... curious; sometimes too curious. Have you ever been surprised or maybe shocked by their questions?
Antonietta Gobbis: - I like to talk to taxi drivers very much because I have a possibility to speak Russian with them. They are very curious about my private life and it wonders me, for example, when they ask me about my age – you cannot ask such a question in Italy to a woman who is not young;, or they want to know everything about my husband. Sometimes I have to discuss about the price but today a pretty old taxi driver gave me back five hundred sums because he was so glad to speak with me. He was very sweet and nice.
Fergahana.ru: - What is the difference between Uzbek and Italian students?
Antonietta Gobbis: - Uzbek students are much better than Italian one with regard to their behavior, politeness and respectfulness. It is nice to teach them because they appreciate my work and have a big interest in Italy. Italian students sometimes are too critical and polemic.
Fergahana.ru: - What don't you like in Uzbek students?
Antonietta Gobbis: - I don't like when they are not punctual and don't study enough; in Italy I had the same problems with students.
Fergahana.ru: - How do you spend your leisure time in Tashkent?
Antonietta Gobbis: - I spend a lot of time at home for my classes. Every day I prepare Power point presentations of my lections for students. I also use Hot Potatoes and Movie Maker programs to create interactive exercises and video materials. In my school in Italy I was responsible for information technologies and language laboratories so that nowadays I cannot do classes without multimedia interactive means.
When I have a free time I am attending Russian language teacher or attending dance-class for classical dance that is my lovely hobby since I was young. Sometimes I go to Alisher Navoi theatre because I like ballet and music very much. I regularly go to the Goethe-Institute where I have many friends; because in Italy I taught German language. I would love to sing in a chorus. So I am very busy here and can do things I could not do in my hometown of Florence. This is why I live here very nice; although I miss my family very much...
Fergahana.ru: - Is there any place in the world that looks like Tashkent?
Antonietta Gobbis: - Nowhere. Tashkent is a unique place.
Interview by Lucia Rasmus