Kyrgyzstan: Is President Kurmanbek Bakiyev trading the US Army for Russian dollars?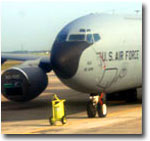 According to the Moscow-based newspaper Vremya Novostei (see the piece "Bakiyev's Expensive Gift To Moscow" on January 12, 2009), the Kyrgyz leadership intends to officially cancel the agreement with the United States concerning Gansi AF Base on the territory of Manas (airport of the Kyrgyz capital city Bishkek). Observer Arkady Dubnov emphasizes that "authoritative sources in Bishkek say that President of Kyrgyzstan Kurmanbek Bakiyev will sign the decree on the eve of his visit to Moscow scheduled for later this week." The idea is to have the Americans withdraw within six months.
The decree will precede agreements between Bishkek and Moscow on $2 billion worth of financial assistance to Kyrgyzstan. $300 million of the package will constitute a loan to the republic badly affected by the price-rise on the imported Uzbek gas from $145 to $240. The rest ($1.7 billion) comes down to Russian investments in construction of the Kambarata-1 Hydroelectric Power Plant.
Dubnov points out as well that most Kyrgyz politicians and experts consider the investment terms crippling. The new debt will nearly double the Kyrgyz state debt currently approaching $2 billion. Pro-government majority in the Kyrgyz parliament, however, refuses to discuss expediency of the Russian investments.
Kyrgyz experts meanwhile suspect that withdrawal of the American military base might be understood throughout the Western community as a U-turn in the foreign policy of Kyrgyzstan. They fear that it will bring investments down. At the same time, as Vremya Novostei justly points out, the Americans' seven-year presence in Kyrgyzstan failed to increase the bulk of American aid to the republic or better living standards in it. On the contrary, numerous incidents involving servicemen of the US contingent fanned anti-American moods in Kyrgyzstan. It follows that Bakiyev's decision to show the Americans the door is unlikely to encounter any serious resistance in the establishment.
Part of the Kyrgyz elite in the meantime fears that withdrawal of the US military base may become a prelude to curtailment of democratic freedoms in Kyrgyzstan and lead to establishment of an authoritarian regime.
Unabridged text of the article is available on Vremya Novostei web site.