Ministry of Foreign Affairs of Uzbekistan as a Ministry of Propaganda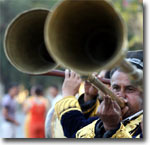 Photo of musician playng the Karnay, Uzbek national instrument, a long trumpet with a mouthpiece. Photo by © Ferghana.ru
On January 15 2009 Embassy of Uzbekistan to the United States released a Press-Release on the consideration of Uzbekistan's National Report within the framework of Universal Periodic Report of UN Human Rights Council.
Attractive thing of the document is that it was released a month later the session of the UN Human Rights Council took place and contains very doubtful statements.
Having the records and results of the session available it can be stated with confidence that diplomatic representative office aims to justify human rights violations in the republic of Uzbekistan and to spread deliberately one-sided information.
Press-release announces that out of 55 delegations, participated in interactive debates on the report, "The overwhelming majority of speakers have recognized a substantial progress in promoting and protecting human rights in Uzbekistan and expressed full support for the reforms in the political, economic, social and judicial spheres in Uzbekistan." But this statement fully contradicts with the events and presentations during the session.
As Ferghana.ru informed, delegations of Russian, Belorussia, Iran, Azerbaijan, China and Cuba did emphasize several positive achievements of Uzbekistan – enhancing of the role of Ombudsman, recent release of some political prisoners, joining key international covenants on human rights.
But forty-seven (!) delegations addressed Uzbekistan with censorious remarks. They stressed the audience on imprisoned rights activists; problems in the work of local NGOs and their access to openness; accepting effective measures towards non-punishment of law-enforcement bodies staff for the use of tortures; guarantees of independent judicial branch, etc.
The most uncompromising were delegations of Sweden, Canada and Great Britain. They stated that situation with human rights in Uzbekistan after Andijani events in 2005 is getting worse, and the report by Uzbek delegation cannot be considered as a convincing one.
Meanwhile, Uzbek diplomats are describing a good state of affairs in human rights by giving examples of "the abolition of death penalty, introducing the institute of "Habeas Corpus", signifying the role of political parties in a democratic society, establishing the institute of Children's Ombudsman, continuing visits of ICRC to penitentiaries as well as the progressive growth of the quantity of NGO and Mass Media."
But it should be mentioned that according to the National Report, among "successful" NGOs there are mainly Fund Forum of Culture and Arts of Uzbekistan and other NGOs which are under either official or unofficial patronage of the state authorities.
"Delegations of UN member-countries stressed that the National Report of Uzbekistan reflected the progress in the sphere of country's democratic renewal as well as its commitment to the procedures of UPR and a dialogue with HRC.
In this regard, Uzbekistan's cooperation with UNHCHR (United Nations High Commissioner for Human Rights – ed.) and structural bodies of the United Nations as well as establishment of the Parliamentary Commissioner on Human Rights and the National Center on Human Rights were highly regarded.", says the release.
Such statements can be parried with the facts of closure of UNHCR (United Nations High Commissioner for Refugees – ed.) representative office in Uzbekistan right after Andijani events; forced functioning of UNHCHR from bordering Kyrgyzstan as well as secret patronage of all the UN projects and its activities by Uzbek SNB (National Security Services).
An enthusiasm of the statement of Uzbek Embassy can convince every reader of the press-release who is not good in Uzbekistan that life in that Central Asian country is as perfect and beautiful as in tales. Such phrases as "uprooting" discrimination against women and children", "child's rights", "signifying women's role in public and political live of the country", "improvement of children's level of life" and others can be found in the text for several times.
But in fact everything differs: for example, four biggest groups representing the US retail and clothing industry excluded Uzbek cotton from their merchandise because of the use of child slave labor in cotton fields Press-release underlines steps taken by state institutions within the framework of so-called "National Action Plan" (for the period covering 2007 – 2011) dedicated to 60th Anniversary of Universal Declaration of Human Rights. However, according to independent observers and rights activists mentioned above Action Plan and events held within its framework is nothing but another theater-show.
Another statement of Uzbek diplomats which is not worthy of confidence is saying that "The members of the Working Group welcomed the statement of Uzbek delegation concluding that Uzbekistan will undertake every effort on further improving the judicial framework for prosecuting and punishing for the use of torture and other forms of ill-treatment. In this regard, it was noted that Uzbekistan "has undertaken efforts worth of commending after recommendations made by the Special Rapporteur on torture after his visit to Uzbekistan in 2002."
If one looks through the reports of international organizations and independent experts dealing with human rights it will become clear that International Covenant Against Tortures adopted by Uzbekistan works only on paper as well as other international documents signed and ratified by that country.
In conclusion the press-release ends up with cheerful notes. The Embassy states with confidence that "On the outcome of the consideration appropriate recommendations were put forward and the delegation of Uzbekistan has accepted a majority of them." In fact, delegation of Uzbekistan accepted the congratulations of the international community with "achievements" in the sphere of human rights, but it agreed to consider only those formal and ordinary recommendations which will not ask for neither enormous nor cosmetic changes in government's policy.
Practices of propaganda and providing of deliberately misrepresented and incorrect information is a usual instrument for diplomatic representations of Uzbekistan in every country they are represented in. One can recall hypocritical denies of child labor use in cotton fields by the Embassy of Uzbekistan to Great Britain back in 2007 which then faced strict critics of international human rights organization and independent experts.
Musafirbek Ozod, Tashkent