Uzbekistan: Students prohibited to approach the US Embassy in Tashkent
Photo: US Embassy in Uzbekistan
Ferghana.Ru sources in Tashkent say that administration of colleges and universities demand written reports from their students on every visit to the US Embassy.
Once a week the US Embassy organizes an interesting and informative conference for local students and pupils. Visiting Americans and Embassy officials are invited to these conferences to talk on absolutely harmless subjects. Judging by ads and flyers, the conferences only aim to give the locals a chance to hone their language skills. Students and pupils are encouraged to speak up by friendly officials and the very atmosphere of the meetings. Hollywood movies are sometimes run without translation which also helps young Uzbeks resolved to master the English language.
The Embassy's Information Resource Center offers free literature for English-learners, computer software, and all sorts of teaching aids on US culture, education, economy, and literature. Nothing is requested from visitors in return - no cloak-and-dagger stuff, no anti-Uzbek propaganda.
It does not prevent the regime from perceiving the US Embassy as recruiter. Every event organized by the Embassy is inevitably regarded as a lofty demonstration of American superiority over Uzbekistan.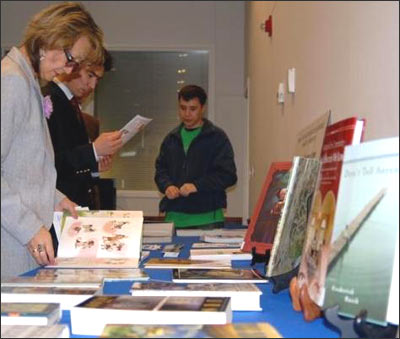 Guests of the US Embassy's Information Resource Center

Administration of Tashkent-based colleges and universities demands from its students exhaustive written reports on meetings at the US Embassy. How do they know from whom to demand it? The police keep tabs on all English-learners and log everyone entering the Embassy. By the way, permitting a person to enter or turning him or her back is up to the police. Human rights activist Surat Ikramov was denied entry not long ago.
Embassy officials say that the idea to register every entry is not theirs and add that they cannot do anything about it.
Absurd as it is, but whatever students refuse to submit a report and those whose reports are not deemed sufficiently exhaustive are threatened with expulsion. One of the students told Ferghana.Ru that chief of the international affairs departments of his university summoned every student known to have visited the US Embassy and demanded "a report on at least three pages within three days." The said report was supposed to include a thorough account of the event - who was present, what was discussed, what questions were asked, and if anything was said against Uzbekistan or its leaders.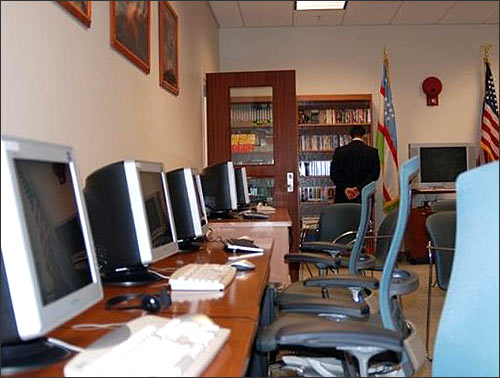 Inside the Information Resource Center

The young man submitted his report claiming that the event was mundane, that nobody slandered Uzbekistan, and so on. The official flew off the handle upon reading it and accused the student of concealment of facts. "He berated me and screamed that he already had reports from other attenders, that he had the means to prove me lying, and that I would be expelled from the university when he did," the student said. "I kept head because I knew that he had nothing and that there was nothing to prove in any event. In a word, the whole matter was dropped soon enough. All the same, that was the last time I set foot inside the Embassy because the dean summoned me the following day and explained quietly and without screaming that I had better stop going there if I did not want problems with my marks."
Another student, senior of another college, confirmed this story. "The dean told me to forget about what he called "conferences I did not really need" because I had my final exams coming and there would be problem," she said.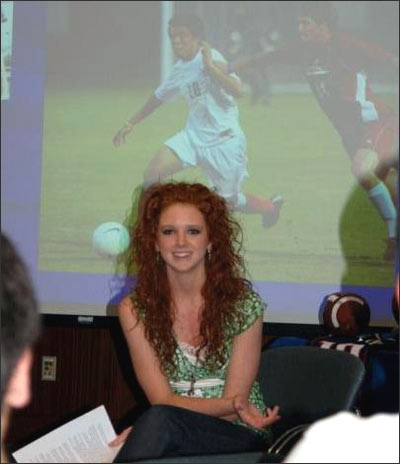 Embassy guest Felicia Wright gives a lecture on life of teenagers in the United States

Bans or not, young citizens of Tashkent do visit the US Embassy because it offers a unique opportunity to expand one's horizons and learn the language. Needless to say, some of them are inevitably stoolies but even that is fine. When they themselves speak passable English, officers of law enforcement agencies will see harmlessness of the US Embassy events with their own eyes.
And they will see some good movies into bargain.