Photographer Rena Effendi: I'd like to go back to Osh and discover what happened to these people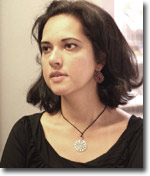 Rena Effendi was born in Baku (Azerbaijan) in 1977. She began as a translator and developed interest in photography through her hobby (painting). Effendi won the National Geographic Society award "All Roads" for the story of the village of Khynalik (2008). In 2007, Photo District News listed Effendi among 30 best distinguished photographers in the world.
* * *
Rena Effendi's exhibition House of Happiness is on display at Photographer.ru gallery (Modern Arts Center) in Moscow. All photos were made for Marie Claire in Osh, Kyrgyzstan, in September 2007. Their publication fomented a scandal in this Central Asian country. Ferghana.Ru asked Effendi some questions on what had surprised her on her first visit to Osh and why the photos of wedding ceremonies and bordellos had enraged the Kyrgyzes accustomed to having their photos taken against festive backgrounds.
Rena Effendi: I came to Osh in September 2007. I thought the Ferghana Valley was a kind of cauldron for all kinds of cultures and ways. After all, there are lots of Uzbeks there, lots of Kyrgyzes, Uigurs, and Ljuli Gypsies... Scanning Eurasianet.org once, I happened on a piece about polygamy spreading through Kyrgyzstan. I was captivated by the subject. Polygamy? Nowadays? I also saw a piece on bride-kidnapping. It was interesting too because we have a similar tradition in the Caucasus. In a word, I decided to go to the Ferghana Valley with its traditional cult of the family and see everything with my own eyes.
Ferghana.Ru: And did they permit you entry into dwellings?
Rena Effendi: I saw polygamy with my own eyes, I really did. Unfortunately, it was nothing to make a story of, for a photographer. I discovered that I had entertained some overly romanticized views. I thought all wives shared one house and cooked together while their children played outdoors... Nothing of the sort. Women live separately, and not all of them so much as guess that their men have other families. The second marriage is usually unofficial. I met two men each of whom had two wives. I took a picture of one of the men with a wife but his other wife flatly refused to have her picture taken.
Neither did I fare any better with the bride-kidnapping story. As it turned out, it is a Kyrgyz tradition and it is in the northern part of the country that brides are kidnapped. There are lots of Uzbeks in Osh and they do not practice it.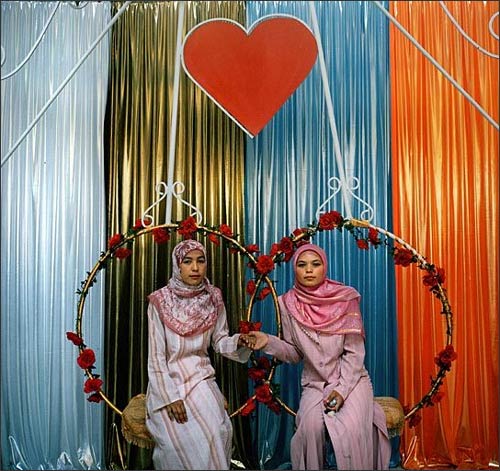 Publication of the photos in Marie Claire fomented a scandal of major proportions in Kyrgyzstan. The piece was titled "Kyrgyzstan: Silk To Heroin". To quote from AKI-Press, "... the material presents life in Kyrgyzstan in a thoroughly negative light. It is full of photos of prostitutes and women living "in slavery" with kids..." Parliament Assistant Chairman Isabekov said at a special press conference, "Had the author been a man, I'd have punched him. The material accuses Kyrgyzstan of being a backward country. It implies that only drug-addicts and prostitutes live here, people without choice, while Kyrgyzstan in fact enjoys more freedom than any other country in Central Asia."

"I was offended, reading it," Minister of Culture Rayev announced. "I was offended reading that practically very Kyrgyz woman is a drug-addict and prostitute. Imagine the impression it may have on an individual who does not know the first thing about Kyrgyzstan! Respect for woman as the mother and keeper of the hearth has always been typical of Kyrgyzstan. The Kyrgyz adore woman. That's an unforgivable article, one that smears the image of the country."

Ferghana.Ru: What prompted the House of Happiness story?
Rena Effendi: There was a register office in the Aravan district colloquially known as the House of Happiness. And a photo studio nearby where newly-weds had their pictures taken for the family album. This studio had lots of backdrops for customers to chose from - with stars, flowers, and so on. And so I was, taking pictures of wedding ceremonies, this ultimate manifestation of the cult of the family, and thinking about the contrast between these festive occurrences and daily life in general. That was how the theme of prostitution was conceived.
Overt prostitution in Osh astonished me. Considering proliferation of Islam which everyone keeps talking about and which I saw with my own eyes, seeing sex-industry in so open and blatant a manner was really something. I even entered a bordello, once a hostel, in central Osh.
Ferghana.Ru: And nobody stopped you?
Rena Effendi: I probably got lucky or something, but there was nobody at the entrance. No lookouts, nobody at all. It had been a hostel of some cotton processing factory once, since converted into a bordello. Men enter, shut the doors, and exit afterwards leaving money behind. No pretense. Some girls even live their with their families and children but most earn their daily bread in this manner.
Ferghana.Ru: This picture of three sisters... Is that the bordello?
Rena Effendi: Yes, it is. The girls had come to Osh looking for a job (one of them was divorced) and had nowhere and nobody to turn to. Actually, I kept trying to find out if they had known right away exactly how they would have to make money or if they had really tried anything else. Well, few girls admit what they do for a living. They are quite shy, quite homely judging by their manners.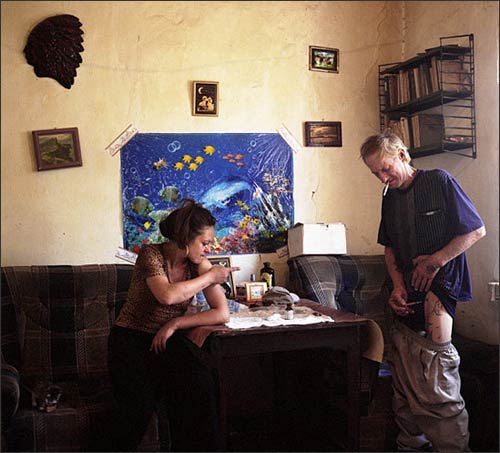 Photo by Rena Effendi

Ferghana.Ru: What were the conditions in the hostel?
Rena Effendi: Incredible impoverishment. Mattresses on the floor. One wall at the end of the corridor transformed into a lavatory. Men simply approached it and urinated on it. Sinks were in the corridor too because there were no kitchens there. Meals were cooked on electric hot plates right in the corridor. Whoever needed to wash herself, she had to go to public baths.
Some prostitutes were drug-addicts. They get hooked on heroin because they no longer meet public standards set for women... Meaning that a woman need a man, children, a dwelling place. Whenever something bad happens, these girls find consolation in easily available heroin. No wonder. They have nowhere to go. Nobody wants them or accepts them anymore. These girls sell their bodies to make money for another dose, and the circle closes.
I talked to a lot of girls admitted to the clinic for drug-addicts. Each of them had "personal" reasons to blame addiction on - divorce, sloppily made abortion, or husband who made her a junkie. One girl was expelled from home when she refused to marry a man chosen for her by the family. She went away with her boyfriend who wasted no time in making her an addict. The girl contracted HIV, gave birth to a child... It was because of the grandson that the family accepted her back.
Ferghana.Ru: Were you surprised by the campaign in the media that followed the publication in Marie Claire?
Rena Effendi: That was something ridiculous. The headline was the editor's. I did not even write the text. And yet, even the Kyrgyz diaspora in France took offense, screaming libel in print. They kept mailing Marie Claire letters afterwards pointing out that they had so wonderful mountains in Kyrgyzstan and how come I hadn't taken pictures of them instead. I replied through the Marie Claire forum that I had not gone to Kyrgyzstan to make photos for an album for sightseers. I said I was a journalist choosing my own stories and that I wanted something socially important. Particularly since I have never really intended to defame Kyrgyzstan women or even sex-workers. I respect them all. Unfortunately, it is Kyrgyz society that wouldn't accept or acknowledge them. That's the problem, you know.
I suspect that every small country has a complex such as this. I call it Borat's Syndrome. All of us (and I include my native Azerbaijan too) are fairly young countries. We want no criticism and always react to it in a highly emotional manner.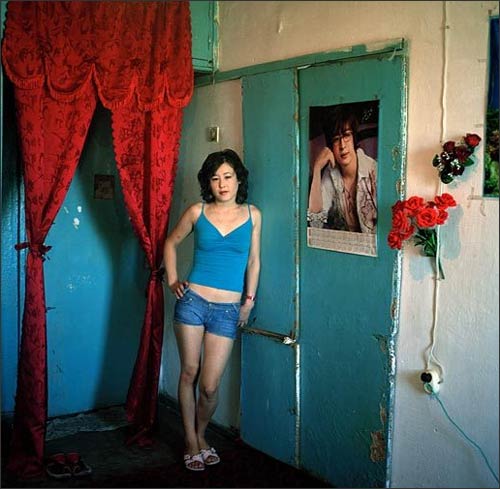 Photo by Rena Effendi

Ferghana.Ru: Were drugs easy to find in Osh? What was your impression?
Rena Effendi: Very easy. I was told that one could find dope without any problem. I tried once. No problem indeed. A dose cost 300 soms or less than $10.
Ferghana.Ru: And how much did prostitutes charge?
Rena Effendi: Girls in the hostel charged their clients $1.5-2.
Ferghana.Ru: I see. It's 5-6 clients and the girls made enough for a dose. Did you walk Osh alone?
Rena Effendi: Yes. It was all right, there was no danger.
Ferghana.Ru: Did you encounter girls in short skirts and with uncovered shoulders?
Rena Effendi: Only infrequently and nowhere near the bazaar, but yes, I did. Anyway, many more women were clad in long garments and hijabs. All the same, nobody tried to stone those girls in mini-skirts. Everyone was fairly tolerant. There are lots of cafes, small restaurants, and night clubs in Osh and spirits are available everywhere. In a word, I cannot say that stronger faith was accompanied by religious intolerance.
Ferghana.Ru: You say the faith was stronger. Was it now?
Rena Effendi: I had heard that there would be lots of Hizb-ut-Tahrir members in Osh but I encountered only one. Besides, members of this organization are not easily distinguishable. Not all of them sport beards, by the way. As a matter of fact, a Hizb-ut-Tahrir member may even be a DJ.
On the other hand, I did see some representatives of Tabligi-Jamaat. You cannot miss them. They wore Pakistani traditional clothes, and usually flocked in front of mosques in small groups. Once I decided to ask some questions of a member of Tabligi-Jamaat and I discovered that I needed a translator. The man would not even look at me or talk to me directly.
Ferghana.Ru: Did you climb the sacred Suleiman Mountain? If you did, it was surely your first climb. What are your impressions? Did you feel this magic presence of a spirit, something elders always talk about?
Rena Effendi: I did climb it. As a matter of fact, I had never even known of its existence before my visit to Osh. By and large, I got the impression that this worship of a mountain was pagan more than Islamic. (Members of Hizb-ut-Tahrir and Tabligi-Jamaat deny the assumption that there may be anything sacred about a mountain.) Well, I entered the caves where the elders said one had to spend a night to feel something... To tell you the truth, I always feel magic when I carry my camera. Even in a bordello. The chance to observe people's lives and be able to take pictures of them is the real magic.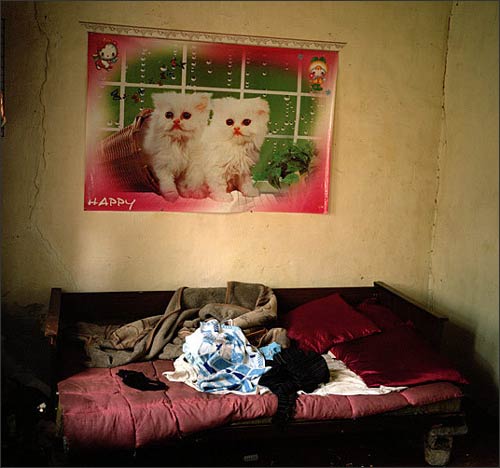 Photo by Rena Effendi

Ferghana.Ru: What language did you speak in Osh?
Rena Effendi: Russian. Everyone there speaks Russian save for whoever has just come from distant villages, Uzbek or Kyrgyz.
Ferghana.Ru: Would you like to make another trip to Osh?
Rena Effendi: Yes, I would. Not that I think that I missed something, you understand. It's just that I would like to know what happened to these people. I became friends with some girls there. I wonder what happened to them.
Ferghana.Ru: You were permitted to work without hindrance, weren't you?
Rena Effendi: Sure. No pressure from the authorities, nothing at all. I walked the streets with girls and sometimes police cruisers stopped by and officers wanted to know what I was doing. "Taking pictures of sex-workers," I replied and that was all. The police wished me luck and drove away.
Ferghana.Ru: And what did they do with the prostitutes?
Rena Effendi: Nothing.
Maria Yanovskaya