For the first time the works of Abdulkhamid Chulpon are published in Russian language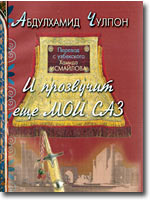 This book was prepared for edition by one of the main publishing houses of Uzbekistan already in 1988, in the height of perestroika. However, as a matter of fact, it is the year of 2009 now while the translated book of the Poet, who stands above others in the newest Uzbek literature, the Poet, who was shot down in 1938 and destined to forced unconsciousness not for the first time, has been staying in the dusty shelves of the press house. These films would still remain under the dust, left from the ruins of the Soviet Union perestroika period, if it was not the Open Society Institute and Voskresenie publishing house that decided to revive the book of Abdulkhamid Chulpon for Russian reader.
The omnibus of selected works of the outstanding Uzbek writer and poet Abdukhamid Chulpon (1893-1938) is translated by Khamid Ismailov.
During his life Chulpon was named «morning star of Uzbek poetry», «the most outstanding event of the century in the Uzbek literature», «pure poetry of Uzbek language». He had begun his works before October revolution and then moved to Moscow, where he lived until 1930, translating Russian and world literature and working on «Day and night» novel. The predestination tragedy of the poet, shot down in 1930s in Stalin's torture chambers, overpassed his life period: until the end of 80s he was blacked out as «bourgeoisie agent, nationalist and decadent».
The book includes «Day and night» novel, «Yorkinoi» play as well as the best poems of the author, written between 1915 and 1938.
The translator of the book – Khamid Ismailov: «Of course, if I prepared this book for publication these days, I would surely make lots of changes. I would re-write many things in the introductory article and I would translate many sentences in other way. Still, however, I did not do this and left the book in the way, it was originally prepared at that time: let it remain the literary monument to that most turbulent and attracting, contradictory and trembling, fast-flowing and ignition epoch, when tomorrow did not flow yet into yesterday…"
FROM FERGHANA.RU:
The limited number of book items with translations of A. Chulpon works is available in the editor's office of Ferghana.ru IA. You can request the book, using the contact form at «About the publication» page.