Uzbek oppositionist travels USA to find associates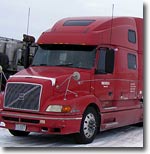 To find associates this man travelled all over the United States of America and bordering cities of Canada by his truck. Once locals find this man is an immigrant from Uzbekistan they bombard him with questions about his country. He is happy with that because the more people know about life and traditions in Uzbekistan the more will wish to visit Oriental pearls – Samarkand, Bukhara and Khiva. What are the reasons of this man's immigration to USA and what is he striving for by his marathon? Bakhodir Choriyev, also known as a leader of the oppositional Birdamlik (Solidarity) movement of Uzbekistan, tells his story to Ferghana.Ru.
– After my forced emigration to the U.S. I faced a financial issue of my family's life here that is better in many ways but at the same time is expensive, - says Bakhodir. – Plus I was looking for optimal variant to continue my activities within the Birdamlik movement that became my life battle and is a reason of my departure from Uzbekistan.
Ferghana.Ru: - And then you decided to become a truck driver?
Bakhodir Choriyev: - This job is quite comfortable for me. As a person who needs to stay reachable I have got a regular Internet access and telephone. This helps me to stay informed always. Actually I can combine my job with my activities within the movement: in every state I have a possibility to meet with people which feel responsibility for a destiny of Uzbekistan, its people. There are many young men from Uzbekistan in the United States, which feel sorry for the situation in their country, and I try to organize contacts with them.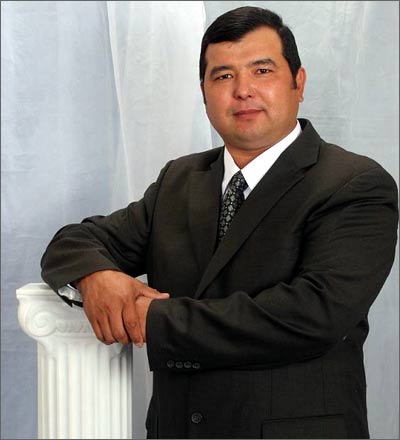 Bakhodir Coriyev

Ferghana.Ru: - What was the reason of you departure from Uzbekistan?
Bakhodir Choriyev: - On June 1, 2004, on Universal Children's Day, interiors kidnapped my son. By doing this they wanted to make me feel afraid and leave my activities, in particular, running a manifestation demanding Islam Karimov's resignation. In May of the same year I was snatched, tied, severely beaten; then they put a sack on my head and taken me away to a distant district out of Tashkent and left halt dead. Plus my Nexia car, the only source of my family income, was seized. For a long time I had been turning down intentions to leave the country where one feels himself as a slave. I thought that it would be unfair with my friends and colleagues with opposition, with my motherland. But when it became insufferable and unsafe for my family I took a decision to leave Uzbekistan with a heavy heart.
Ferghana.Ru: - Don't you feel sorry for your departure?
Bakhodir Choriyev: - No, because I can do a lot from here. The only matter that makes a difference is a distance between me and my brothers-sin-arms; that also can be overcame by nowadays communication technologies.
Ferghana.Ru: - What do representatives of mentioned by you Uzbek youth think about your action plan to rescue Uzbekistan?
Bakhodir Choriyev: - In the United States Uzbek youth is preferably engaged with obtaining education and jobs, and most of them does not want to be involved into politics. They become upset when listen to what happens in their country and say that it would be great if Uzbekistan was as developed as USA.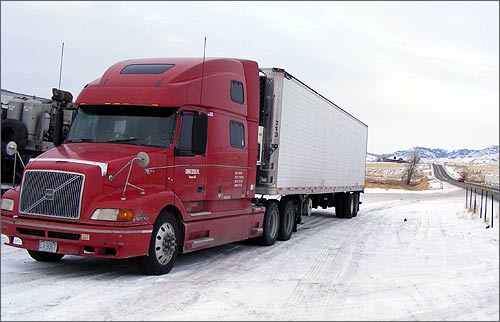 Bakhodir Choriyev's truck

Ferghana.Ru: - And you, being far away from Uzbekistan, are trying to show in what ways it is reachable?
Bakhodir Choriyev: - There are little Uzbek Diasporas in almost all states in the U.S. I meet with them while my travelling. But even here, being in the atmosphere of truly democratic society outside of Uzbek mentality which had been forming for centuries, it is extremely difficult to "reach" our people. I think that there are two reasons. Firstly, lots of Uzbek people – wherever they are – are still following the principles laid the foundation of them by traditional family and community bringing up, which is warning everybody to keep away from politics, demanding "not to do this and that", "go straight and don't touch anybody" and so forth. The second reason is that nowadays youth was brought up within the framework of government propaganda which declares the total accuracy of the political way of Uzbek government, and slanders opposition and its activities. These two reasons left ineffaceable effect on the consciousness of our young men. They are brought up as zombie. And our goal is to work with them.
Except young men there are representatives of elder generation are also coming to our meetings. They came to USA seeking a beautiful American life and now they are feeling nostalgia. They are really willing to contribute to changes in Uzbekistan.
Ferghana.Ru: - And here you come...
Bakhodir Choriyev: - Many of them share our ideas. Those who think that together we can do some changes in our country are joining our movement.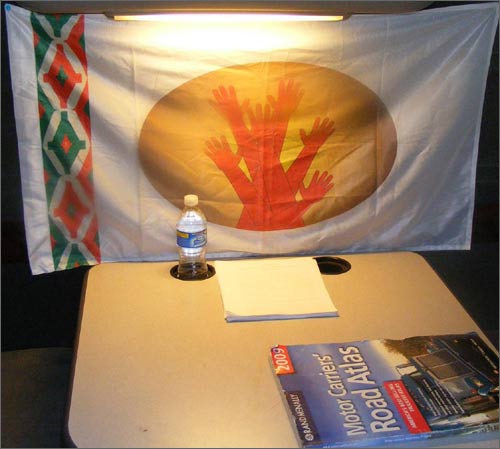 Official flag of the Birdamlik movement

Ferghana.Ru: - How many people you could agitate to become members of your movement by means of such PR-actions? And what is the total quantity of the Birdamlik members nowadays?
Bakhodir Choriyev: - It is naturally that people, after our meetings, do not rush to join our movement like mad, because such decision needs time to be thought over. With regards to our current members I can state that they are more than 2.000 people from different countries around the world.
Ferghana.Ru: - Let's back to your marathon. What do representatives of local Americans think about it? Are there any among them who really interested in Uzbekistan – one of other "stan"s?
Bakhodir Choriyev: - Of course, my stories about rich culture, history and life in Uzbekistan attract many of them. Some of them want to know more about our country because they have heard about it from their friends who had already been to Uzbekistan. My marathon aims not just to tell people about injustice of Uzbek government. I want to tell more about my motherland, about our outstanding scientists and poets of centuries; to show what we have gained for the whole history of my country, to attract as much as possible tourists to Uzbekistan, and so forth. With many people I met and talked to in the U.S. I'm still keeping in touch with, and they say thanks to me because of my stories about my country. Some of them give advices, for example, how and where to apply for financial support for our organization which is, by the way, registered in a few states in the U.S.
Ferghana.Ru: - What about various reports by international organizations on situation in Uzbekistan – one is more terrible than another. If any foreigner, especially from western country, reads any of these reports he will doubt his security and will not risk and travel to Uzbekistan, will he?
Bakhodir Choriyev: - Probably, but people are not aiming to visit Uzbekistan to carry out an "orange revolution". They travel to our country as tourists and do not attract attention. For those who want to contribute to struggle for justice Uzbek embassies around the world can feel them and are prohibiting their entry to the country.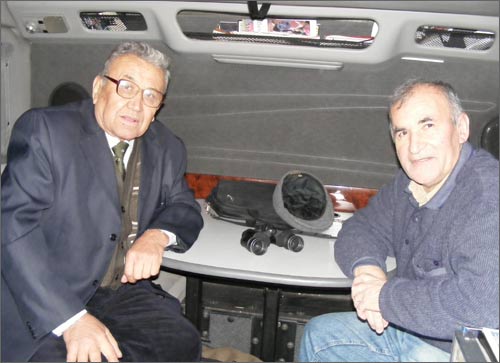 Sometimes it happens that in Bakhodir's truck members of Uzbek political opposition meet with each other. On photo: Abdurakhim Pulatov, leader of the Birlik movement, and Yodgor Turlibekov, activist of the Birdamlik. Photo provided by B.Choriyev

Ferghana.Ru: - What about former Soviet people from other countries? Do you meet them here? And what do they think about your idea with marathon?
Bakhodir Choriyev: - I meet former citizens of the former common [Soviet] country very often. Many of them came here for a better life and job, and some of them are becoming truck drivers. We meet each other very permanently at common stops and also have a chance to talk to each other on radio waves for truck drivers. We also meet on beaches of the Pacific and Atlantic oceans.
When they find out about my activity within the Birdamlik movement they ask me a lot of questions as if do not believe that for the same time our states had been developing in different ways: some became dictatorship states, and some of them became moderate democracies. They do support my idea with marathon and sometimes are giving me good advices. We already have our own circle of Russian-speaking truck drivers.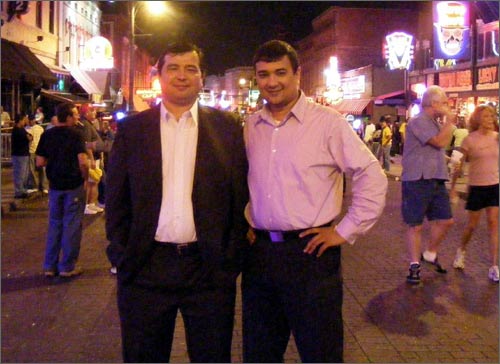 Bakhodir Choriyev and Gulam Umarov – son of Sanjar Umarov, jailed head of the Sunny Coalition of Uzbekistan. Photo provided by B.Choriyev

Ferghana.Ru: - Can you tell about interesting situations you faced while travelling the U.S.? Any conflicts with police, any misunderstandings with local people?
Bakhodir Choriyev: - No, never. Locals are so nice whatever is told about them. If they don't like what you are saying they will just turn around and go away and will never cover your name in mud.
With regards to the police truck drivers might have plenty of problems with them. But I should say that the policemen here are extremely polite. After talking to our bad-mannered Uzbek militia it is very difficult to realize that the policemen could be so honest. All the disagreements are always solved peacefully. At least with regards to my cases. Regarding giving bribes I can say that if you try even to hint on it you will seriously regret about it.
Ferghana.Ru: - I can see that salon of your truck is decorated with Uzbek flags, photos of historical sightseeing of Uzbekistan and Central Asian people.
Bakhodir Choriyev: - During my meetings with people I invite them inside of my truck to let them feel that atmosphere of kindness; feel our motherland we miss here, far away from our homes… far away across the ocean…
Interview by Musafirbek Ozod, Boston - Tashkent