"Tablighi Jamaat": Hidden threat of peaceful preach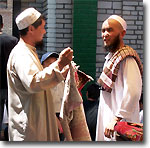 On February 3, the General Prosecutor Office in Kyrgyzstan directed a lawsuit file to Pervomayskiy district court of Bishkek, claiming to recognize "Tablighi Jamaat" international religious organization as terrorist and extremist movement.
There is no much data about "Tablighi Jamaat", but the majority of researches describe the peacefulness and modesty of this movement followers. It is considered that "Tablighi Jamaat" does not show any interest in participation in politics, avoids its open discussion and, as a result, the governments are not concerned with this organizations. Hence, nearly since the very beginning of its activity "Tablighi Jamaat" has been building the image of the organization, first of all, striving to strengthen the faith, self-awareness and spiritual development of the personality, not interfering into politics and area of conventional relations.
The "Tablighi Jamaat" movement (official website Dartabligh.org) was founded in 1927 not far away from Deli by Maulana Iliyas, the theologian of Deobandi movement of Islam.
Alexei Malashenko, the Doctor of History Science and the member of Moscow Carnegie Center research council, is also affirmed that "Tabligi Jamaat" is not radical in its nature:
- "Tablighi Jamaat is not linked with terrorism. Of course, it is being monitored: "Tablighi" is independently financed and it has money. But this is not "Al-Qaeda" and it is quite difficult to blame them as terrorists, although they are certainly being monitored by special agencies", Alexei Malashenko believes.
Today, "Tablighi Jamaat" is the organization of Islam missionaries. Forming the groups of ten-twelve people in Asian countries and three-five members in other parts of the world, "Tablighi" followers go to various parts of the world, stop by mosques, preaching "door to door". The groups endorse firm discipline and strict conformance to the leader. Originally, the missionaries were sent from South Asia and were on road during four-five months, staying over in the mosques, based on the tradition of hosting the Muslims, being on road. In Western Europe and USA, the "Tablighi Jamaat" members stay only in the mosques and Islamic centers, sponsored by Saudi Wahabees and existing nearly in all big western cities today. The interested local Muslims and potential neophytes are invited to weekly seminars, usually conducted by senior missionaries. After the completion of necessary training they are being sent to carry out "kharudzha" (on road gospel) themselves. The "Tablighi Jamaat" members subordinate their lives to the movement and become professional missionaries. The "Tablighi Jamaat" activists are required to commit 40 days a year, three days a month, two afternoons a week and two hours every day to the work for organization; besides, they are required to strictly observe the rules of everyday prayers.
Petr Topychkanov, the research officer of the Institute of Asian and African countries under Moscow state university, named after Lomonosov, does not understand the reasons and arguments why this organization can be prohibited in Kyrgyzstan. "I am surprised. Even in those countries, where "Tablighi Jamaat" actively operate and where the member of this organization can be, indeed, linked to the terrorism (Pakistan, India, Great Britain), "Tablighi Jamaat" continues to operate and the weight of this organization is admitted by society. What about Kyrgyzstan… Perhaps, this is reasoned by the fact that the success of operation in Afghanistan is under question and everyone is concerned: what if USA stops the operation there? Crisis, the situation changes everyday…The limitation of American operation in Afghanistan will presumably strengthen the positions of Talibs or Jihadist organizations. And possibly, the Kyrgyz authorities make the step "ahead" and try to limit the influence of Islamic organizations. In this case, there is logic and look forward. The strengthened positions of Islamite must not lead to the emergence of Islamic Republics in Central Asia".
Bakhtiyar Babajanov, the Doctor of Religious Studies and senior research officer of Oriental studies Institute under Academy of sciences of Uzbekistan, says that the global task of "Tabligh" is the Islamization of the world or, as it is usually announced by such organizations, "to bring the light of Islam". "With regards to Central Asia, the activity of "Tabligh" is so far limited by participation in the Islamization process, specifically, its stimulation. "Tabligh" mandatorily positions itself as enlightened foundation, at least in its declarations within Central Asia. Hizbut Tahrir is not talking about Islamic enlightenment and announces that "Hizbut Tahrir is not madrasah, but political organization", clearly identifying the political component in its activity".
"Despite the announcement of "Tabligh" about "peaceful propaganda of Islam and its values", non-interference in politics, in my opinion, this is nothing more than declaration, common for such organizations. The politics and aggressiveness are absolutely not alien for Tabligh followers. However, the image of current "Tabligh" can be defined by single word "multi-face" that reflects, besides everything else, solid experience of the party in distribution of its influence in Muslim and non-Muslim countries, where they have to "improve their image", conformably to conditions", the researcher shares.
"Regarding today's prohibition of "Tabligh" in Kyrgyzstan, unfortunately, the Justice authorities (or security agencies in general) did not give distinct explanation for such action, although, they probably had some arguments. Perhaps, due to Soviet-time traditions of "secrecy", they failed to clearly present their arguments. Nevertheless, this is a weak side of press-services of all similar organizations in the countries of the region, particularly when they try to justify this or another ban by outdated and unpersuasive cliché or comment on their investigative or "prohibitive" actions. I believe that, today, simple ban will not make a difference, especially because the organization in the country was originally viewed as non-hazardous, "peaceful" and even "enlightening". And now, when it built and strengthened its structure, the prohibition will just force them "to hide" and use the experience of parent organization, for instance in India, where "Tabligh" followers is old and quite disturbing head ache for local special agencies. On the other hand though, there are very few theologians that could realistically oppose the ideology of "Tabligh" followers (if this can be called ideology at all) in Kyrgyzstan. The Muslim Spiritual Authority of the country is even weaker in this matter".
The lawsuit of Public Prosecutor Office in Kyrgyzstan on admission of "Tablighi Jamaat" as terrorist and extremist organization will be considered by Bishkek court soon. It is quite possible that this Islamic sect will have the same fate as other radical organizations. It is worth reminding that Kyrgyzstan already admitted eight organizations, including "Hizbut Tahrir" and "Jihad Group", as terrorist and extremist movements.