Ferghana.ru launches a comprehensive guide on Central Asia for the Russians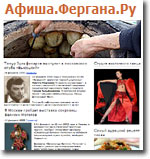 Ferghana.ru, one of the most popular independent sources for up-to-date news and analysis from Central Asia, launches Afisha – a comprehensive entertaining guide on Central Asia for the Russian audience, We've worked on this initiative for a while and now the time has come to launch it into the world. The xenophobia is growing in the Russian society. The indifference of the Russian ruling elite towards the neo-Nazis is shocking. There are so many Central Asian guest workers around thatthe Russians start feeling they are in Asia. Many associate Asia with the migrants they encounter those who don't bother learning Russian, and the Chinese consumer goods. The image of Asia and the Asians is suffering badly and is looked upon with disdain.
Our answer to this is No.
Learning the culture brings understanding. The Asians you see are only a part of the Asian population, which is not representative of all and not representative of the Asian culture as such. Take Russia – with the great literature heritage of Tolstoy and Chekhov, you will struggle to find many appreciators of literature nowadays. Our mission is to take you on an exciting Asia journey, by helping you to discover the real Asia, its flavor and its many faces.
We will search for Asia in Moscow and throughout Russia. Asian culture is subtle, unlike the flamboyancy of the Tashkent bazaar. Asian culture is very little known in Russia. And it couldn't be any different, since the Russian education has been traditionally focused on Europe. Nonetheless, Central Asians flooded the streets of Russian cities and, driven by nostalgia for sunshine, their traditional music and cuisine, they started building small oasis for themselves and their families. .
This is hidden oasis, it is hard to find. And it's not because Asia is trying to stay unnoticed in Moscow. If you did not grow up in the East and aren't infatuated by it, you will have difficulty telling an authentic plov from fried rice or a belly dance from the abdominal exercise.
With Afisha, you will be able to tell the difference. We will share with you where to eat real plov and how to prepare beshbarmak, where to enjoy ethnic music, where to buy clothes, if you like Asian style.
We will update you on the movies, produced in Central Asia and coming to Russian distribution, the theatre plays, directed in Asia or featuring Asia. We will tell you about the exhibitions, discovering the East for Russians, and we will advise you where to meet with the most notorious representatives of the Central Asia arts community
To be able to distinguish the aroma of genuine oriental culture you should be able to recognize it. We will introduce you to Central Asian music so you develop an understanding. We will remind you of how delicious our food is. We will try not to scare you off by the bright colors that are just a reflection of the 'white' Central Asian sun.
We need your support to make this resource useful for you. Please, share with us the details of the good places you've run into, which we might have missed, tell us about the interesting events or your own personal stories. We'd also be grateful if you introduce us to the most impressive Asians living in Russia that you've met!
Welcome to your Central Asian guide in Moscow – Afisha.Ferghana.ru!