International Union of Labor Immigration Support established in Russia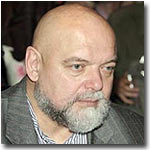 Foundation conference of the movement International Union of Labor Immigration Support took place in Yekaterinburg (Urals) on February 21. Heydar Jemal, Russian Islamic Committee Chairman and movement leader, explained that Yekaterinburg had been chosen deliberately. First, this city is regarded as the center of Eurasia. Second, the first in Russia strike of labor immigrants in November 2008 took place in Yekaterinburg.
Jemal told Ferghana.Ru what the tasks of the new movement were, what it had to offer to labor immigrants and Russian society in general, and who sponsors of the project were.
Ferghana.Ru: What is the International Union of Labor Immigration Support for?
Heydar Jemal: We aim to assist labor immigrants as the least secure and most exposed stratum of Russian society. It is going to be a movement of support, one comprising part of the Russian general public that stands for revival of internationalism. There will be no membership restrictions therefore. We welcome people of all ethnic origins, religions, and citizenships. We aim to revive internationalism and develop socially defenseless ethnic minorities into subjects of big-time politics.
Ferghana.Ru: What diasporas have supported the idea and joined the movement already?
Heydar Jemal: The movement includes practically all diasporas and communities of labor immigrants in Russia - from titular Russian ones like Vainakhs, Tatars, and Bashkirs to Uzbeks, Tajiks, and Kyrgyzs. The Polish community in the Trans-Volga Federal Region is quite interested in the movement and what the movement stands for.
It is going to be a nationwide movement. Apart from the Urals division, it will also have Trans-Volga, Siberian, Central, Northwestern, and Southern organizations.
Ferghana.Ru: Shall we get down to specifics, then? Exactly what will the International Union be doing?
Heydar Jemal: It will handle problems of employment and legal assistance, promote ideological programs, and lobby certain foreign political priorities. To be more exact, we will support the Palestinian people, protest against NATO transit to Afghanistan via Russia, and so on. There are lots of things to do, you know.
Our agenda also includes organization of a scientific conference in Yekaterinburg whose participants will discuss global economic trends in the light of the crisis under way. In fact, the conference will take place on the eve of the economic forum in Yekaterinburg which in its turn will precede a summit of the Shanghai Cooperation Organization. The Iranian Republic is expected to become a full member of the Shanghai Cooperation Organization at the summit... Back to the conference. The idea is to have leading economists and sociologists present their analysis of the current situation. In a word, the International Union is a participant in the effort to formulate the political concept and political doctrine depicting the current situation and ways of dealing with it.
Ferghana.Ru: What do you plan in terms of aid to labor immigrants as such? What will be done to alter attitude of the general public in Russia toward foreign laborers?
Heydar Jemal: First, we will help labor immigrants with adaptation to the Russian political, legal, and cultural environment. It means social and legal orientation, assistance with learning the Russian language, organization of special courses where Russian language lessons will mingle with lectures on the acting Russian legislation, culture, traditions, and so on. Second, promotion of the International Union in the media. Third, criticism of the actions organized by antagonistic structures like the Movement Against Illegal Immigration.
Ferghana.Ru: What do the authorities think? How do they react? Will they help?
Heydar Jemal: I don't think that they have any other choice.
Ferghana.Ru: What are the results of the foundation conference?
Heydar Jemal: Certain glitches and purely technical difficulties cropped up so that attendance was below what we had expected. We had planned for approximately 300 participants but only about 40 actually attended the conference. On the other hand, these nearly 40 people were leaders of practically all diasporas. There were journalists present and representatives of the Sverdlovsk governor and regional administration. The questions they asked were similar to the ones you are asking now. I did my best to answer them then. Anyway, when the discourse was finally over, the conference unanimously adopted the name of the movement and the manifesto. The Urals Division of the International Union was established.
Ferghana.Ru: Have there been any debates?
Heydar Jemal: Most questions were asked by the official who represented the regional administration. He said that the manifesto should be quite specific on the organizing and unifying role of the Russian people, sort of Elder Brother... In the long run, however, the official saw the light and accepted the outcome of the conference.
Ferghana.Ru: How do you plan to attract new members?
Heydar Jemal: I believe I said already that the International Union is open for all organizations (ethnic or religious, a community or a trade union) that want to join it and assign its activists to the regional council. International Union cell organizations will be established as well to work with individuals. We welcome all - organizations and individuals alike.
Ferghana.Ru: Who will finance the International Union?
Heydar Jemal: We count on membership fees and donations from businesses who share our internationalist ideas and need internationalism in the first place to operate in Russia.
Ferghana.Ru: Would you care to give names of the businessmen or perhaps organizations prepared to sponsor this project?
Heydar Jemal: It will be a long list because there are lots of businessmen in Russia who want internationalism to prevail over parochialism and xenophobia.
Ferghana.Ru: There was a period when you promoted a trade union of labor immigrants. Any progress there?
Heydar Jemal: Yes, we thought a special trade union was needed for Russian general public to interact with. Developments in the country, however, made this idea somewhat obsolete, and we decided on the International Union which is a bit of everything. It is a trade union and general public all rolled into one. It is an international alliance performing the functions of a trade union, public organization, and lobbyist structure. We think it's more productive than establishment of several structures and organization of interaction among them.
Ferghana.Ru: You are chairman of the Russian Islamic Committee. Why all this interest in labor immigrants?
Heydar Jemal: First, because Moslems constitute a sizeable part of labor immigration. Second, most labor immigrants come to Russia from Central Asia and I have always attached importance to this particular region.
No wonder protests against NATO transit via Russia will be one of our priorities. The Soviet Army fought in Afghanistan once to prevent the Americans from settling there. But they are there now, so that a short-range attack missile launched from Afghanistan needs but two minutes to reach Yekaterinburg.
It's of paramount importance therefore to have Central Asia within Eurasia, to spare it NATO contingents and liberal and free enterprise values brought there on NATO's bayonets. The International Union will strive to prevent establishment of NATO logistics chains to Afghanistan via the Russian territory.