Kazakhstan: Cyber terrorists attack the independent press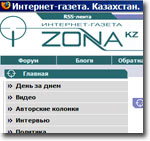 Since the first days of April several web-based news agencies of Kazakhstan have been attacked by hackers. Today, at least two internet-editions (Respublika.kz and ZonaKZ.net) are constantly facing network attacks. These resources either totally disappear from web-browsers or become accessible for a while and then "fade away" again under the pressure of robots and viruses.
The originators and executors of deleterious attacks, targeted at independent internet mass media, are not known yet. It is also unclear how long this war can continue and who will become the ultimate winner. However, today, we can assert that virtual clashes of such intensity have never occurred in Central Asian cyber space.
We interviewed the participants of this battle – Yury Mizinov, chief editor of Zona, and Alexey Shatlovsky, Ferghana.Ru expert and Internet technologies specialist – on the details of virtual fights with cyber criminals.
Ferghana.Ru: Yuriy Michailovich, can you please tell us if your web-site was the target of such attacks in the past?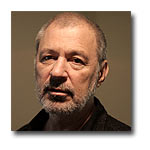 Yuriy Mizinov. Photo by Ferghana.ru
Yuriy Mizinov:
The first attack took place in June of last year. It was organized in the weekend and lasted for little over 24 hours. The second attack occurred in February of this year and it lasted about two weeks. This one is the third and most dangerous challenge.
Ferghana.Ru: Do you have any clue on who could organize and execute such attacks?
Yuriy Mizinov: We do not know who stands behind these actions. We have some several guesses, but … they are just guesses. We got an impression that someone picked our web-site as "test facility". This means that "internet-weapon" is being tested on our web-site. Again, I say that this is just one of assumptions.
Ferghana.Ru: Did you try to contact the hackers? If I am not mistaken, sometimes they write messages at your forum.
Yuriy Mizinov: How would we contact them? I do not know… Some unclear statements in the form comments are presents at our web site indeed. Nonetheless, I do not treat them seriously. I got an impression that somebody, using the attacks issue, wants to solve his own problems.
Ferghana.Ru: You addressed several open letters to the government of Kazakhstan. Did you get the response? Are special services counteracting the acts of cyber crime that have become more frequent?
Yuriy Mizinov: I addressed the Prime-Minister in February. On his internet blog he wrote that I should not politicize the issue and that he instructed the experts to solve the problem. I do not know what happened to these "experts" because Mr. Masimov has not responded yet to my posts at his blog.
Yesterday (April 9, editorial note) I attended the round table in Astana with the participation of law enforcement bodies representatives. They advised me to write a notice on initiating the criminal case on cyber attacks. And I am going to follow these recommendations in the near future.
Ferghana.Ru: What is the reaction of your colleagues and the community in Kazakhstan to these events?
Yuriy Mizinov: The public does not demonstrate great interest. Some "public" representatives carefully send inquiries to me. Some do not trust our statements and view these attacks as "personal PR".
Alexey Shatlovskiy, Ferghana.ru expert and the specialist on network communications, believes that the attacks on Zona are organized on highly professional level.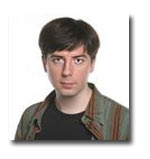 Alexey Shatlovskiy. Photo by Ferghana.Ru
Ferghana.Ru:
Alexey Nikitovich, what is the duration of attacks on Zona? What is the intensity?
Alexey Shatlovskiy: DDoS-attack on ZonaKZ web site has been continuing for a week and its intensity is growing. The engineers of data center, where the web site is located, inform that peak indicators of over 25 Gbit/sec have been recorded. There have never been such intense attacks in Kaznet.
Ferghana.Ru: Technically, how difficult is it to launch the cyber attack?
Alexey Shatlovskiy: The action of such intensity requires myriads of computers, connected to single cloud, «botnet». Ordinarily, these are zombie computers, common office or home computers, infected by special virus. While PC user is aware of nothing, the virus sends spam, viruses, attacks other network computers or performs other command, received from dispatcher.
The creation and support of such network demands serious skills, input, money and time. Biggest known «botnet» count several hundred thousand machines. Due to difficulties and organization problems in creating independent zombie-network, the customers usually rent out ready network to run "operations".
Ferghana.Ru: What is the price for organization of such kind of "hacker services"?
Alexey Shatlovskiy: The network shows ads, where such services are offered at the price of 100 US dollars per day and more if the target is the middle-level web site, not having special security.
Ferghana.Ru: Are ordinary "network hooligans" able to launch such cyber attack?
Alexey Shatlovskiy: Speaking of Zona – absolutely no. The analysis of the attack demonstrates that myriads of zombie computers are involved in the action. This is the average size of botnet. The amateurs are not able to create and support such network.
Ferghana.Ru: What technical security measures are applied against DDoS?
Alexey Shatlovskiy: The most effective measures are filtration of deleterious traffic, multiplication of server resources, splitting of web site "over mirrors".
Ferghana.Ru: Are there guaranteed security measures against such network challenge?
Alexey Shatlovskiy: Yes, there are, but they are not cheap to afford. The web sites of big corporations such as Google or Microsoft are exposed to DDoS-attacks more often than other web services. Their case demonstrates that it is technically possible to secure the web-site from such attacks. In fact, the owner of simple web site does not have such guaranteed instruments. It is easier for hosting provider to block the attacked web site than to maintain it through continuous attacks. Therefore, at this point, the score is 1:0: the cyber crime leads the game.
Recorded by Daniil Kislov
Ferghana.Ru will closely monitor the events, occurring in Kazakhstani Internet space, and will certainly inform the readers about all news.