Relations between Iran and Central Asia (Synopsis)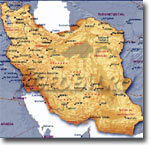 Author of a piece in a Russian tabloid the other day assumed that Tajikistan was about to abandon Russia as a strategic partner and turn to the United States or "even Iran". The Islamic Republic of Iran meanwhile does not deserve this condescending "even". Like the United States, Russia, and China, this country is one of the key players in the Central Asian region.
Ancient motives?
Iranian academician Mehdi Sanai wrote in his book "Relations between Iran and Central Asian countries" that first contacts between the two regions "predate Islam and even Christianity". They originated in the period when "... a larger part of what is Central Asia nowadays was part of the Persian civilization. Embracing the ancient Iranian system of education, Central Asian schools nurtured great scientists. Islamic culture, science, machinery, education, philosophy, art, and literature owe their successful development in the region to this system. Even when governed by the Turk rulers who never stood for proliferation of Shi'ah Islam, the Iranians wielded considerable clout with the political and cultural life of the region."
Once Islam made its way into Central Asia, the regional culture and civilization became associated with Iran. Languages of Central Asian peoples include lots of Persian words. The locals make use of a great deal of Persian proverbs and verses.
Tajik is an Iranian language. Ancient buildings show traces of Iranian architecture and craftsmanship. Poets revered in Central Asia (Faragi, Navoi, Aini, Kunanbayev) called themselves disciples of Iranian poets and shared their views. Iranian poets - Hafiz, Firdousi, Saadi, Hajam - are known and loved throughout Central Asia.
Scientists born in Central Asia are recognized as outgrowth of the Iranian Islamic culture. Men like Rudaki, Ulugbek, Buhari, ibn Sina, Balami, Biruni, Haser Hosrov are known throughout the world as Iranians.
The Iranians and Central Asian peoples share a great deal of traditions - like the Navruz. Numerous ways and traditions were formed under the Islamic influence that shaped mentality of the peoples of Central Asia and became an integral part of their everyday lives. Represented for the most part by the orders of Nakshbandie, Kobrevie, Jassaui, Kadirie, and Chashtia, Sufi philosophy and poetry became a powerful consolidating factor in the life of the region.
Availability of ethnic minorities on both part of the border is one of the factors facilitating close contacts between Iran and Central Asia. According to Sanai, intermigration was particularly active in the days of the Great Silky Way.
Iran's contacts are particularly close with Tajikistan, the only Persian-speaking state on the territory of the erstwhile Soviet Union.
Iran - Tajikistan
Iran was the first foreign country to recognize Tajikistan and other post-Soviet republics of the former USSR. The Iranian embassy in Dushanbe was opened in January 1992. Tajikistan opened its Embassy in Tehran in July 1995. The two countries share the language, history, culture, and traditions even though the Soviet period did foment a gap between them through the effect it had on the population of Tajikistan and its life.
Certain part of the Tajik intelligentsia did regard Iran as the model for the future of their own country in the early 1990s, when the USSR was finally no more. Andrei Grozin, Chief of the Department of Central Asia and Kazakhstan of the Institute of CIS Countries, pointed out that Iran had done much to end the civil war in Tajikistan between 1992 and 1997. Assisting the warring Tajik factions with organization of negotiations and remaining carefully neutral, Iran delivered relief aid to Tajikistan. When fierce fighting in the Kulyab region in 1992 isolated it from the rest of the country and put its population on the verge of starvation, the then Iranian Ambassador Shabistari contacted Emomali Rakhmonov of Kulyab with offers of aid to the population. With Kulyab being the base of enemies of the government of national consent, Dushanbe airport personnel denied the Iranians help with sending relief aid to the rebel province. Balked in Dushanbe, Tehran began sending relief aid to Kulyab right from Iran. All of that bred anti-Iranian attitude among those in Tajikistan who distrusted local Islamists and feared them. It should be added, however, that unlike Shi'ah Iranians, the Tajiks are Sunni. Even had Islamists come to power in Tajikistan, odds were that their policy would have been out of synch with Tehran's.
These days, Iran is the second largest investor in Tajikistan (after China). The Iranians build the Sangtuda'2 Hydroelectric Power Plant and Istiklol tunnel in Tajikistan. Preparations are under way for construction of the Shurabad Hydroelectric Power Plant as well as some smaller hydroelectric power plants. As a matter of fact, the Iranians would also like a piece of the Rogun project (construction of the largest hydroelectric power plant in the region). In any event, Iranian specialists build highways and the railroad that will connect Tajikistan, Afghanistan, and Iran, objects of the power line between Rogun - Mazar'e Sharif - Gerat - Meshkhed, and other objects.
There is more to the Iranian participation in the life of Tajikistan than economic projects alone. International symposiums and seminars on the Persian language and literature are regularly convened in Tajikistan. Persian Language Foundation was set up, libraries named after Rudaki and Amir Kabir were built. Mission of the Imam Khomeini in Tajikistan with help from the local authorities assist the poor with observance of mass social and religious rites.
That Iran and Tajikistan aspire to close interaction is clear from a common dream they share - dream of a Farsi-speaking alliance including these two countries and Afghanistan. Tajik leader Rakhmon brought up this subject on a visit to Tehran this March where he met with his Iranian and Afghani counterparts. "There are no language barriers dividing us. The only difference is that the language we all speak is known as Dari in Afghanistan, Tochiki in Tajikistan, and Farsi in Iran. They are three shots from one and the same root. We share a common history and culture, we face common problems. We'd better unite if they are to be solved," Iran.ru quoted Iranian Ambassador to Tajikistan Aliasgar Sherdust as saying.
We will come to the relations between Iran and Afghanistan a bit later. Let us first dwell on Kazakhstan which President of Iran Mahmud Ahmadinejad visited the other day.
Iran - Kazakhstan
It will be wrong to call Iran a strategic partner of Kazakhstan, but that the two countries advance mutually beneficial cooperation and demonstrate commonalty of views is undeniable. Visiting Astana earlier this month, Ahmadinejad seconded all of Nursultan Nazarbayev's ideas on dealing with the global financial crisis.
Tehran regards Kazakhstan as a country with a considerable industrial, agricultural, and scientific potential. It imports from Kazakhstan grain, oil products, and metals.
Kazakhstan in its turn is interested in advancement of trade and economic cooperation and political dialogue with Iran. Iran is viewed as a partner in joint oil and gas projects including construction of a pipeline connecting Kazakhstan, Turkmenistan, and Iran (Persian Gulf) which will give Astana access to the Asian markets. Along with everything else, Kazakhstan is interested in Iranian investments in mechanical engineering, infrastructure, transport, telecommunications. Trade turnover between the two countries increased fivefold in the last six years from $400 million to more than $2 billion.
"Iran is a state that may take an active part in dealing with the Afghani situation because trafficking from this country seriously disturbs the neighboring Uzbekistan and Tajikistan and even Kazakhstan," political scientist and Risk Evaluation Group Director Dosym Satpayev said. "Iran's stabilizing role in settlement of the Afghani problem will benefit all of the Central Asian region."
"Everyone knows that Iran is a country to be reckoned with because situation in other regions, say in Palestine or Afghanistan, does depend to a certain extent on Tehran and its position. Last but not the least, Iran is our neighbor in the Caspian region. Relations of partnership with it will definitely benefit us," Satpayev said.
Iran - Turkmenistan
The Caspian dimension is also an important factor of the relations between Iran and Turkmenistan. "The attraction both countries experience toward each other stems from the lack of choice, which is a distinct feature of the Iranian-Turkmen relations," Vladimir Mesamed, an expert with the Institute of the Middle East, said. "Both countries cannot help having active bilateral contacts. They have a lengthy border, they share historic, religious, and civilizational commonalty stretching back for centuries," Mesamed wrote in his work "Iran - Turkmenistan: The Future". Here is another excerpt, "Territory of Turkmenistan as it is was part of Iran more than once. Nisa, the capital of the legendary Iranian-speaking kingdom of Parthia, was located near the current capital of Turkmenistan. Advancing relations with Turkmenistan, Iran is being quite pragmatic. It is after strengthening of its positions in the region and benefiting from availability of hydrocarbons in the neighbor country and from its convenient geopolitical location at the crossroads of transit ways. Turkmen population of the northern provinces of Iran is a factor that facilitates neighborly relations."
As matters stand, Iran is one of Turkmenistan's principal economic partners. Annual trade turnover (including oil and gas cooperation) amounts to $1.2 billion. Iranian businesses carried out all sorts of investment projects in Turkmenistan - the program of fiber-optic communications development, railroad between Meshkhed-Serahs-Tejen construction, construction of bunkers and other objects in Merve and a refinery in Turkmenbashi, construction of liquefied gas terminals, highways, and even a dam.
When the Soviet Union disintegrated and left Turkmenistan in the grips of an economic crisis and its population in need of basic goods and foods, it was Iran who came to their help. According to the Tehran Times, it sent flour and other foods to Turkmenistan by the ton.
Almost 100 industrial objects of paramount importance for the national economy have been built or are being built in Turkmenistan with Iranian help. The railroad from Tejen to Meshkhed via Serahs (its construction was completed in May 1996) opened the shortest way to the Middle East for Ashkhabad and actually revived the Great Silky Way. Iran helped Turkmenistan with construction of a gas pipeline between Korpege and Kurdkui (200 kilometers long). An alternative to Russian pipelines, it went on the line in 1998. Turkmenistan in return pledged to deliver up to 25 mullion cubic meters of gas to Iran every year for the next 25 years - and to up deliveries as of 2006.
In the meantime, the relations between Iran and Turkmenistan are not exactly cloudless. In January 2008, the Iranians were greatly offended by the decision of Ashkhabad to interrupt gas deliveries to Iran because of the extreme colds. Gas export to Iran was finally restored, but at $140 per 1,000 cubic meters instead of the previous $65. Tehran nevertheless preferred backstage negotiations to an outright scandal. In any event, Mahmud Ahmadinejad and Gurbankuly Berdymuhammedov signed an agreement on annual export of 10 billion cubic meters of gas to Iran, in February 2009.
Iran - Uzbekistan
Uzbekistan is the Central Asian country whose relations with Iran are probably the worst problematic of all. Ever since regaining sovereignty, Uzbekistan has feared that Iranian presence in Central Asia might encourage revival of the Tajik culture and nationalism which in their turn will foment separatism in Bukhara and Samarkand. By and large, official Tashkent viewed relations with Iran as a means by which Islamic ideas and influence were making their way into Uzbekistan.
Experts say meanwhile that Uzbekistan also attempted to present itself to the Western community as a bulwark resisting the spread of the Iranian and Russian influence with the region. That was how Uzbekistan became outright hostile to Iran. When the US Congress introduced economic sanctions against Iran in 1995, Uzbekistan was the only post-Soviet country to hail this decision. Tehran responded to this attitude with occasional criticism of the Uzbekistan authorities' policy with regard to the Islamic opposition. All in all, relations between Iran and Uzbekistan were shaped by mutual suspicions and distrust all through the 1990s.
President of Uzbekistan Islam Karimov eventually stopped being fiercely anti-Iranian and began displaying interest in cooperation with this country. The interest is mutual of course, confirmed by numerous visits to the other country, exchange of government delegations, regular consultations between ministers of foreign ministers and other senior officials.
Trade and economic cooperation between the two countries is advancing. Iran and Uzbekistan agreed to develop cooperation in agriculture, transport, oil and gas production, construction, production of pharmaceuticals, and banking. The Iranian-Uzbek trade turnover exceeded $600 million in 2008. Uzbek export to Iran comes down to cotton, ferrous and non-ferrous metals, fertilizers, chemical fibers; Iranian to Uzbekistan to construction materials, detergents, foods, tea, fruits, and so on.
When Karimov was visiting Iran in June 2003, leaders of the two countries signed an agreement on international transport routes. It gave Uzbekistan a shorter way to the Persian Gulf region through Iranian ports of Bandar-Abbos and Chobahor on the Indian Ocean coast. Iran in its turn was permitted to export its goods to Central Asia and the Commonwealth via Uzbekistan.
Iran - Kyrgyzstan
Bilateral relations between Iran and Kyrgyzstan are more or less even and somewhat relaxed. The two countries signed agreements on cooperation in the spheres of transport, customs, trade and economic relations. Iran and Kyrgyzstan interact in the spheres of education, culture, travel, customs, finances, war on trafficking and crime in general. They sell each other industrial and agricultural goods the other has need of. Tehran even loans Kyrgyzstan money and invests in the Kyrgyz economy every now and then. In late 2008, for example, Iran promised Kyrgyzstan 200 million euros for some economic projects. Iranian companies participated in construction of a highway connecting Bishkek and Osh. Iran and Kyrgyzstan hope to up the annual trade turnover to $100 million.
An expert with the Institute of the Middle East commented on the importance Tehran and Bishkek attached to development of contacts at the local (regional) level. The Osh region of Kyrgyzstan energetically advances interaction with the province of Horasan in Iran, the Jalalabad region with Kazvin, the Chui region with Hamadan.
Official Tehran covers the tutorial fees for the Kyrgyzes studying in Iran and budget of this particular program increases every year. Centers of Islamic and Iranian studies were set up at some Kyrgyzstan universities and colleges. Direct contacts are maintained between universities of both countries. The Iranians even helped the Kyrgyzes in the work on new text-books for high schools.
Iran welcomed the decision to shut down the US air base in Manas near Bishkek President Kurmanbek Bakiyev made in February 2009. Presence of a NATO contingent in the region had been a constant headache for Tehran, particularly in the light of the rumors last years that Washington intended to strike at Iran precisely from Manas. On the other hand, Kyrgyzstan made it plain that it would tolerate no strikes at Iran from Manas as Tehran had promised to retaliate at the launch sites.
According to Ulugbel Jurayev, an expert with Axis Information and Analysis, Iranian policy toward Kyrgyzstan is part of its strategy for the Central Asian region aimed at neutralization of Washington's efforts to isolate Iran from its neighbors politically and economically.
Iran - Afghanistan
"Afghanistan and we share one and the same destiny," Iranian Ambassador in Kabul Mohammad Bahrmi said appraising official Tehran's attitude. Like with Tajikistan, Iran and Afghanistan share commonalty of language, cultures, ways, and traditions. Iran has always aspired to influence with the Afghani state and viewed presence of the third countries there as a threat to its national security. That was why Tehran actively opposed the Soviet Army in Afghanistan in the 20th century and, when it pulled out, the Talibs viewing the latter for all their alleged fervor to Islam as a menace to Islamic Iran and its security.
Iran was always there to offer the anti-Talib forces moral, political, materiel, and financial aide. Tehran was among the first capitals to support the government of Hamid Karzai in Kabul. Even the United States, Iran's enemy of old, admits now that no solution to the problem of Afghanistan is possible without Iran and seeks rapprochement with Tehran on the matter. Appearance of Iranian state officials at the international conference in the Hague encouraged official Washington so that it even reported a meeting between US Envoy to Afghanistan and Pakistan Richard Hallbrook and the Iranian delegation. Iran immediately denounced this statement. All the same, Tehran made it plain that it has no objections to participation in restoration of Afghanistan and implied that it might even permit non-military transit to this country (it would have rendered transit routes via Russia and Central Asia obsolete). At the same time, Iran objects to an increase of NATO military contingents in Afghanistan. It fears that escalation of the conflict will cause a stampede to nearby countries and that criminals might try to cross the border with bona fide refugees fleeing the hostilities.
Sattorzod, Chief of the Directorate of Foreign Policy and Foreign Economic Development of the Tajik Presidential Strategic Studies Center, said official Tehran needed the United States stuck in Afghanistan as a guarantee that it wouldn't attack Iran itself. Some Afghani lawmakers in the meantime said Iran was supplying the Talibs with weapons and had gunman training camps on its territory. Gunmen trained there then penetrated Afghanistan and fought the regular army and forces of the counter-terrorism operation there.
In any event, Iran is actively helping the Afghanis with restoration and modernization of their country. The two countries established contacts in the banking sphere, trade and economic ties, and cooperation in agricultural, social, and other spheres. Iran is the fourth largest investor in Afghanistan. Iranian investments are usually spent on construction of roads and bridges, energy industry objects, aid in agriculture and health care, and so on.
Along with everything else, Iran aids Afghanistan with establishment of libraries and printing houses and organization of seminars and exhibitions. Tehran finances diplomatic courses for the Afghanis, establishment of checkpoints on the border, anti-trafficking efforts, and restoration of the Afghani regular army.
According to Afghanistan.ru, the projects Iran sponsored in Afghanistan included construction of two power lines between Teiebag and Gerat and between Torbete, Jam, and Gerat. The former went on the line in 2003, the latter in 2005. It is these power lines that solve the problem of energy in the western provinces. Roads connecting Gerat with Islamkala and Gerat with Meimena were built with the Iranians' help too. Opened in 2005, the highway between Dogarun and Gerat 125 kilometers long connected the Iranian province of Horasan with Gerat in the western part of Afghanistan. Millah, a bridge whose construction cost Iran $3 million, as opened on the Iranian-Afghani border in 2004.
The role Iran is playing in Afghanistan cannot be overestimated because there will be no solution to the problem of stability and security in this country without Tehran.
In a word, Tehran is out to become one of principal foreign economic partners for Central Asian countries and to strengthen its positions in the areas that have always been in the zone of Iranian influence - Tajikistan, western and north-eastern Afghanistan, Turkmenistan. Iran even seeks membership in the Shanghai Cooperation Organization and CIS Collective Security Treaty Organization. Observer in the former, Tehran applied for full membership in the Shanghai Cooperation Organization in March 2008. Tajikistan is the only member promoting Iran's membership for the time being, but Ahmadinejad expects to secure Kazakhstan's support as well. Both international structures established to secure their members comprise Central Asian countries of the Commonwealth - Kazakhstan, Uzbekistan, Tajikistan, and Kyrgyzstan - and Russia. Eagerness to join this military-political alliance is a powerful stimulus for advancement of even closer interaction with the Central Asian region for Iran.
Feruza Jani is Editor of Ferghana.Ru Department of Politics. Materials from Russian and Central Asian media outlets and information from official regional structures were used in this review