Russia: No two runs in a row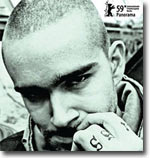 "Russia 88" was to be run in Rolan movie theater in Moscow on April 18 but the management changed its mind at the last possible moment and replaced the movie with something else. Odds are that the Muscovites will never see the scandalous film about modern Nazis again, official permit for release or not.
Film director and producer Pavel Bardin told Radio Echo of Moscow that his film was taken off the repertoire by the movie theater management and not by administration of Kinoteatr.Doc festival.
An interview with Bardin will be released one of these days. Here is a piece by Daria Borisova, Moscow-based newspaper Kultura observer and Ferghana.Ru expert, written right after the first run of "Russia 88" in Rolan on April 5.
Come and watch
"Russia 88" by Pavel Bardin is more than just a movie
Kultura, April 16, 2009
* * *
"Russia 88" was put on the roster of Andrei Plakhov's "Spring Euphoria" as soon as the film was finally certified for release. The film had participated in Panorama of the Berlin International Film Festival and made headlines. It also participated in "Fire Spirit" in Khanty-Mansiisk where certain problems were encountered. The territorial administration put festival organizers under pressure demanding withdrawal of the film from the schedule. It was rumored that serious men "upstairs" did not take to the film and the local administration did its best to prevent its run. Anyway, "Russia 88" was run all the same and even earned a special prize from the jury and award of the Film Experts and Critics Guild - quite impressive a performance under the circumstances. This was where matters stopped because the film was denied the release certificate. "Russia 88" was finally run in Rolan on April 5 - its first legitimate run.
"Russia 88" is a film whose purely artistic assets and liabilities matter little. Bardin made a film on a subject the authorities would rather leave unrecognized. It took courage.
Digits in the title (88) stand for the fascist Heil Hitler greeting, the title itself is the name of a new-Nazi organization, one of many. A scrawny and cowardly kid by name of Abram (his actual name Eduard Markovich is a source of cruel ethnic jokes) joins a gang of skinheads. He films the life and activities of the gang in order to make a movie and makes promotional spots for fascist web sites. Actually, all of "Russia 88" is shown through the lens of Abram's camera. He himself appears but infrequently - a cringing youth with large frightened eyes and haircut a la Hitler.
Abram's idol and "Russia 88" main character is Bayonet (played by Pyotr Fyodorov), young activist of the local Nazi movement. What is scary about Bayonet is his ordinariness - guy like that might be your neighbor. Young man from Moscow outskirts, raised in a family where the mother alone toils for daily bread and therefore has no time for children or their upbringing. Cultural level in the family is predictably low. There is no possibility or willingness to study, there are no interests or hobbies. Life of a castaway, poor and embittered.
There is the Cherkizovo marketplace nearby where "Asians" make money. Base instincts - hatred aimed at "the bastards who all but occupied my home city" - fill the vacuum in Bayonet and others like him. Abram interviews members of the gang and asks how they happened to become fascists in the first place. Bayonet said that it had occurred to him once that he couldn't really expect to succeed in life, not with the "blackies" nearby being ever so active. "It scared me," this beefy youngster admitted.
Ideology of the gang is centered around hatred and, actually, around the fear of being outside. Hatred is preached by an adult, a former career officer who saw combat in Chechnya and became aggressively xenophobic there. Purporting to be a coach, he rents a basement where young men pump iron and get brainwashed into bargain. The curriculum includes PhysEd with regular trips beyond Moscow city limits and indoctrination. Young men are encouraged to read and exchange books on history and theory of fascism and Russian Nazi movement.
Skinheads even have their own "protection" - policeman on the beat played by Pyotr Barancheyev. It is closer to the finale that the policeman explains himself. All marketplaces and gas stations nearby are under his control. He himself is prepared to protect "his" skinheads as long as they assail whoever he tells them to assail and turn a blind eye to what they are not supposed to notice. There is in the film an emissary from political party played by Andrei Merzlikin who goes out of his way to take over the movement. Making advances to the youths, he promises them uniforms, chow, and transport...
Ideology of neo-Nazism which in Russia is called national patriotism for some inexplicable reason must be catching. It is shared by men in high places and ordinary Russians. Playing correspondent of a non-existent TV channel 88, Bayonet asks people in the street if they support the slogan "Russia for the Russians". They certainly do and say so with conviction. Only one woman tried to say that lots of people had always lived side by side in Russia but the camera went off on her. It was not what Bayonet wanted to hear.
Some critics blame Bardin for the lack of action and penchant for a mere observation. Action may be lacking indeed, but that does not detract from the film. The film is so integral and convincing as to leave the impression of a documentary. Evil is among us. Skinheads may murder a Tajik janitor or Azerbaijani vendor any moment, and it will be done to promote the slogan "Russia for the Russians". The author deliberately shows his main characters in detail, inserts interviews in the script (bona fide interviews, nothing staged), and gives an account of how contacts are established between fascists and the powers-that-be. Bardin is telling society that things have gone too far.
Bayonet's personal drama unfolds in the second part of the film. Abram is sent on a mission - he has to film location of objects of the Cherkizovo marketplace (were these people responsible for the explosion there?). By chance, his camera films Bayonet's young sister Yulia with her lover who turns out to be a man from the Caucasus.
Bayonet gives chase and kills the man. Yulia shot herself upon seeing his death. Bayonet is left all alone. Abandoned by his pals (they blamed him for the mentor's death in a run-in with men from the Caucasus), he grew disillusioned in fascist movement and its independence. He even drove his sister to suicide. There is nothing for him anymore in this world, and Bayonet takes his own life right then and there.
There is something pompous about the finale - three bodies at dusk, just like Romeo, Juliet, and Tibald. Bardin probably did it for suspense but that's all right as long as people see "Russia 88". Watching it is difficult but it is a must. "Russia 88" is like a mirror which shows society its crooked face.
Daria Borisova is newspaper Kultura observer and Ferghana.Ru expert. Kultura, April 16, 2009