Examination of allies: What side of the fence will Moscow take in the water dispute?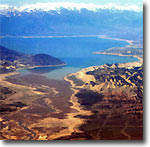 Problematic and complicated in the first place, relations between Central Asian presidents may take another quixotic turn at the summit in late April. Three Central Asian republics are expected to present a unified position on construction of major water-control objects in nearby countries. Since it was Uzbekistan alone that always objected to construction of hydroelectric power plants on the rivers of the region until now, importance of the forthcoming summit becomes apparent. Even Moscow, the capital of Russia, will have to choose sides in the dispute.
Virtual "storm"
Two events altered the status quo in Central Asia beyond recognition: President Dmitry Medvedev's statement in Tashkent this January about the necessity of consent for construction of water-control objects, and announcement of Russian plans to invest in the Kambarata Hydroelectric Power Plant during Kyrgyz President Kurmanbek Bakiyev's visit to Moscow in February. In the former case, Moscow sided up with Uzbekistan and questioned legitimacy of hydropower engineering development in Tajikistan (needless to say, this turn of events immediately had a negative effect on the Russian-Tajik relations). In the latter, however, it was Uzbekistan that felt slighted because it had expected an invitation to the discourse in the light of Moscow's previous statement. In a word, the first signal from Moscow (on the necessity to plan water-control objects together) was all but negated by its decision later on to participate in hydroelectric power plant construction in Kyrgyzstan. Being undeniably interested and directly involved, Uzbekistan and Tajikistan must have done their best to discover Moscow's true intentions and thoughts on the matter. In any event, whatever their diplomacies had found out was never made public knowledge. Polemics on popular web sites, however, does offer a diligent observer at least an inkling of what the involved parties are after.
The Internet is like a sensor showing the temperature of relations between Central Asian countries and their relations with Moscow. Authors of the pieces posted on web sites never mince words. The ones from Uzbekistan scream bloody murder over Tajik plans to "commandeer water", the ones from Tajikistan predictably defend their country's right to build hydroelectric power plants on its own territory. All of them meanwhile criticize Moscow for its ambiguous policy because Russia breaks Medvedev's word to stay away from the projects lacking international approval (1) and reneges on its own guarantees to invest in construction of hydroelectric power plants in Tajikistan (2). Some of the latter even threaten Moscow with retaliation - from curtailment of the Russian military presence to Tajik application for NATO membership.
All of that bears a strong resemblance to deliberate leaks from certain structures tasked to relay a message diplomatic channels are not the best conduit for. Indeed, what could one expect from Internet authors?
Anyway, this virtual "storm" does signify seriousness of the conflict potential in the matter of the Central Asian water resources.
Tajikistan and Uzbekistan seek solutions to the problem elsewhere. Looking for investments, Emomali Rakhmon of Tajikistan toured the European Union and his country's neighbors in the south. Uzbek offer to finance the Rogun Hydroelectric Power Plant in Tajikistan ignored (it was made when Rakhmon was departing for Moscow where he apparently hoped to get Medvedev's promise to participate in the project), Uzbek President Islam Karimov turned to Turkmenistan and Kazakhstan, other Central Asian countries that depend on the water regime.
The Turkmen president signed a memorandum with his Uzbek counterpart, and this document included the important phrase on the necessity of a collective discussion of dams and power plants. Karimov called Nursultan Nazarbayev in Kazakhstan to discuss the matter (an unusual development, considering the strained relations between the two countries and their leaders). Kazakh Prime Minister Karim Masimov was then received in Tashkent... Experts began talking of a new alliance (3 Vs 2) which they thought would be made at the Aral Summit in Almaty.
Water as a commodity?
Reaction of the two countries (the ones opposed by the three) was instantaneous. Addressing the Kurultai of the Kyrgyz People's Assembly on April 17, Bakiyev warned that the decision on water-control objects previously made would place the country under additional external pressure from "global political players". Nobody had to be explained that Bakiyev was talking of Uzbekistan and Kazakhstan. "Surely, they do not expect us to leave them without water," Bakiyev said in a vain attempt to abate tension.
Senior Deputy Foreign Minister Abdullo Yuldashev announced that "... water should be a blessing for all Central Asian peoples" and that "water flow from Tajikistan will never go down". He warned, however, that "We will defend our national interests as long as they do not encroach on interests of our neighbors."
Expert comments in the media constantly point out that construction of water-control objects will benefit all countries of the region. Will enemies of this point of view take it into account?
Discord or not, the region has avoided a split into two camps until now. Tension is only restricted to the Uzbek-Tajik relations - has been restricted to it for years. No other disagreements between countries of the region even come close to the visa regime, minefields on the state border, and severance of transport arteries typical of the relations between Uzbekistan and Tajikistan.
As a matter of fact, discord over water resources is particularly vicious between Uzbekistan and Tajikistan too. The former is a predominantly agrarian country with emphasis on cotton, a culture that needs lots of water and a principle article of export. The latter in its turn desperately needs much more energy than is currently available and therefore pins hopes on the future Rogun Hydroelectric Power Plant. There is, however, more to the Tajik plans that this. Tajikistan hopes to be in the position one fine day to sell electric power to Afghanistan and Pakistan and at the tariffs exceeding the current ones operating in Central Asia. It is these elements of commerce that Karimov in Uzbekistan raises objections against when he calls for solution to the problems of the native region and its population standing at 50 million before everything else.
Kyrgyzstan and Tajikistan turn to dismiss these particular arguments. Deprived of power resources, these countries aspire to the electricity export dividends of the kind other countries earn selling oil and gas to foreign customers. Some hotheads even suggest sale of water even though it has never been a commodity in Central Asia. Moreover, water is something sacral for the locals, most of them Moslems. Critics of the water-for-sale initiatives also refer to these parochial views on water as something that belongs to Allah who permits people to make use of it. How can one combine traditional values and free market relations countries of the region have already adopted in dealing with one another? The Tajiks and Kyrgyzes do buy oil and gas from their neighbors but water is free.
Factor of Moscow
As a matter of fact, split of the Central Asian region at the forthcoming summit is unlikely. To start with, Kazakhstan and Turkmenistan show considerably less determination that Uzbekistan does. Kazakhstan joined Uzbekistan only when Russia "removed" it from the Kambarata Hydroelectric Power Plant project. If its previous actions are any indication, Kazakhstan will strive for influence with the matter through diplomatic means only. Spokesman for the Kazakh Ministry of Agriculture recently proclaimed this country ready to invest in reconstruction of the Kairakkum Water Reservoir in Tajikistan from which water is taken for purposes of irrigation.
More or less disinterested in the whole matter of hydroelectric power plants before the signing of the memorandum with Uzbekistan, Turkmenistan is unlikely to issue ultimatums. By and large, ultimatums are not typical of Turkmenistan. On the contrary, official Ashkhabad is trying to expand and advance contacts with its neighbors. In early April, Turkmenistan and Kyrgyzstan agreed to establish a joint governmental panel for bilateral cooperation. Closer trade and cultural ties are on the agenda, as well as restoration of air service between the two capitals. It is fair to add that all these agreements were made when Turkmenistan had already seconded Uzbekistan on the matter of water resources.
Countries of the region are tied to each other with so many bonds that their severance seems a sheer impossibility. It means that the Almaty summit will probably become a dialogue to try and jibe interests of all involved countries. This is where the factor of Moscow will definitely surface. Insisting on making solution to the water and energy problems a prerogative of countries of the region alone, Karimov called meddling from the third countries unacceptable. What did he mean? Of all third countries and international structures, the European Union alone seems interested, and it backs Uzbekistan all the way. That leaves Moscow.
With Russian investments available, the two countries of the region may actually decide to go for it without the others' consent. Will this turn of events benefit Moscow? After all, it will certainly compromise Russian relations of allies with some countries of the region. There is more to the potential reward than the objects that control water resources of the region and will therefore boost Moscow' clout. There is more to it than military presence in Tajikistan. The matter concerns Gazprom as the principal buyer of gas from Uzbekistan and Turkmenistan - not to mention geopolitical advantages of interaction with Kazakhstan and Uzbekistan.
Interviewed by Mir TV network when on a visit to Turkmenistan, Foreign Minister Sergei Lavrov was asked a question about Russia's stand on the matter of water resources. "It is necessary to seek mutually beneficial compromises. Central Asian countries may count on help from Russia in their search for these agreements," he said.
Does Moscow really mean it?
* * *
Sanobar Shermatova, an expert with RIA-Novosti news agency