Uzbekistan: Tulips help Shakhrisabz residents to survive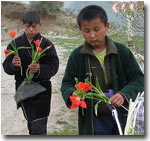 Season of mass outings traditionally begins in Uzbekistan in May, with the coming of spring. Made with one's colleagues, friends, or family, trips to the mountains are particularly popular. The Shakhrisabz, native region of the legendary Uzbek chieftain Amir Temur, tops the list of preferences of the population of central and southern Uzbekistan. In the Persian, the Shakhrisabz stands for Green City.
This is where Mingchinor or Thousand Platans (chenars) is located (the Kashkadarja region).
"Back in the Soviet era, the then leader of the Uzbek Soviet Socialist Republic Sharad Rashidov ordered 1,000 chenars planted here," one of the locals said.
Mingchinor is famous for picturesque mountains and small waterfalls. People come here to rejoice in cool silence and magnificent vistas.
The locals cannot wait to greet the first tourists because their existence directly depends on tourists. They make money helping tourists settle and dealing in foods and tulips.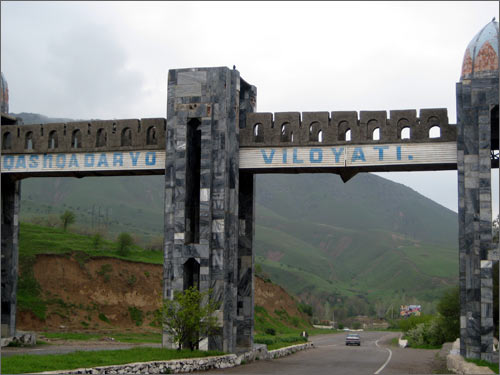 Entering the Kashkadarja region. Photo by Ferghana.Ru news agency

"When I was but a kid, back in the USSR, my friends and me collected tulips in the mountains early in the morning and sold them to tourists at the bazaar afterwards. There were days when I made 25 rubles - which was a substantial sum then," a local told this correspondent. "Our children sell tulips too, these days. The difference is, we did it all before attending our classes. Kids these days... they do not go to school anymore. Schools are not what they used to be, and nobody cares if a kid misses classes."
A boy looking 12-years or so offered us tulips 200 sums apiece ($0.13).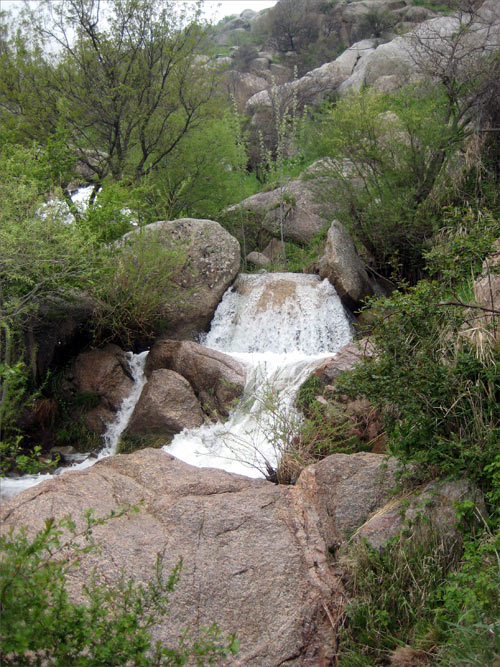 Landmark - the waterfall

"I have many more here," the boy said. "Buy them, why don't you? I have to help my family. I'll take all the money to the father who will buy food."
"You probably like video games and need money for it," one of the tourists said.
"What video games?" was the reply. "We have nothing like that in Mingchinor. They even turn electricity off at midnight..."
A local told this correspondent that he leases tourists crockery, cooking facilities, and Uzbek suris (special wooden beds also known as takhtas or supas). He said the fare is 3,000 sums ($2) per tourist. "We can also help you with cooking itself," the man assured this correspondent.
There is more to the Shakhrisabz than this individual and pretty much impromptu tourism. Beauty of these mountains is not lost on all sorts of major organizations and structures of the Kashkadarja and nearby regions. There are lots of summer camps and spas in the area. Booking a room there is always a chore. One has to pull strings or belong to the organization or structure that owns the spa.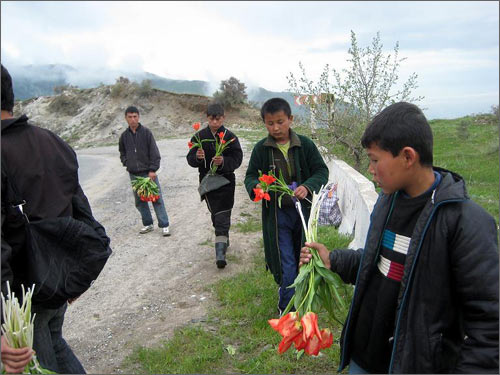 Young tulip vendors helping their families

Climatic conditions are stunning in their capriciousness: sunny weather may give way to overcast and return to sunniness again - and all inside of half an hour. The locals do not care. They know that tourists will keep coming and that the tourist season will enable them to replenish the family budget.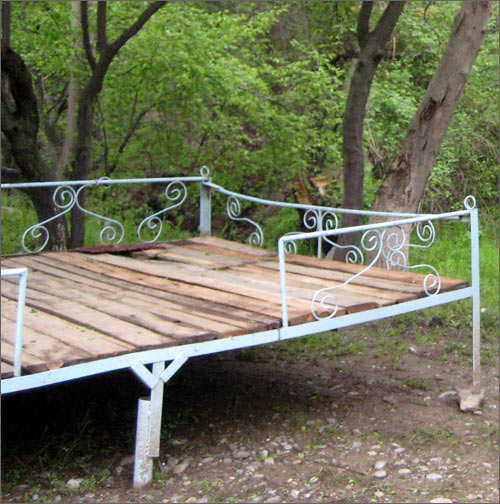 Suri or takhta or supa (stress on the second syllable)