Uzbekistan: How to get rid of unwanted journalist?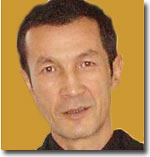 The case of prominent Uzbek journalist and human rights activist Dilmurod Sayid, arrested at the end of February 2009 on suspicion of blackmailing, finally came to conclusion. Today, the case is transferred to Samarqand oblast court on criminal cases. However, the date of trial is not announced yet. The journalist already spent two months in Kattakurgan pretrial detention center. Meanwhile, the government came with new accusation articles: "Repeated or dangerous recidivism blackmailing" and "Preparation, counterfeiting of documents, stamp, seals, forms and their distribution or use".
It has to be mentioned that the reason for the arrest of Dilmorud Saidov (under pseudonym of Dilmurod Sayid) became the statement of Asliddin Urinbayev, the head of Djambai machine building plant in Samarqand oblast, that the representative of prominent journalist and few other people were extorting 15 thousand US dollars from him, otherwise threatening "to send him to jail". Few days after, Marguba Djuraeva (allegedly, she was the accomplice of Dilmurod Saidov) was arrested. She said she was acting by the order of the journalist. On the other hand, the point is that Mr. Urinbaev never mentioned that Dilmurod Sayid was blackmailing him directly. Therefore, all the "evidences" of accusation side are based on the fact that Marguba Djuraeva was extorting money, asserting that it was designated for six different people, including Dilmurod Saidov. Overall, we have the same story again: if the government lacks evidences in order to prove the fault of defendant it reveals "additional facts" or finds "witnesses", confirming that the journalist was blackmailing them many years ago and received bribes. In this context, this is the evident sign that the government simply wants to get rid of certain person.
It is worth mentioning that, today, there are only about 20 independent and western journalists in Uzbekistan. The government annually sends one or two persons from this list to jail and put best efforts to get rid of others, forcing them to leave the country. Both investigation process and upcoming trial can be viewed as the cleanup of information space in Uzbekistan from unwanted components.