The invasion of gypsy moth in the capital of Uzbekistan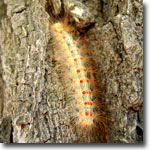 The favorite dainty of Lymantria dispar is the hardwood. Such "green" city as Tashkent faces the invasion of oobits every spring time. The trees in the city center are all covered by gluttonous grubs. Moreover, they fall at the heads of walkers and crunch under foot. The old lamp-posts are also besieged by gypsy moth.
According to zoologists, the grubs mainly attack sweet woods, easily relocating to Oak, linden and other types. However, the massing of these depredators most often times takes place at oak trees. The traditional whitewashing does not safeguard the trees.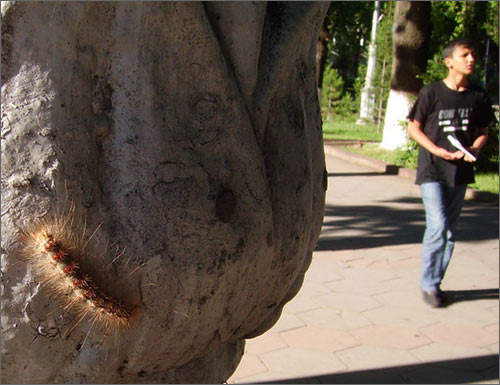 Grub at the post. Photo © "Ferghana.Ru"

Every spring the army of landscape architects in Uzbekistan whitewashes many thousands of trees that help protecting the cortex and folia from the number of small depredators.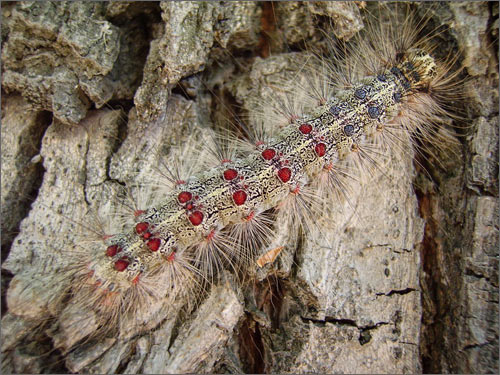 Adult grub. Photo © "Ferghana.Ru"

Gypsy moth is populated in warm areas throughout Europe (except for northern regions), bordering Mediterranean and Northern Africa. This type inhabits northern Mongolia, China, Korea and Japan.
Gypsy moth lives in European part of Russia. It is populated in Crimea and Caucasus, Ural, Altay, northern Kazakhstan, Central Asia, Siberia and Far East.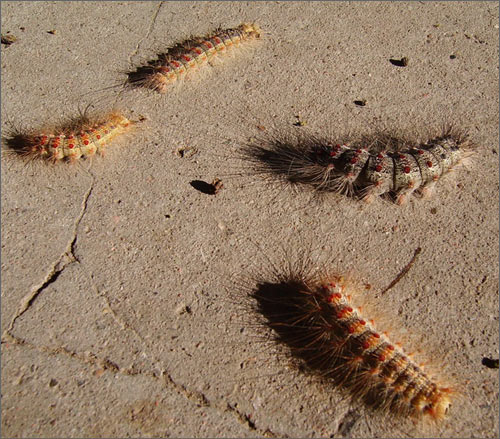 Grubs at asphalt. Photo © "Ferghana.Ru"

Pavel Kravets