The Great Wall: The government of Uzbekistan to take total control over Internet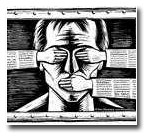 During the last four-five years the government of Uzbekistan has been strictly blocking the access of its citizens to "unwanted" web-sites. The target of prohibition is not porn resources, but mostly independent political and opposition mass media. Such web-sites as Ferghana.Ru as well as many separate publications of other Russian internet agencies, telling the truth about life in the republic, were blocked long ago. These are unofficial actions. Perhaps, secret decisions are made by National Security Service, whose special units monitor the work of internet-providers. It seems that Tashkent wants to take legitimate control over the Internet.
As a rule, the process of making top decisions in Uzbekistan is started with the preparation of public opinion. Therefore, Uzbekistani mass media launched the campaign, openly advertising the legitimacy of state control over Internet area. The Uzbekistani citizens are presented information, arguing that the government can and must prohibit the visits of "unwanted" and "unacceptable" web-sites.
Information blockade of internet resources, reporting the events in the republic, has been intensified, especially after Andijan events of 2005, when nearly all news web-sites and search engines in the republic were blocked while ordinary Internet-users, not able to handle blockade, as well as the rest citizens of Uzbekistan were forced to read news only from local mass media. The citizens were allowed to get information on any other states, except for own country…
Uzbek official representatives, stating the need to regulate the freedom in Internet, refer to the experience of other states, holding lowest positions in the
Press Freedom Index
. They appeal to follow Israel, South Korea and China, not telling its citizens how Internet activity is regulated in other, say, more democratic countries. Moreover, they tell lies, "forgetting" some important details. Therefore, it gets quite clear that the idea of Internet control can be ultimately implemented.
For instance, the deputy Head of licensing department under Uzbek print and information Agency (UPIA), Ulugbek Sultanov, inform the readers that Israel recently adopted special law on "censorship in Internet". In his article, published in Uzbekiston matbuoti (Uzbek press) magazine, he affirms that, according to the new law, all "unacceptable web-sites" will be filtered in Israel. According to him, the list of these web sites will be defined by Communications Ministry of Israel.
I would like to highlight the mistakes and untruth in the words of respected expert. Israeli law, restricting the access to web-site, advocating violence, pornography and games of chance, was adopted at the beginning of last year, but it has been amended many times since then. As a result, the special public committee, consisting of officials and civil society representatives, was established. It will be in charge of defining which web resources will be treated as sites with "indecent and insulting content".
Iranian Internet prohibits the criticism of political and religious leaders. All bloggers are required to register their web-sites in the Ministry of Culture and Art. Syrian Communications Ministry made all internet-café owners to record passport information of their clients and to regularly provide this information to the authorities. The government of Saudi Arabia blocked 400 thousand "unwanted" web-sites. According to information of Reporters without frontiers, 1740 web-sites were blocked in 2008. 105 bloggers suffered from publications of data in Internet, 1 of them is killed and other 59 are arrested.
After the adoption of draft law in the first reading the most significant amendments were introduced in the point on automatic filtration of content. Knesset commission ordered that "by default" all Israeli users must have unlimited access to Internet, while the provider can install filtering software only upon client's request.
Therefore, Uzbek official presents desired facts as real and openly tells lies, performing the order of senior management.
Further on, UPIA employee gives other, in his view, positive examples of state control over Internet resources. In his words, in South Korea, "where Internet is available in every home it is prohibited to disseminate articles and messages under pseudonym. The authors must indicate full names. Today, this norm is going to be applied towards all the web sites in this country", he wrote.
Let us specify: such law was really adopted in South Korea in 2005. However, it just requires the mandatory identification of users of those web-sites, whose traffic exceeds 100.000 unique users per day. The users are required to indicate their real names and real home address upon registration while the web-site administration must check the validity of information and share it with Korean government. We can only have a dream that Uzbekistan will have respectable web resources with this high traffic. However, this is not happening in near future. Besides, according to Ferghana.Ru experts, Korean legislation never mentions the prohibition to visit "undesired" resources.
By the order of Beijing administration, all the users, first time visiting Internet-café, must present the documents while their photos should be taken. After using internet-café service in Turkmenistan it is necessary to present passport. The only Internet provider in Iran blocks many "unwanted" web-sites.
Nonetheless, Uzbek officials are not concerned with creating modern and clear legislation. The purpose is to prohibit "unwanted" and " detrimental" and to do best to lessen the influence of Internet to the understanding of people in this country.
Thus, deputy Chief Editor of Halk Suzi (People's word) newspaper, Shukhrat Djabbarov, addressed the readers with the requirement to take control over all internet-sites, advocating "unacceptable criticism". Mr. Djabborov is not indicating who is going to judge the level of "unacceptability", relying on "authorized bodies" that, today, can block whatever they need. He proposed to build the system in Uzbekistan, similar to "Great Chinese wall" program through which PRC shut the access to many opposition and just unwanted web resources.
It has to be noted that Mirzayusuf Rustambaev, the member of Oliy Mazhlis Senate (upper chamber of parliament in Uzbekistan) and the chairman of state institute of law, also proposed similar measures before. He suggested establishing the list of web-sites, posing a threat to the security in Uzbekistan, and to take control over them, at the same time adopting the law on the control of information dissemination in the World Wide Web.
Therefore, in the near future we can expect not the cancellation of censorship, but new wave of restricting internet access in Uzbekistan. After propaganda "artillery preparation", conducted through mass media, the deputies will join the process. There is no doubt that they will be able to adopt the laws, restricting freedom of Internet, without unnecessary discussions and to the benefit of the government: this is the real political situation in the republic. When the filtration of independent web-sites will be legitimately approved, it will turn into even bigger challenge.
Daniil Kislov, Chief Editor of Ferghana.Ru information agency. The article is prepared with the use of NewsUz.Com, independent Uzbek-language web-site.