Uzbekistan: "Rabble-rousers" are not welcome in the Parliament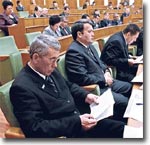 Uzbekistan started the preparation for the elections to Oliy Mazhlis (parliament) and local Kengash (councils) of deputies, scheduled to December of 2009. In May the Central Election Committee of Uzbekistan organized the seminar on preparation and organization of upcoming elections. The seminar attendants developed "The election preparation and organization concept" as well as the pre-election events program. The parliamentary election conditions do not assume the participation of candidates, nominated by initiative groups.
Pre-election procedures will be run in three phases. The first phase is the organization of conferences and seminars, the publication of election laws, the development of CEC legal acts. The second phase assumes the work with the voters and mass media, preparation of election districts, election committees and other. The third phase is the nomination of candidates, the meeting with electorate, preparation and organization of voting procedures.
Nonetheless, in the opinion of independent experts the observation of real situation of preparation for election in Uzbekistan says that the planned elections will not be free while the deputies of Oliy Mazhlis and local Kengash will be appointed by executive authorities. At the same time, the list of future deputies, formally elected at free and open national elections, is prepared in advance.
Today, the work on shutting the election participation access to educated, independent and initiative people is in full progress. The goal, pursued by Uzbek mass media, is to make everybody "subordinate" through promotion and non-publication of critical opinions. As a result, the person is forced to buy the newspapers, full of "entertainment".