Tajikistan: Irrecoverable Losses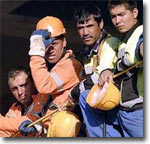 Sisters Gulbakhor (19), Gulsanam (15), and Gulrukhsor (13) were interred in the Bobojongafur district of Tajikistan on June 19, 2009, their bodies flown in from Surgut (Khanty-Mansi Autonomous Region, Russia) the day before. The girls and their parents had been labor immigrants in Russia (the father a loader, the mother a street sweeper).
The parents returned from work on June 16 and went to sleep. The girls, however, decided to go swimming. They slipped outdoors and set out for the pond nearby. The youngest was the first to jump into the water. Unfortunately, placid on the surface, the water turned out to be anything but down below. Feeling an inescapable tug of the whirlpool near the bottom, Gulrukhsor screamed. Gulbakhor and Gulsanam rushed to her help and jumped in...
Two Tajiks driving by heard the screams and saw the drowning girls. They jumped too but the noble gesture proved futile - and fatal for one of the men. Like the girls, he disappeared under the surface.
Families of the girls and the man (resident of the Jabbarasul district in the northern regions of Tajikistan) are in the state of shock. With nobody to pin the blame on, they curse their lot that compelled them to seek ways of earning the daily bread so far from home.
Northern regions of Tajikistan have already received what is known throughout Russia as Load 200. The Abdukhalimovs (father Azimjon, 31, mother Dildora, 31, and children Nozimjon, 13, Makhliye, 11, and Parviz, 10) returned from Russia in caskets in 2007. The family was murdered by neo-Nazis (first the children, then the adults) who tried to burn the bodies afterwards.
The number of the caskets shipped from Russia to Tajikistan remains more or less unchanged. According to the Sogdi Regional Division of the Immigration Service of Tajikistan, 52 two bodies arrived in this region from Russia in the first five months of 2007, 69 in the same period of 2008, and 65 in 2009. The authorities usually chalk them off to natural causes and accidents. Independent sources, however, say that most labor immigrants in Russia fell victims of the underworld - Russian criminals or ethnic gangs (some of them comprising immigrants too).
According to official estimates, there are more than 600,000 Tajik labor immigrants in Russia alone. Mass layoffs are expected to bring this figure down so that 200,000 Tajiks will go home. The army of the unemployed in Tajikistan two years ago numbered 60,400 and only 15,500 vacancies were available (three applicants for every vacancy or so).
This year, more than 751,000 able-bodied Tajiks may find themselves unemployed - graduates, young specialists, dischargees, and former labor immigrants. Gufronjon Rustamov of the Tajik Communist Party commented that official statistical data were not necessarily correct.
"The number of the unemployed vastly exceeds statistical data," Rustamov said. "Enterprises go off the line without actually firing their personnel. In theory, and in the eyes of the state, they are employed. In fact, however, that have neither salaries not dole to live on."
"We ran another opinion poll and discovered that 132,500 people from the Sogdi region alone had left the country in search of jobs," said Rashidov of the Sogdi Regional Directorate of the Agency for Social Protection, Employment, and Immigration. "Moreover, 4,645 of them were juveniles and more than 17,000, women."
Rajno Bobojonova, an authority on gender and demographic issues, flatly called processes of immigration unstoppable.
"Immigration becomes a global phenomenon," Bobojonova said. "Tajikistan is a part of the international community so that there is no escape from the processes of immigration. Efforts to slow it down ought to provide new jobs and decent salaries. Average pay in Tajikistan is a laugh by international standards. Say, a professor here is paid 515-520 somoni or $120."
"There are both pros and cons to immigration. First and foremost, it creates a disparity between reproductive categories. With so many young man out of the country, lots of girls remain here without a hope to start a family and that may have truly catastrophic consequences. After all, men start families in foreign countries, sometimes even abandoning their families here in Tajikistan. Broken homes in the meantime affect immature mentality and psychic health of children. An overwhelming majority of women in Tajikistan are neurotics - responsible as they are for the family and the household. It is not typical of Asian women, you know. Stresses accumulate and result in quarrels and divorces... not to mention suicides, that is."
"As for the deaths of young Tajiks abroad... Allah's will be done," Bobojonova said.
"The Tajiks are particularly defenseless, more vulnerable in Russia than labor immigrants from any other country," said Rakhim Abduyev, an expert in problems of immigration. "They are on their own, prey for everyone. Russian law enforcement agencies investigate their deaths but infrequently, and do so in a halfhearted manner at best."