Children of immigrants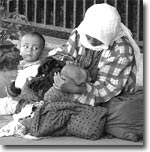 Everything began with a call from friends in Europe. Resolved to adopt a child in Russia, they regularly scan the web sites featuring data on prospective kids (photos, ages, names). "How come there are so many abandoned children in Russia with Moslem names and Asian features?" they wanted to know once.
We had nothing to say then. The first explanation that came to mind was fairly banal. Russia being an ethnic cauldron, it is hardly surprising that there are Madinas, Zulfias, or Rustams among the children abandoned by their parents. There is no law saying that the people who disown their offspring must be Christians or atheists. Moslems are as human as all others, and there are lots of Moslems in Russia. It finally occurred to us that there must be a problem whose very existence was deliberately unacknowledged. It is a problem of children sired by immigrants from Central Asia while in Russia, the children they do not want to take home.
Going away to make money and coming back with a child is dishonor in the eyes of a good deal of women from Central Asia. Whoever dares broach the matter automatically becomes an enemy (the eternal unwillingness to hang dirty linen in public, undeniably). "Why would you want to bring it up in the first place... for all the world to see and sneer?"
As if the world cares about these children - or these people. And yet, we are convinced that keeping the very existence of the problem under the lid is an even worse disgrace.
Where do they appear from?
Where do these children appear from? After all, children are not disowned just for the fun of it. According to Jamialya Begiyeva of Alatoo (Kyrgyz public organization), it is mostly the women born between 1985 and 1991 who deliver children these days, essentially girls themselves. Very many of them are victims of rape. They huddle in small apartments (up to 20 women per room) and never deal with the police. Some of them deliver and leave the newborn right at the maternity hospital. Considering the family (husband and children) left at home, going back with another child in tow is unthinkable. Some had trusted the promise to marry but found themselves deceived - and gravid. Every mother has her own overwhelming reasons.
The number of abandoned children in Moscow keeps growing. Begiyeva said Tatiana Neverova of the Moscow Department of Family and Youth Policy had shown her lists of little Kyrgyzes left at maternity hospitals. "All in all, there were almost 1,000 names on the list, all of them children delivered by immigrants. The Kyrgyzes were the largest ethnic group of all, numbering 60 or even more. Thirty-four Kyrgyz children were adopted by the Americans. Most children were born in 2008 and some in 2009. The Tajiks numbered 16, the Uzbeks 8. Actually, I did not look at Tajik lists," she said.
Official statistics
Determined to discover how many children born of immigrants from Central Asia were in orphanages throughout Russia, Ferghana.Ru forwarded an official inquiry to the Ministry of Education and Science of the Russian Federation.
Here is an excerpt from the inquiry, "Dear Colleagues. Ferghana.Ru news agency is working on a piece on children abandoned in Russia by families or labor immigrants from Central Asia (Uzbekistan, Tajikistan, Kyrgyzstan, Kazakhstan, and Turkmenistan). This news agency has broached the subject once. It is common knowledge that the Department of Upbringing, Additional Education, and Social Protection of Children of the Ministry of Education and Science has information (it is available on the web site) on abandoned children and orphans. Unfortunately, the web site offers no information on how many children were thus abandoned by parents from Central Asian countries."
This prelude was followed by questions: how many children from Central Asian countries was the Russian state supporting at this point? Has the figure increased or decreased, how old the children are, and what countries they are from... Another question concerned legal status of these children (namely if they could apply for Russian citizenship, how difficult it would be if they could, and whether they could be adopted). Needless to say, Ferghana.Ru wanted to know as well whether Central Asian countries and their embassies in Moscow were cooperative - or at least interested in the children disowned by their nationals of these countries.
Here is the answer from the Ministry of Education and Science, "Judging by the official database on abandoned children (June 19, 2009), data are available on 39 children from Central Asian countries. Two were registered in 2002, 3 in 2005, 4 in 2006, 12 in 2007, 12 in 2008, and 6 in the first half of 2009... Ages: 1 under 4 years, 1 under 6, 3 under 9, 2 under 10, 2 under 11, 1 under 12, 3 under 13, 6 under 14, 5 under 15, 7 under 16, 5 under 17, and 3 under 18... Data are available on 18 children from Kazakhstan, 3 from Kyrgyzstan, 7 from Tajikistan, 1 from Turkmenistan, and 10 from Uzbekistan."
"Children from Central Asian countries currently maintained by the Russian state are predominantly the children delivered on the territory of the Russian Federation by unmarried women and left at orphanages or the children brought to the Russian Federation by legal guardians. Russian citizenship is available through established procedures which include a formal appeal from legal guardians... In accordance with Article 165 of the Family Code of the Russian Federation, adoption on the territory of the Russian Federation of a child with foreign citizenship requires formal consent from a legitimate representative of the child in question and official structures of the respective foreign state, and, if necessary under the acting legislation of the respective foreign state, consent of the child in question. In accordance with the CIS agreement on cooperation in matters of the return of juveniles to their respective countries, whenever an abandoned child is discovered the Russian Federation informs official structures of the respective foreign state for the future transportation of the child to the country of origin. Whenever return to the country of origin is impossible, the child becomes a charge of orphanages on the territory of the Russian Federation. Unfortunately, embassies of Central Asian countries and ethnic diasporas fail to display systemic interest in the problem of the return of abandoned children to their respective countries of origin. The Russian Federation and the Republic of Moldova are currently working on a bilateral agreement on cooperation in protection and repatriation of juvenile victims of traffic, violence, and exploitation." (end of quote)
How many?
So, the figures in the Ministry of Education and Science's exhaustive answer collide with those provided by the Moscow municipal administration. Shall it be attributed to the traditional lack of interdepartmental coordination? Or to the different legal status of these children as perceived by the ministry and by the Moscow authorities?
When state officials are back from their leaves of absence this autumn, Ferghana.Ru will return to the problem and visit the special maternity hospital in Moscow girls from Central Asian countries lacking official registration in Russia are taken to when the delivery time comes.
Begiyeva in her turn intends to arrange roundtable conferences in September to discuss the problems of girls from Central Asia and their children. We will keep you posted.