Turkmenistan, lost in the desert - routine life for centuries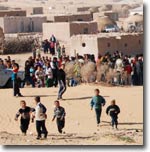 Photo by © E. Larina, O. Naumova. Other higher resolution pictures are available in special section gallery.fergananews.com – Turkmenistan – 2008
* * *
Today, it is still hard for journalist or independent researcher to visit Turkmenistan. However, Elena Larina and Olga Naumov, two delicate women, Moscow-based ethnologists and PhD in History, were lucky. Last autumn they experienced extreme travel to Turkmenistan – they managed to live in remote and arduous regions of the country, Kara Kum and mountainous villages of "nohur". They shared the experience and unique pictures with Ferghana.Ru.
The village of Damla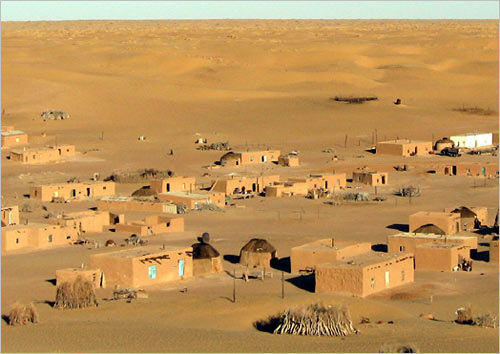 General view of Damla village (click on the image to enlarge)

The village of Damla is located in Kara Kum. Sixty houses in sand, no kolkhoz and no joint peasantries – each family survives independently. The local residents travel to Takhta, central villages, to pick up the gasoline coupons or to visit doctors. In October of last year, when we were in Damla, there was water crisis – two previous winters were snowless and there was almost no rain in the summer. People were saving rain water…
…or brought water to the village by the car. There are also "takyrs", small loam soil areas with rain water, in sand dune. People use this rain water. When there is no rain water residents travel to other regions.
Rich residents of Damla, owning vehicles with pump barrel – pump up the water and bring it to the village. First, they inundate sardob, dug in the ground and concreted big water reservoirs. Such sardob is available in every house of the village. One filling up own sardob people inundate the sardob of neighbors. It is free of charge, whatsoever: water is sacred in this region.
No car – no travel. The scariest thing is to run out of gasoline: you can die in the desert from thirst and hunger. There are no phones while the distance between the villages is several thousand kilometers…
Major occupation of "sand Turkmen" is cattle-breeding. We stopped by the house at Khadzhi's, the richest man in the village. He has house and yurt. The lord lives in the yurt although there is also "female" part with dishes and cooker. Women live in the house, consisting of one room and kitchen. In the room you can find polished Soviet-type furniture and sideboard with decorated teapot and souvenirs from Russia – Khadzhi served in Soviet army.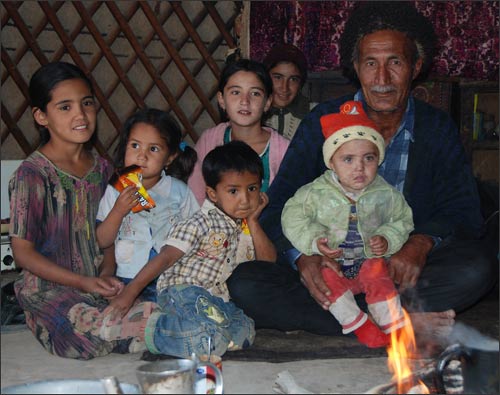 Khadzhi – the richest man in Damla village

He is surrounded by kids and grandchildren. Khadzhi knows few words in Russian and, therefore, it is hard to identify who is who here. Obviously, kids speak no Russian. It has to be mentioned that kids in Damla are quite "wild". The major entertainment for them is to ride at sand dunes, screaming "Oy-la-oy-la…"
They put nothing behind, producing chunk of dust and sand. Boys under two years of age have no pants and this is explainable: there is no water or pampers…Kids are not washed and parents do not wipe sniffles so that evil angels would pay no attention…They have various clothes. In October it was a bit chilly, about 7 degrees of Celsius. Kids were in quilted jackets, fur coat and in short-sleeve dress. Nearly everyone was barefooted.
Women do not share the table with men and guests. If they get invited – woman takes a seat behind husband. Although Khadzhi has eight children he lives with three youngest daughters. His son built a house nearby. The son's wife helps out the mother-in-law. When Khadzhi comes in the room the daughter-in-law puts the headscarf. If it was not "work" conditions she would probably also hide her face from mother-in-law. When we tried to take a picture of Khadzhi's wife with her daughter-in-law, she denied and took a seat a little behind, hiding her face.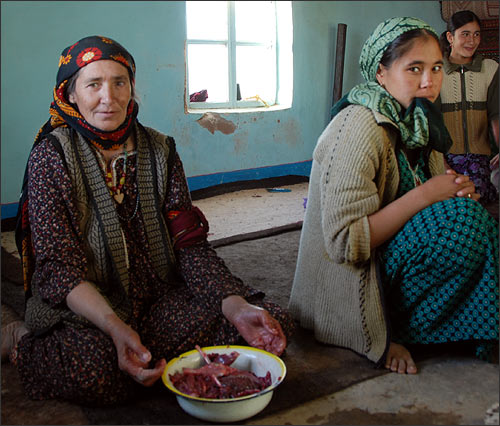 Mother-in-law and daughter-in-law

Overall, daughters implicitly obey father. When we were in the yurt with Khadzhi there was nobody inside. However, when he called "Hey, Altyn!" or "Hey, Yaze!" they immediately showed up.
Khadzhi and his married son jointly run farm – they have about 1.5 thousand sheep, 300 camels and 500 goats. Last year Khadzhi had to sell the half of sheep: no rain – no grass.
In the evening time the flock of those, who did not send sheep further away, start consuming water from sardob. The richer people have pumps, poorer do not.
During our stay it was also the time to prepare the yurt for the winter. Usually they do it twice a year (autumn and spring). This job is done by women only. In the morning they put off thick felt, felt mat, doors and ropes. Then they adjusted tackles and tied up the bundles.
There are also chicken and dogs – taza – in Damla. Dogs are used in the hunting for rabbits. Hunters dazzle rabbits and let the dog chase them. We also had a chance to taste rabbit meat.
Wedding in Bikuri
Khadzhi invited us to attend the wedding in the neighboring village of Bikuri. In the morning we met in the room, packed with young girls and women, sitting on the floor. The bride was facing the wall and, seemingly, crying, putting the headscarf.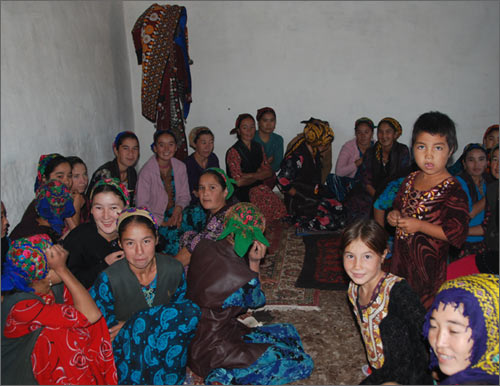 Bikuri. Preparation for wedding

Very soon the bride started dressing up. She put few more of headscarf, one of which totally covered the face. She also was wearing some silver jewelry and "wedding" rubbers. The bride could see nothing, so she was accompanied by two young women.
Friends got the bride in the car and headed to other end of the village – to the parents of groom. The future mother-in-law gave her a hug and three times touched the head. Then she was accompanied to the yurt, covered by flour. Soon some men showed up, willing to get inside the yurt. They pay symbolic amount of money as "entrance fee". Inside the yurt we could see babies, sitting near the bride – assumingly, this was to wish new family to have more children.
Later on, those, who were not allowed inside the yurt, noticed a woman that was throwing money, sweets and some souvenirs in the crowd. People were eagerly collecting these presents.
Guests were split by age while men were placed separately from women. Older men were treated with plov while women enjoyed bread and tea. We were not able to see the groom at all.
Few moments later we witnessed "guresh" – local national wrestling competition. The winners were awarded beautiful plastic bags.
Yurt maker
Khangeldy Turshekov, famous yurt maker, lives in the village of Cashkyn. The yurt for "sand" Turkmen is habitual summer shelter. Today, it is also a sign of wealth, where Turkmen have guests. Nonetheless, not everyone can afford a yurt.
Khangeldy shared that his family never had a yurt. He saw neighbor's yurt once and always wanted to have something similar. He devoted two years to practice on yurt repairs. Once he finished the course he asked his teacher to bless him – it is impossible to make yurts without blessing, you will see no luck. Today, Khangeldy has three apprentices.
While crafting a yurt the main thing is not to hurry up. First, the master needs to pick the right day. Prior to the beginning, the master also needs to pray Allah and prophets, including Nuhu (allegedly, the patron of builders). Correctly crafted yurt may serve 150-200 years. If saxaul is used for heating thick felt needs to be replaced every thirty years.
We were also informed about some secrets of yurt construction – perhaps, looking at us, the maker realized we were not going to compete with him or share his secrets. For instance, the trees were grown by the maker himself. Birch needs to be watered only once a year. The tree needs to be sawed in winter – December 20 to January 15 – when sap is not liquid. Khangeldi also has a furnace for "uki".
Uki are connected with two rows of ropes. The arrays are tied by the skin of 8 year old camel. The master needs to knife the animal. If the skin of the knifed camel was used there will be no smoke from the yurt. Why? We do not know…
The point is the yurt making is the process, controlled only by the maker. For instance, every yurt has own secret why it stands flatly. Another example is that the maker should craft doors; the exception is the case when he makes yurt for himself.
Finished yurt weights 250 kilograms; it can be transported by camel.
Khangeldy shared the story how first yurt was made. One rich man invited carpenters and ordered a house. The chief carpenter took a minute for thought. He was in the skullcap, crossing his legs. Thus, the idea was born. Skullcap - tunduk (upper felloe of the yurt), hands – uki, crossed legs – tackles and arrays in the lower part of the yurt.
Nohur, Turkmens of the mountains
We also visited Nohur mountains in the villages of Ahal velayat (oblast), populated by nohurli tribe representatives. There are no smoking or alcohol drinking men in Kunyakumbez – the elders visit every house of smoker/drinker and ask either to leave the village or stop smoking/drinking. However, Nurmurat Overmuradov (the man, which hosted us) is a smoker. Being the veteran of Afghan war, he was supported by military office.
The establishment of Council of Elders was also present in the Soviet Union. Allegedly, there was no communist rule in Kunyakumbez. The Council of Elders consisted of 10-15 men at the age of 50ish that made important decision: the construction of mosque, the repairs of roads and social transfers. All the decisions are announced in the mosque.
The Council of Elders even interferes in the family issues, judging why the husband beats the wife and how to punish him accordingly. If the guilty person disagrees with the decision of the Council the entire community ignores him. Therefore, the decisions of the Council are executed without demur.
Nohur people are involved in agriculture and grow cabbage, tomato, grape and nut. There is lack of fertile land in the mountainous area. Fruits and vegetables are gathered in the Soviet shell boxes. After cropping season people let goats and sheep enjoy what is left in the garden. There is also water well near the village which gives 5 liters of water per second. This water is used by 50-60 households while each household has access to the water once a week.
Besides, Nohur people produces stones – both for own use and sale. The major season for stones is winter when there is no other job.
Kunyakumbez has several streets with right-angled houses and open veranda. There is also 10 year school and mosque. In the lower part there is a cemetery while each gravestone has sheep horns.
Earlier, the mountains around the villages were covered with archa. People had to use it for heating purposes and food preparation. Since 40 years ago archa was replaced by diesel oil. 6 years ago for the first time natural gas was used in the village. Unfortunately, the forest was not able to recover.
* * *
People that we met have the way of life of their ancestors albeit donkeys and camels were replaced by vehicles and instead of dry archa there is natural gas. Nevertheless, their routine life was changed neither by Soviet regime nor by problematic years of independence. Luckily or unluckily, their life and death do not depend on politics. They depend on spring and rain water as well as on free will of spirits that they address with the request of health, binding ribbon or sheep bones to the branches of sacred plane tree in Nohura.
* * *
Other photos of Turkmenistan are available at gallery.fergananews.com (Photo reports/Turkmenistan – 2008).