Uzbekistan: Unassailable pest of the Aral Sea
Since recently Uzbekistan has been running strict policy in relation to Kyrgyzstan and Tajikistan on water resource allocation, especially in Uzbek part of the Aral Sea.
However, there are also some other problems that the government is not solving as first priority. This is ecological disaster, reasoned by irresponsible storage herbicides and pesticide. They will cause damage to the health of residents in Khoresm and Karakalpakstan.
The total volume of officially confirmed buried chemicals reaches 9 thousand tons in the Republic of Uzbekistan. Today, the amount of accounted, stored, prohibited and outdated pesticide reaches about 1500 tons. Of them, almost 120 tons are most dangerous organochlorine pesticide. There are 13 special underground bunkers in Uzbekistan. According to the experts of Uzbek state committee for environment, «it is prohibited to approach some bunkers closer than 1-1.5 kilometer without individual protection». The biggest facility is Tuprakall bunker in the Khoresm Oblast.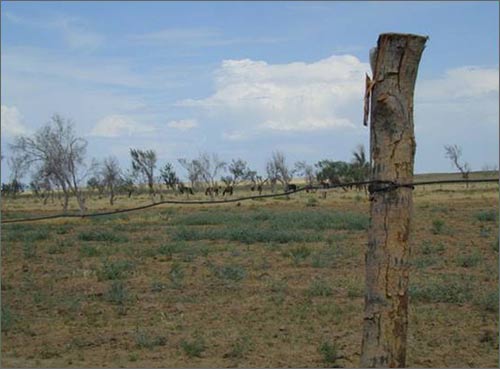 The fence of former agricultural aerodrome

The local governments of Khoresm and Karakalpakstan are ignoring the danger, caused by former aerodromes and disposal areas. Therefore, there is almost no reaction to the problem. Some rare articles in the local mass media pay little attention to the problem. Official Tashkent was only able to establish the State committee for chemicalization and protection of plants under Ministers' council of the republic.

Bricks, made of contaminated ground

Also, despite the recommendations of international experts and civil society leaders the government of the country has not signed important international agreements in this area. Needless to say, in order to ratify the conventions the political will of the administration is necessary, backed up by certain conclusions of experts. The web-site of Uzbekistani State committee for environment says: «The Republic of Uzbekistan is working on joining the Stockholm convention».
Sergey Naumov (Urgench)