Uzbekistan: "Wanted" Posters All Over Tashkent
Photos of criminals appeared in Tashkent for the first time in years. Notices in Uzbek and Russian attached to the photos indicate that these people are wanted for grave crimes (religious extremism). These "wanted" posters can be seen at practically every market in the capital of Uzbekistan and even at entrances to apartment houses.
There are photos of 23 persons in all, 22 of them photos as such and one a sketch. He is supposed to be one Erkin, Furkat Islomov's liaison man who arranged his meeting with one Umar. Who these Umar and Islomov might be and what is so bad about their meeting is anybody's guess.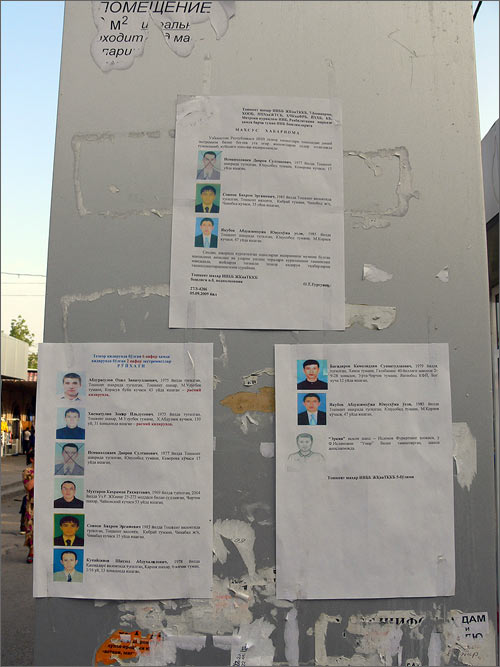 Photos of criminals

Whoever goes to the trouble to read the notices is advised that the criminals are armed and that caution during detention is recommended. Exactly what crimes these people are wanted for and whether or not they were involved in the latest events in Tashkent is not explained. Official structures offer no comment.
Several outrageous crimes were committed in Tashkent over the last several months. Abror Abrorov, 37, assistant director of Tashkent's largest medrese, was murdered in front of his house in the Sergeli district on July 16. Attempt on the life of Anvar-kori Tursunov, Tashkent's imam-hatib (or particularly respectable imam), took place on July 31. An outstanding preacher and religious authority, Tursunov emerged from coma five days later, on August 4. Doctors say that his condition is stable, these days.
Hasan Asadov, officer of the Directorate of Terrorism and Corruption of the Uzbek Interior Ministry, was shot in his own apartment on August 9. Interviewed by Ferghana.Ru, the head of the Prosecutor General's Office press service suggested that "... considering the active campaign against corruption under way in Uzbekistan, Asadov must have crossed some crooks." As it turned out, however, Asadov had been directly involved in investigation of imam assassinations. Aide to the imam of Tashkent mentioned once that all three attacks had been engineered by one and the same gang. Asadov was on the joint team the Interior Ministry, National Security Service, and Prosecutor General's Office put together to investigate this chain of crimes.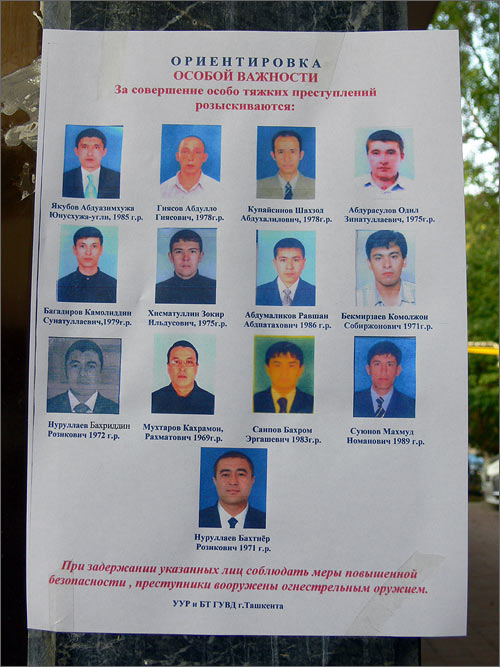 Ezgulik (Mercy) human rights organization claims that several dozens suspects were arrested. Prominent religious figures, particularly the ones who criticize radical Islam, are upset. They suspect that the crimes were committed by Islamic radicals. It is rumored that some of these religious figures hired bodyguards.
Sixteen vendors selling construction materials at Parkent market were arrested in late August. Law enforcement agencies suspected them of participation in the attempt on Tursunov's life. Web site Harakat reported that the police charged all 16 arrestees as members of Jihad, an Islamic radical group sponsored from abroad. No official confirmation of this hypothesis is to be obtained. Law enforcement agencies remain incommunicado.
It is fair to add that an extremist group with a similar name, Islamic Jihad, assumed responsibility for the events in Khanabad and Andijan in late May. There is no saying, of course, whether it really was responsible or just decided to claim responsibility for publicity's sake.
Eleven residents of the town of Shakhrisabz and the Kitab district (Kashkadarja region) faced the Kashkadarja Regional Criminal Court on August 3. All these people are charged under articles of the Penal Code dealing with manslaughter, terrorism, encroachment on the constitutional regime, subversive activities, brigandage, organization of a criminal community, and participation in outlawed religious structures. According to the prosecution, all suspects belong to the Islamic Movement of Uzbekistan, Islamic Jihad, and Libyan Jamoat. The trial is not over yet. There is no saying what it will end in or whether or not the people facing trial have had anything to do with the so called Jihad from Tashkent's Parkent market.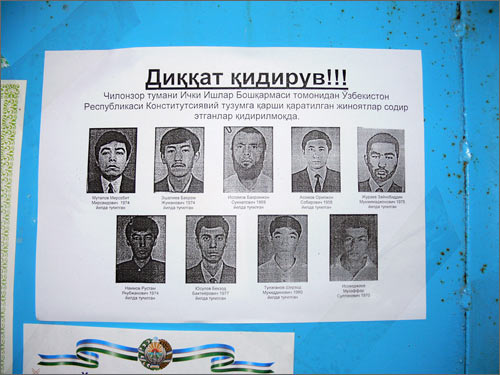 This correspondent asked a police officer at Parkent market who these people on "wanted" posters were. He replied that most of them were vendors and that at least every second criminal was a local (from Tashkent). "The gang is decapitated now," the officer said, after a moment's pause. "You got the ringleader?" - "We shot him." The officer refused to elaborate.
Several skirmishes took place in Tashkent a short while ago, something unprecedented since 2004. A special operation was run in the so called Old Town (Kukcha-Darbaz district) on August 29. The authorities reported three gunmen killed in the operation. The locals whisper that law enforcement agencies sustained losses too.
An explosion and several bursts of gunfire were reported (unofficially, of course) near the Defense Ministry building in Tashkent on August 10. Unconfirmed reports indicate that several police officers sustained gunshot wounds in a run-in in Buyuk Ipak Juli Street (former Lunacharsky Shosse) on September 8. It was rumored that whoever had challenged the police in the first place made it to Sagban street in their Matiz auto where they were finally overpowered.
It is also rumored that similar developments took place in Gazalkent and Charvak in early September. What information is available to Ferghana.Ru indicates that these rumors were caused by a jail break.
Families of the arrested Parkent vendors in the meantime appealed to Ezgulik claiming the arrestees innocent. "My son was beaten nearly to death after explosions in February 1999. He was repeatedly tortured. It took me three months then to prove him innocent. I do not have the strength anymore," Ezgulik was told by Rano Abdurasulova. One of her sons by name of Odiljon, a vendor, was charged with the attempted assassination of Tursunov. The rest of her family was in custody too.
Ezgulik insists on an investigation within the framework of the acting legislation and urges law enforcement agencies to keep general public posted. Unfortunately, who the people on "wanted" posters are remains unknown.